Please introduce yourself, tell us a little bit about your story.
Hi, my name is Mónica I am a calm and fun person, I'm married and I have two kids. I was born and raised in Portugal and a few years after I got married I went to live in London where I got my graduate degree in Psychology and Counselling. I love eating popcorns, bread and going to the cinema.
How long have you been natural/transitioning to natural hair?
I have been transitioning to natural hair since 2013. I can't remember if I started in June or July, so I always count from July. Anyway, I'm getting close to my 2 year anniversary.
Growing up, what was the relationship the female role models in your life had with their hair?
I've always know my grandmother with very short hair, what we call TWA, and she never fussed about her hair. My mum on the other hand, always liked to take care of her hair. She relaxed regularly and dyed or bleached her hair following fashion trends. She complained about her hair being unmanageable if she went too long without a relaxer.
How was the relationship you had with your hair until you decided to go natural?
I actually loved my long hair when I was a child and remember doing a similar version of Willow Smith's "Whip my hair" in my bedroom. It was only when I was about 10 or 12 that I thought my natural hair was unruly and unmanageable. At that time, girls my age were relaxing their hair, which only happened for me when I was about 14. I didn't hate my hair, but I definitely wanted to see it straight, long and shiny like other girls who had their hair relaxed. I wanted something easy and new. Nevertheless, until I decided to go natural again I believed many of the natural hair myths out there such as it's too strong/coarse, unmanageable or unattractive.
Do you think the female role models in your life influenced the relationship you had with your hair?
Yes. Although I loved my hair when I was a child I was conditioned to feel the way I felt about my hair because I kept hearing natural hair was too strong, it was hard to detangle, it took too much time to care for, too much product and it didn't look as goo as relaxed hair. In addition, everywhere I looked whether it was a magazine, cinema or television this message was reinforced. Everyone had relaxed hair. It really wasn't their fault, they were sold this message too.
How did you keep your hair before going natural?
I didn't do any thing special, I mainly wore my relaxed hair in a wash and go, bun, ponytail or I would straighten it (blow dry). I didn't use any leave-in, butter or vegetable oil. Thinking about it now it sounds pretty scary what I was doing to my hair.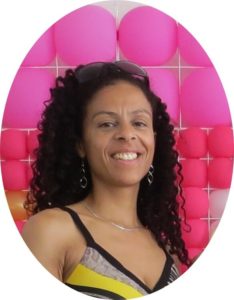 What compelled you to become natural?
It's a bit of an exaggeration, but my hair was basically dead. It had no curl pattern, it was dull and my scalp was very sensitive each time I relaxed it. Once I started looking for solutions for my problem and found all these amazing women online with beautiful hair, I gained the confidence to let my hair grow. That's how my journey began.
Is anyone in your of friends & family natural or transitioning?
No. Unfortunately, there is no one.
How did people react when you decided to go natural?
Most just said I was brave while at the same time giving a look like "Girl, you don't know what you're doing. You'll soon be relaxing again". Today, I guess they've just accepted it and some even ask me with curiosity when am I going to cut my relaxed ends.
What were the biggest challenges you had when starting your journey?
My biggest challenge was detangling my transitioning hair, specially when I was 6 to 8 months into my transitioning journey. There were times I almost cried. I would spend at least an hour detangling in the shower. Now I wash my hair in 25-30 minutes if I don't wear my hair out all week long.
How did you overcome them?
Through experience I found out that pre-pooing my hair was a major help, but equally importantly was and is keeping my hair in a protective style most of the week, which means less manipulation and less tangles. However, I find that now that my natural hair is longer it is easier to detangle, so even if I wear my hair out all week it won't take much more than 25-30mn to detangle it.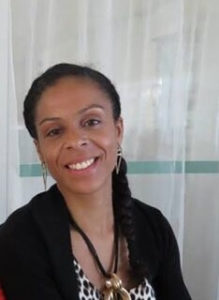 Do you have any goals you want to achieve with your hair?
My closest one is to do my Big Chop, cut off my relaxed ends by the end of this year. However, first I have to find a hairstylist I can trust that works with and understands natural hair. My second goal is to let my hair grow healthy and strong until bra strap length in its curly state.
In what ways is your life different, now that you're transitioning/natural?
Now, I am proud to show off my transitioning hair and I am more confident about my self image. I'm also more careful about the products I use on my hair and I actually make some of them. As a consequence I'm always nagging my mum and sisters about the ingredients in their hair products and this attention to product ingredients is something that has translated into other areas of my life like my body and face creams. Also, since I transitioned I never went to salon again and I trim my own hair.
Do you follow any specific hair care regimen?
Yes, I follow the LOC method. I find that it keeps my hair moisturised all week, most times I don't even have to re-moisturise it. It's wonderful!
What is your hair regimen?
I pre-poo my hair with evoo (extra virgin olive oil) on Friday night and sleep like that overnight. I don't try to detangle my hair at this point, I just focus on getting all hair strands coated. In the morning I exercise, and I take advantage of the heat I generate by placing a head beanie on top of my head scarf.  This allows me to get maximum benefits from my pre-poo as the heat helps the oil penetrate and facilitates detangling. Then I separate my hair in two sections and I wash, condition and deep condition my hair. Afterwards, I do the LOC method using my homemade leave-in conditioner, coconut oil and then my homemade shea butter cream. It's a simple and inexpensive regimen for all who thing going natural is expensive.
What product can't you live without?
This is a hard question, I can't choose only one but I would say my homemade leave-in conditioner and shea butter cream.
What is your go to style?
I like braid outs, twist outs, buns and flat twists but I always end up doing braid outs. I like the way it textures my transitioning hair. I'm hopping that once I go 100% natural I 'll be rocking a wash and go most of the time. I want to see my curls popping.
What do you have to say about comments that natural hair is unmanageable and difficult to care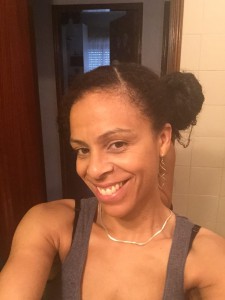 for?
First of all I would say that "Yes, natural hair is different, but not necessarily unmanageable and difficult". It won't be easy breezy like it used to be before you went natural, but it's also not the scary thing people talk about. Once you have a good hair regimen in place with the right products you'll see it won't be that hard. I believe that caring for natural hair can be as easy or as hard as people want it to be. If something is not working for your hair, try something different. This is the difficult part, finding what works for your hair. That is why we have to "listen" to our hair and be willing to do what it needs to thrive. The problem is that up until the time we decided to transition/go natural we we're not accustomed to doing this and so we don't know what it's telling us. Patience is what we need to have.
What do you like most about natural hair?
I love the versatility of it. You can go straight, wavy, curly, long, short, big or tamed and you can experience all of this in a week. Unlike straight/Caucasian hair, our hair can be an outlet for our own creativity it lends itself to it like clay. I mean have you seen array of creative hairstyles out there. We can do so much more with it now then when we had relaxed hair.
Do you have any tips or advice for those who want to go natural?
If you're entertaining the idea of going natural go on You Tube to check out video bloggers who have the same or similar hair texture and see what they do to care for their hair, what products they use, what hairstyles they do and accounts of how they went natural. Get inspired and look for information about natural hair on websites like this.
What are your natural hair crushes?
I have too many, but two of my first crushes were MahoganyCurls and Naptural85. Others followed, like NaturalNeiicy, GlamTwinz334, Chime Edwards, Hey Fran Hey, Curly Proverbz and the list goes on…
Where can we find you online?
You can find me on Facebook, Google+, Instagram and Pinterest.
If you want to share your journey to natural hair, whether you're transitioning or already natural, head over here to find out how you can participate. Looking forward to knowing your story!