About Mónica| 
The Creator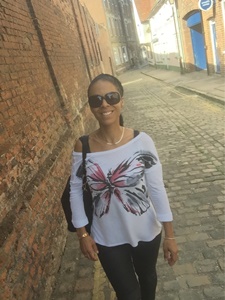 My name is Mónica I'm Portuguese and I'm currently living in England where I studied Psychology and Counselling. My English is not bad, but it's also not brilliant, so bare with me through all the grammar mistakes, I'll try to keep them to a minimum. I'm happily married and I have two kids (a couple). If you knew me, you'd know that I cry easily, that I loooove bread, cheese and popcorn (my guilty pleasures) and that going to the cinema is a family obsession.
I'm serial blogger of all things related to natural hair and I'm seriously contemplating taking my computer to bed to type while I fall asleep, but I suspect my husband would think three is a crowd.
I created this space because when I decided to transition to natural hair (back in 2013) I read, watched, researched, lived and breathed all things linked to natural hair. This "obsession" has continued and I thought "Why not put my new knowledge and experience out there? Maybe it can help someone?".
And here we are, me blogging about natural hair and discovering how to run a website! All I can tell you is that it has been a blast. I love it! Sure, it's been challenging at times but always rewarding. Care to join and meet me here? Let's be friends.
---
About Your Space| 
Curly Hair Lounge
Curly Hair Lounge is a space where you'll find information about natural hair with a focus on helping women who are thinking about or are currently transitioning to natural hair.  More importantly, it's a space devoted to giving you actionable tools to help you on your journey to healthy, beautiful natural hair.
All hair types, textures, and shapes are celebrated, the goal is to release you from the stress of transition so you can truly enjoy and love the hair you have (not someone else's). In here, you will find information, advice and resources to:
– Develop your hair regimen
– Address natural hair breakage
– Develop your own homemade hair recipes
– Sieve through all the information out there
– Know the whats and whys
– Discover the right hair method for you
– Style your hair
– and much more…..
All information is based on personal experience and research.  So, if you're tired of relaxing and ready to discover your natural hair, then be a regular on this lounge, the Curly Hair Lounge! 'cause there's oodles of support and cheering at all stages of your new journey especially when you join our Facebook Group community.
If you're not ready to plunge in just yet, don't worry, grab yourself a beverage, relax, soak up all the information and take action when you're ready.
---
…Psst! Wanna know more about my hair story?
Keep reading…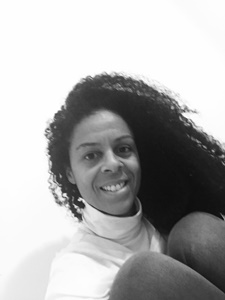 Hi again,
Shall we continue?! Ok, then, moving on. As far as my hair story goes I used a relaxer on my hair most of my life. I've always been very attached to my hair and proud of it since everyone kept telling me how beautiful and long it was. We may not want to admit it but, much of our self-esteem/self-image is closely connected to our hair. Why else would so many of us prefer going through a transition as opposed to the dreaded BIG CHOP (BC). I don't know about you, but I admire those who have the courage to BC.
There are probably a million different reasons as to why we prefer not doing a BC: I won't look feminine enough, I don't like short hair, what will my boyfriend think of and so on. By now you have probably guessed that I am transitioning from relaxed to natural hair. So, I am gonna let you in on my secret reason. To me, strangely enough, the reason is directly connected to the first time I relaxed my hair.
My Hair Story
Let me tell you. That was one of the most traumatic experiences in my life! The hairdresser looked at my hair as if she was looking at a wild animal that needed to be tamed. I guess she didn't have much experience relaxing natural hair. Nevertheless, she didn't give up on the battle and like a brave soldier, she did her duty. She used a Brazilian relaxer on my hair, I remember the strong scent of chemicals and the burning sensation on my scalp. Do you remember this too ladies? I get chills on my body just thinking about it!
Anyway, all I can tell you is that she undoubtedly didn't follow the relaxer's instructions because when it was time to take it off (drums roll please), my hair was falling off like crazy!! I wanted to cry bu I didn't. I was in disbelief. Could this be happening to me? I was only 13/14 years old. I went from waist length to ear length. Crazy right???
This experience left me psychologically scarred for life when it comes to caring, cutting and trimming my hair. This experience was the reason I couldn't contemplate doing a Big Chop when I decided to transition to natural hair. You can understand, can't you ladies?!
Despite the bad experience and how short my hair was it still looked shiny and healthy, it grew and everyone kept admiring my hair. So, I continued relaxing. However, I was, and still am, very wary of hairdressers. Can imagine how annoying I am in a hair salon. I watch every single move the stylist makes like a hawk, however, I haven't been to a salon in over 3 years.
Anyway, the continuous use of relaxers on my hair throughout the years left it lifeless, with no curl pattern and dull. I felt it was time to do something as I was also tired of relaxing and kept prolonging applications. That was when I went on google looking for solutions to revive my hair and stumbled upon a girl talking about going natural and transitioning. This was how I started this transitioning journey.
Where I'm Now
I am now transitioning for 29 months and this has been not only a hair journey but a psychological journey as well. Before I liked my hair, but now I looove my hair! It is growing so beautiful and healthy. I didn't remember how it was and every time I see my curls popping I am in awe. Can you imagine? I hope you guys feel the same if not give it time, be attuned to it and have patience.
When the big day comes (BC) I hope we can all wear our natural hair proud and continue on this journey caring for and loving our hair. And if it sounds like I'm talking about a baby, it's because in some weird, maybe twisted way, I am. I mean my hair is like my baby now. I am always trying to be aware of its needs, "feeding" it properly and timely and handling it carefully. And in return, I am finding new things about myself. I am more patient, I feel more beautiful and stronger and I talk more proudly about my hair. Ultimately, despite the challenges, it has been a journey worth taking.
I am now a "naturalhairolic" seeking avidly all things associated with natural hair. Please rest assured that when the big day comes (BC) I will continue to be here supporting you as another journey begins for me. So, I wish you all the best in your transition to natural hair and thanks for dropping by to get to know me a little bit better!
Cheers
(Update: I did my Big Chop on 30th January/2016 after transitioning for 30 months and I officially became a natural girl. Hoohoo!! 😀 😉 )