Lately, I've been "stalking" a You Tuber on social media whose Afro I am in awe with. I am fascinated by how big it is and its movement, but most of all that it fits the personality of its owner to the teeth. I could not imagine her in any other style, and although I have seen her rock a "tamed" Afro it is her wildest version of it that I like the most. I'm talking about Taren Guy and if you want to get your own curly Afro just like hers, keep reading.
I always had the notion that rocking an Afro with a type 3 hair was kind of impossible to achieve. In my mind, type 4 hair is the hair to have if you wanna walk like a queen and wear your crown proud. But cry no more, my friends with "type 3 hair", there is hope for us and I have a few tips that will help us steal some of the limelight from our type 4 sister. Sorry girls!
Tip #1|
Don't Section Your Hair
You know how we like to section our curly hair in a minimum of four sections to make sure all our strands have a chance to drink and get saturated with our hair products? Yeah! No, for this style you don't do it. Section your hair in two parts, it will be more than enough! Otherwise, you might end up applying more product than intended.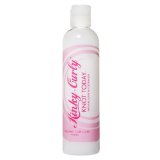 Tip #2|

 
Apply Your Leave-in Conditioner
This is the first step to a well moisturised hair, it will set the tone for all your hairstyles and we're not about to ditch it on this one. Get your favorite leave-in conditioner, preferably with some detangling power like Kinky-Curly Knot Today, and give your strands some love making sure you get them all.
Tip #3|
Rake Your Hair
Rake your fingers through your hair continuously to detangle it, and more importantly to separate the curls. We don't want the curls to clump together. Well, if you do it you'll have a smaller, more tamed Afro.
Tip #4|

Set Your Style
Set your style with a curling cream, such as Coconut and Hibiscus Curling Gel Souffle or Cantu's Shine & Define Custard. Remember, a little goes a long way or you end up with sticky or heavy hair! Continue to rake your hair with your fingers, this will allow you to separate your curls. You will have defined curls, they just won't be clump together.
Tip #5| Warning! Don't Over Do It.
If you are used to "drowning" your hair in products in an elaborate hair regimen with several steps, Stop It! The more products you apply to it the heavier it gets and your Afro will be a big flop. There is nothing wrong with it, and if it's working for your hair keep doing it. However, for this look that we are trying to achieve it would be a hard task.. We want Big Hair and not super defined curls!
Tip #6|

Diffuse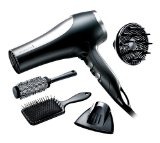 Get your blow dryer and hair diffuser. If you don't have one the Remmington D5017 is a good choice, it comes with a diffuser and concentration nozzle, has three heat settings and a long cord. Diffusing will help get the volume we are looking for, and because you have raked your hair it will be easier to  achieve. For maximum volume flip your head down and diffuse your hair all around working strategically. When the hair is almost dry, flip your head back up and blow dry without any attachment, directing heat towards your hair.
Tip #7|
A Little Help
If you find that your hair is still a little flat and needs more Va-Va-Voom, take a hair pick and lift those roots until you're satisfied.
Tip #8|
Don't Forget!
Don't use high heat, set your dryer on low/medium heat and low speed. We don't need to rush things, we're trying to create a masterpiece and heat damage is a no-no. Flip your head back and forward a few times before diffusing, it will release the curls and help your Afro reach another level.
Now go, pick up your products, your tools and start perfecting your Afro. Remember, if at first you don't succeed, try, try, try again. "Perfection" comes with practice!
Do you find these tips easy enough to follow? Have you tried an Afro before? What were your results? Do you have any more tips?
Featured Image Credit: Photo of Taren Guy taken from YouTube.