Deep conditioning your hair should be a weekly practice in every transitioners' journey. Eck! It should be a weekly practice in everyone's hair regimen. We all know the benefits our hair derives from it, and consequently us, when we see it shiny, bouncy, strong, elastic and growing. But this only happens if you don't engage in practices that delay or destroy such benefits as is the use of heat or hair dye. However, there are other practices that can put a hamper on your healthy hair goals. This is the case if you do overnight deep conditioning. It is damaging your hair!
Overnight deep conditioning is damaging your hair and you should stop doing it! If this is something you normally do you, read this article and know why you need to stop this. If this is not you, then get informed and alert you cousin, your  BFF or your natural sista.
Psst…In the meantime, if keeping hair moisture is your problem I got a super awesome email course you can take to reverse that problem. You can sign up here.
Why Do People Do It?
---
I never condition my hair overnight because I can't go to bed with wet hair saturated with conditioner and in a cap. It feels weird to me. Strangely, doing a pre-poo with oil is not maybe because I do it on dry hair. Anyway, I've read and watched a few video tutorials of ladies who do it and speak wonders of it. Here are some of the claimed benefits:
No need to moisturise and seal as often
Hair feels soft, light, elastic
Hair feels light
Easier to detangle
Gosh, this sounds wonderful, doesn't it? I thought so as well and wanted to try it myself despite not liking the idea of sleeping with wet hair. So, because I am a very cautious person and like to predict consequences I started digging for information that could discourage me from doing it since I already had the pros from several vloggers. Hold and behold! I found it!
Why Shouldn't You Do It?
---
I guess that if you're doing an overnight treatment to your hair you're expecting to get the most benefits possible out of it. You want the ingredients in it to penetrate into your hair strand and do their best work. You believe that's only possible if you leave it on for a long period of time, preferably a time slot that won't interfere with your daytime routine, so doing it while catching some ZZZ sounds perfect.
However, for ingredients in a product to penetrate our hair strand (be it a conditioner or deep conditioner) they have to have the right molecular structure, otherwise,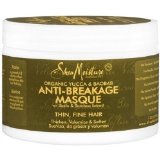 they'll just stay on the surface of the hair.
Ok, so let's assume that your particular hair treatment has all the conditions for this to happen – ingredients that can work outside and inside the hair structure. Good?! Not so good, especially because products don't come with an indication of the molecular structure of proteins or vegetable oils. So, we don't know if they penetrate or not. We assume they do.
Additionally, a study performed on nails showed that after a 10-minute water intake they had reached their water holding capacity. At the end of the 15-minute experiment, it was observed that nails had a softer structure. In case you are wondering, this is relevant because nails are made out of keratin, a protein that is a very important component in the structure of hair.
We already know from the effects of hygral fatigue, that having our hair over moisturised leads to damage in the cortex of the hair where keratin is found. Normally, the hair loses elasticity like an overly used elastic, the curl pattern loosens, hair becomes weaker, more porous (high porosity) and starts to break.
Therefore, we can assume that human hair is vulnerable to excess moisture. Letting your hair deep condition overnight is putting your hair at risk for:
Breakage
Damage to protein (keratin) bonds in the hair structure  
Looser curl pattern
Loss of elasticity
High porosity
Plus, according to scientist blogger from The Natural Haven, in order for a conditioner to be effective, it needs no longer than 30 minutes, and application of moderate heat reduces this time.
What Should You Do?
---
I've put the case over to you, as to why deep conditioning overnight is damaging your hair and I hope you consider the evidence and rule a fair verdict. See, see what  I did there…did you like my clumsy lawyer jargon? (Yeah, I watch too much Law&Order and The Good Wife!) Anyway, this has been a different post, perhaps more like a Uni paper due to my background in science and need to back up my findings. Nevertheless, I hope you can find your way in the middle of all this information and do what you think is best for you (your hair). This article is only meant to serve people as a warning.
As I said before, I don't do any overnight treatments except for my imperative oil pre-poo, which by the way, is beneficial in case you're wondering. It helps avoid the damages mentioned before. Read this post about Pre-Poo and this one about Penetrating or Sealing Oils to find out more.
I have to confess I don't deep condition my hair for 30 minutes, I normally do it while I'm cleaning the house on a Saturday morning to maximise my time, so I do it for at least 2 hours, plus I have low porosity hair, treatments take longer to penetrate without help. Sometimes, if I'm in a hurry, I will use my hooded dryer for 10 to 15 minutes, rinse it off and style as usual. We should all aim for the 30-minute mark.
What about you? Do you deep condition overnight? How does your hair feel? Have you noticed any undesirable signs?
Featured Image: from MoKnowsHair on YouTube.