I deep condition my hair every single time I wash my hair and that is because I know how beneficial it is to my hair. While my weak transitioning hair is being strengthened to avoid breakage at the line of demarcation my natural hair, which is supposedly growing out healthy, is being protected from all kinds of damage (the sun, manipulation, chemical treatments, etc).  However, this weekly practice can add time to an already lengthily wash day. If this is a concern to you, you can add heat to your deep conditioning treatment.
Adding heat has its advantages as it increases the benefits of your deep conditioner or mask and shortens your washing routine.  It's a win-win situation and this way you won't have any excuses to skip your treatments. When you use a deep conditioner you are providing your hair with moisturising and nourishing ingredients that are combined to protect, restore and give life back to your hair whether it is healthy or damaged.
Add heat to this and all the benefits of your mask will be enhanced. Heat opens the cuticle layers of the hair and allows all the magic to penetrate more easily and work inside the structure of the hair, thus caring for your hair from inside out more effectively. Here are a few ways you can add head to your treatments.
1|
Hair Steamer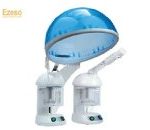 Using a hair steamer is one of the best ways to add heat to your deep conditioner and moisture to your hair. The water steam will create a warm environment that will open the hair's cuticles and allow your mask to work more effectively and water to penetrate more easily. If you have high porosity hair this will be a good acquisition as your hair as difficulties letting anything in.  With a steamer such as ZJchao 2 in 1 Steamer, your hair will be more manageable, moisturised and stronger. It will also help with scalp problems such as itchiness or dandruff you only need to use it for 20 minutes to get all the benefits. The only thing you might not like with the hair steamer is the price, however, it is a good investment and most of them can also be used as face steamers. So you'll be able to use it for your hair and beauty treatments. Who doesn't want beautiful hair and skin?
2|
Microwavable Heating Caps
Although not as good as the steamer this little hair accessory is easy and convenient to use. These caps have the added advantage of not having any plugs or cords, you won't need to stay put in one place waiting for your treatment to end. You can maximise your time and get dressed, put some makeup on or simply do some chores around the house. There are several options available in the market and the prices are much more reasonable than the steamer. The LookGreat Heat Wrap or the Hair Therapy Wrap are such examples. These wraps or caps have gel packs that are placed in the actual wrap. You only need to put your wrap in the microwave for the recommended amount of time to get 30 to 40 minutes of continuous heat.
3|
Hooded or Bonnet Dryer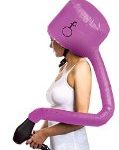 If you happen to have a hooded dryer you can also take advantage of it to get the most of out your treatment masks. If you're thinking of investing on one the retail prices can vary significantly depending on whether you want a standing or small portable dryer. The bonnet dryer will be a more affordable solution you only need to attach the soft bonnet to your blow dryer. I believe we all have a blow dryer in the house and if you don't you should get one as you can use it to diffuse your hair, for your treatments masks, blow drying, removing excess water from hair and much more. Have a look at the Remington Pro Dryer Kit, it comes with a few accessories to get you started.
4|
Hot Towel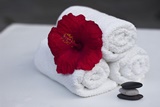 This is perhaps a forgotten way to add heat to your deep conditioner and is one I used regularly a long time ago. Sure it will be a bit messy, but if you happen to go on a vacation and have no access to the previous suggestions you can always grab a towel, open the hot water tap and you got yourself a hot towel to apply on your hair. At home immerse the towel in hot water, squeeze the excess water and wrap it around your hair. Once you feel the towel is cold repeat the process until 20 to 30 minutes have passed. Yes, I know it's laborious and maybe even messy, but when all else is not an option you have this alternative.
5|
Heat Your Deep Conditioner
Ok, guys, I'm not talking about heating up your deep conditioner to boiling point. Please don't do this as it is not good for your hair and it will probably make your mask useless. The best way for you to do this is to place a container with the mask inside another container with hot or boiling water. Let it warm up and apply it on your hair. Although it won't be as effective as using continuous heat, it will jumpstart the process.
There you have it! If you want to increase the benefits of your deep conditioner or decrease the time of your washing routine you have a few options here. Leave your comments below.
How do you add heat to your deep conditioner? Share your tips?