Hurray! Today is my anniversary! Today is the day I celebrate 2 years transitioning to natural hair. I set myself this goal early on in my journey thinking that two years growing natural hair was enough time to let it reach a manageable length. At the time, this day seemed very far away, but it's not anymore.
The day is here and I should be crossing a day off my calendar to Big Chop my relaxed hair. But, you know what? That ain't happening just yet, and I'll explain why later. Throughout this two-year adventure, I have learned a lot about my hair and I have also cried, rejoiced, been frustrated, in love and exasperated with my hair. My love and pride for natural hair have grown from nonexistence to wanting it to germinate in as many people as possible. Thus, why I created this space. To support and inform other transitioners like me so that we stand strong together in this challenging journey, and so that we can talk to and welcome those who are flirting with the idea of going natural.
1st Year Transitioning
---
My first year was a year of adaptation, experimentation, frustration, doubts and endless hours devouring natural hair information. I mean hour after hour because when I'm interested in something I can get almost obsessive. I have to understand everything from the simplest explanation to the most scientific one. Did it help me in my journey? Yes, definitely! But it doesn't mean you won't make mistakes.
This is the phase when you are introduced to your new hair. In some ways caring for my hair is similar to caring for a newborn. You have to provide your hair with proper nutrition, protect it from harm, foster situations in which it can grow and develop and love it regardless of hair type wanting nothing more than for it to grow healthy and strong. The hard thing about caring for your hair (or babies) is that in the beginning we don't understand what they're saying, what are their needs. It is this makes the journey harder and many give up here, when it gets too hard.
To avoid doing more harm than good to my hair, and because I believe products should be as natural as possible, I made my own shea butter whipped cream and flaxseed gel, incorporated them into my LOC method regimen and avoided silicones (but, hey! they have a place in your hair regimen and can be good allies). From learning how to transition to natural hair to knowing how to style and detangle my new texture the learning curve was huge, but if you're in this stage, don't give up now. Seek inspiration and support from vloggers and blogs like this and above all be patient. Hold on, the best is yet to come!
2nd Year Transitioning
---
My second year was easier as I had found what worked for my hair, I managed to successfully transition and exercise (I wasn't gonna stop it, no way!), ventured into some new hair products, learned to dye my hair with henna and continued to learn so much more about curly hair.
However, my real source of joy comes when I wash my hair and can see beautiful curls spiraling from my scalp. Since I don't do wash and go's this is the only time when I can actually see them, and let me tell you they are BE-AU-TI-FUL! I love them! Currently, my hair length with the relaxed hair is almost waist length, and my natural hair is a bit past collarbone.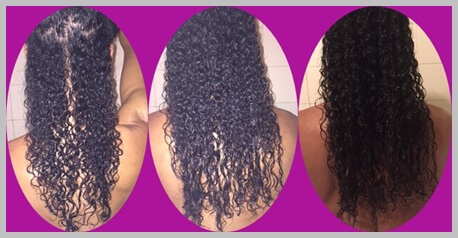 Struggles Along The Journey
---
I honestly can't say I have struggled with major issues during my journey so far. I haven't had massive breakage at the line of demarcation like many transitioners have, or difficulties in keeping my hair moisturised (the LOC method is wonderful!) or finding the right products for my hair (no product junkie here, all plain and natural).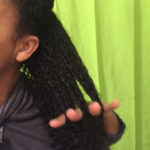 My initial complication was detangling. It was very hard for me to do this when my natural hair reached my ears. I had an occasion when I shed a couple of tears. There I was making all this effort, doing everything necessary to have healthy hair and I just didn't want to give up because detangling was too hard. The solution was very simple and made my life easier – I had to section my hair! Up until that moment I wasn't doing it because my curly hair was only a couple of inches/centimeters long and it didn't offer me much resistance. But once I managed to start sectioning my hair my wash days became so much better.
Nevertheless, lately, I have been experiencing some breakage which I believe is due to a little change in my hair products. I know we're not supposed to change the winning team, but what can I say? Sometimes we have to try new things they might work better, who knows! As long as you introduce them separately you'll know what is causing an issue with your regimen and you can address it quickly. However, I believe my hair and I are ready to take the next set. The Big Chop (BC) mean!
Two years transitioning to natural hair is a long time and I thank God I haven't had any major setback and was able to reach the finish line. I could extend my journey and secure more length before the BC, but I feel so ready for this next step that I even wanted to do it before my 2-year goal. However, as I said in the beginning of this post, "I ain't gonna do it just yet!". Why?
What Now?
---
The reason I'm not cutting my hair just yet is because I am looking for a hairstylist that I can trust my hair to, that knows about and works with natural hair and that lives around the London (UK) area. I even "daydreamed" about going to the US just for it and do a little heavy shopping for natural hair products. But, how was I going to explain that to my husband? AhAhAh…. It's been hard and if you know a good professional I'd love your referral.
I also don't know if I should do a Deva Cut  (dry cut that snips curls individually depending on how they fall and their health), cut just my relaxed hair or have it cut in a way that I can wear it straight if I want to. What's your advise? Any ideas! If you have any advice leave it below in the comments section. (Read Cutting Natural Curly Hair)
If you want to know more about my transitioning journey or about me read my About Me page or my Natural Me Journey!
What about you? How long have you been transitioning? Have you Big Chopped already? When are you planning to?