Today I thought about bringing you a DIY recipe I mixed early on in my transitioning journey. Truth be told, I haven't done it in a while not because it isn't good but because I've been a bit lazy lately. I'm sure that many of you have heard about it and maybe even "cooked" it up yourselves. Nevertheless, for those of you haven't yet tried it this is your opportunity. It's very easy to make, it's affordable and your hair will love it. So, without further ado, I present you the Flaxseed Hair Gel!
If you don't know what flaxseed (also known as linseed) is I highly advise you to keep up with the latest wonder foods. Flaxseed is a fiber crop and also a food that is known to be useful in fighting digestive problems, infectious diseases, lower blood pressure, offers protection from skin cancer, lowers cholesterol, and when taken internally makes your skin velvety and smooth.
According to the American Nutrition Association, it is an "excellent source of fiber and a good source of minerals and vitamins.  Because the seeds can pass through the digestive system intact, flax seeds are best eaten in ground form, or when ground shortly before consumption as they oxidize easily. I personally make my own protein bars with flaxseeds and I love them, they're a delicious snack!
As far as benefits for the hair it seems to be full of them. Flaxseeds have a good supply of fatty acids (Omega 3 and 6) and proteins that are essential to making your hair  stronger, elastic and healthier while at the same time preventing split ends and breakage. The vitamin E present in it, a powerful antioxidant, will help fight free radicals and delay/prevent graying of the hair and hair loss. Together, these nutrients will nourish you scalp, hair follicles and strands helping with conditions such as scalp eczema and dandruff and improving your hair growth.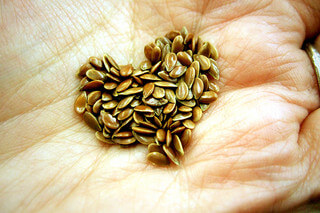 It's all good isn't it? I can tell you that this little basic recipe will help you fight hair loss or hair breakage. Along with pre-pooing my hair, I attribute my lack of hair breakage at the line of demarcation to the regular use of flaxseed gel. How can I be so sure of this? It's simple. When I stopped using it I started experiencing more breakage on my wash days, where previously I virtually lost none. It's true, I'm telling you! It could be that my diet and hair regimen worked together for me to have such amazing results, but the facts are simple to me. What do you think?
Well, let's move on to our recipe. I'm sure you're already dying to find out about the ingredients and putting your best chef impersonation to cook up this little wonder gel. You won't need anything special just some flaxseeds, water, vegetable oil of your choice and some tea tree essential oil. The last two ingredients are optional, but they will enhance this gel. The vegetable oil will provide further fatty acids and act as an emollient to prevent hair dryness and act as a barrier protecting the hair. The tea tree oil will be used as a "preservative" to prevent microorganisms from growing in your gel causing all kinds of craziness in your scalp. Save the seeds from the recipe and store them in the fridge, you can use them again which will save you lots of money  when compared to store bought gels.
Flaxseed Hair Gel Recipe
---
Ingredients
1 cup of flaxseeds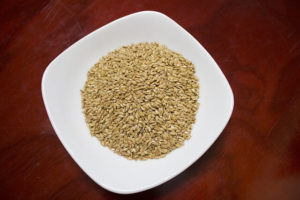 3-4 cups of water
Extra Virgin Olive Oil (EVOO)
Tea Tree Essential Oil

(few drops)
Wooden spoon
Strainer or stockings
Directions
Place the water in a pan with the flaxseeds and let it come to a boil at a medium-high temperature. Once it's boiling, reduce the temperature to medium-low and stir with wooden spoon. Keep stirring, you will notice the water will start to form a white froth that will become gelatinous and thick over time. Test this with your the spoon as if you were testing for sugar stages. The more you wait, the more gelatinous and thick it will become, making it hard to separate the seeds from the gel. The whole process, once it starts to boil, will take about five minutes. It might look a bit runny, but as soon as it cools down it will set into a gel consistency.
At this point, turn off the fire and place your strainer on top of a container, pour the gel over and mix with your spoon to help separate the gel from the seeds. I prefer using stockings that I place over a big cup, then I pour the gel, close the stocking and with some tongs press the gel out. I find it quicker and easier, but be careful because it will be very hot. Don't wait for it to cool down as it will be harder to split up the gel from the seeds. Once you have all the gel mix in the EVOO and a few drops of the tea tree essential oil. If the gel is still very hot, wait for it to cool down a bit before mixing the essential oil because it loses its effectiveness if the gel is too hot. Store the gel in your fridge and it will hold for two weeks if you let it last that long.
A "Cheat" Video For You
---
Use this gel as you would use a regular gel to tame your edges down or to define your curl, twists, braids or bantu knots. But, wait! Don't go just yet. I know that when making new recipes we have much better results when we have the chance to see all the steps involved so, to make things easier for you watch this video from Naptural85 making her flaxseed gel recipe.  I hope you really enjoy this gel and achieve good results with it.
Will you try this recipe? Have you tried the flaxseed hair gel before? How do you make your own recipe?
Image Credits: Featured Image by Sean Dreilinger under the Creative Commons License (no changes apart from the title);  Flaxseed heart image taken by Stephanie D.