Have you been transitioning for a while and have a truckload of hair products you don't use anymore? Are you sick of looking at your bathroom shelve, vanity table or box inside your wardrobe and seeing that unattractive pile of products taking up space and gathering dust? Don't know what to do with your unused hair products? Perhaps I can help you.
Whether you want a clean start with chemical free hair products, your moisturiser doesn't work that well anymore or you're just a product junkie that can't seem resist the newest thing on the market, the fact is you realised you need to do something about all those "unused" hair products. This is where I come in, I'll try to give you some ideas of what you can do with your banished hair products. So here I go, I'll try to do this by product type.
Vegetable Oils
---
I don't even know why I'm including these in here, and why you would want to get rid of them…. unless you have a scalp allergy.  Honestly, don't throw your vegetable oils away just because you think they're not really working for you or you don't like the smell of them. You can use them in many different ways and I'm sure one or two would be useful to you.
Hot Oil Treatment – use your oil(s) to do a hot oil treatment for your hair, it will thank you for it.
Pre-poo – use it for a pre-poo before you wash/cleanse your hair, it will help moisturise it.
Deep Conditioner – mix it in your homemade recipes or store bought deep conditioner. It will increase the nourishing effects.
Sealant – maybe you can use your oil to seal your hair the next time you do the LOC method.
Homemade Cream Moisturiser – if you're a little mixtress and like to make your own creams this is a good place reuse and finish your unused oil(s).
Shampoos
---
Going sulphate, paraben or chemical free or even no-poo? That's perfectly fine! You can still use your shampoos, they're just like any other detergent. Whether they have a lot or close to no surfactants they are still cleaning agents. Use them to clean your makeup brushes, as a liquid hands soap or even as a shower lotion. It may sound strange, but it really is not. Hotels do it all the time, they offer you those tiny little bottles in the bathroom with which you can shampoo, shower and… do all sorts of stuff.
Conditioner
---
Maybe they're not making your hair feel smooth, or it doesn't have enough slip or the moisture you're looking for, and if this is the case I totally back your decision to release it from its duties. Instead, you can use it for:
Pre-poo – If you read my post on pre-poo you know that this can also be done with a conditioner. If yours is not working for you maybe it will be good enough to use it for a pre-poo and mix in some oils for added slip.
Leave-in – Make your own leave-in using some conditioner, distilled water, some vegetable oil and a few drops of your preferred essential oil (optional).
Deep Conditioner – Use it when you make your own DIY moisturising or protein mask, let nothing go to waste!
Shave – If you shave your legs, underarms or anything you can use it to achieve great results and awesome smoothness.
Deep Conditioner
---
Have you and your deep conditioner went sideways? Maybe it's time to rank it down. If it was underperforming, perhaps you can mix it in with your conditioner and use it as such, use it in a leave-in preparation or add some oils, honey, and/or glycerine to rescue your deep conditioner.
Moisturisers & Leave-ins
---
Theses are a bit more difficult to reuse I think, but I dig deep into my brain and came up with a few solutions for you. Moisturisers have different consistencies they can be thick, creamy or light, and because of it, they can be harder to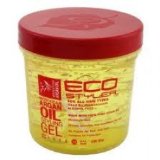 recycle.
Nevertheless, if you have a moisturiser hanging around try mixing it with a gel such EcoStyler Gel
and you will end up with a curling cream good for you to achieve perfect twists, braids or any textured hairstyle.  As for leave-ins, similarly to what I have said before, you can maybe add in some oil for, or some conditioner/deep conditioner for added moisture, or maybe both.
If All Else Fails
---
I honestly hope these tips are useful and you can repurpose your hair products and save some money. There is no need to waste perfectly good products when they can still work with a different function. Yes, I know I'm one of those annoying people who like to let nothing go to waste (I take after my mom!) my motto is Reduce, Reuse and Recycle. Plus, I don't tend to buy things on a whim to realise later that I didn't really need them. However, if you feel this is too much work for you and you just want to get rid of all your stuff here are a few things you can do.
Friends & Family – One girl's waste is another girl's treasure! What doesn't work for you may work wonders for your sister, mother, daughter or friend.
Donate – You can always give your neglected products in care homes or charity shops, someone will put them to good use.
Re-gift – Some may not like this option, but if the product is practically new and unused why not? It's not something I do often because I have my motto and all is used up, but the person on the receiving end might thank you for it.
What do you do to your unused or unused products? Share your own tips, I'd love to know about them?