Cremes, custards, puddings, parfaits, creme Brulee, whipped butter and detanglers. Phew! Did you get all that? These are just a few product names you can see printed on the label of natural hair products. While we love the array of hair products catering for African-textured hair, it can be overwhelming shopping for hair items when the time comes. How do you differentiate one from another? What do they do exactly? If you just started your transitioning journey it can be confusing, and even if you've been here for a while I bet some of you would like to have this explained to you.
Shampoo, conditioner and deep conditioner are denominations easy enough to understand when it comes to haircare. They basically constitute the pillars of any wash day. However, outside of this realm, things can become a bit more complicated when products' functions double-up or when companies pick and choose what to name their products. Some even have dairy or dessert names like milk souffle, pudding, custard, Brulee. I have yet to understand why does something you put on your hair has a dessert name. Are we that obsessed with food?
Anyway, moving on. To help you understand what exactly do these products do for your hair and what place do they have in your hair care, I will group them into the 7 different sections:
Shampoo

Conditioner

Deep Conditioner

Moisturisers

Hair Stylers

Gels, Pomades, Mousses & Foams

Serums & Elixirs
---
NATURAL HAIR PRODUCTS EXPLAINED
---
1|

SHAMPOO
I'll broadly call this category "Shampoo" because the name is generally associated with cleansing one's hair and we all know what these products do. However, there are different types of hair cleansers. You can choose the regular shampoo that strips your hair of natural oils and is packed with sulphates or you can choose kinder alternatives which range from having low sulphate content to having none.
These include low-sulphate or sulphate-free shampoos, then you have cleansing conditioners or mud wash cleansers. There is also the heavy duty clarifying and chelating shampoos which are meant to deeply clean your hair of all product build-up, water minerals and chlorine.
Keywords to look for – Shampoo, Cleansing, Clarifying, Chelating, Mud Wash and Co-Wash.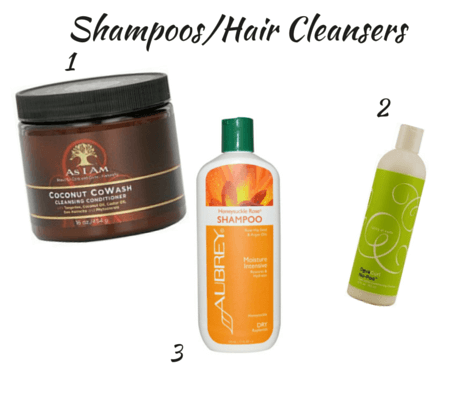 Product examples – 1 As I Am Coconut Cowash Cleansing Conditioner, 2 Deva Curl No-Poo Mild Lather Cleansing Conditioner, 3 Aubrey Organics Honeysuckle Rose Shampoo.
2|

CONDITIONER
---
Conditioners work to give back our hair what shampoos have taken. They replace back oils, they lay down the cuticle layers of the hair, they facilitate detangling, they soften your hair and they are the first attempt to moisturise your hair.  In this category, you will also find cleansing conditioners as they are capable of cleaning and condition your hair at the same time. Moreover, some products double up as conditioners and leave-ins since you don't need to rinse them off.
Keywords to look for – Conditioner, Co-wash, Cleansing Conditioner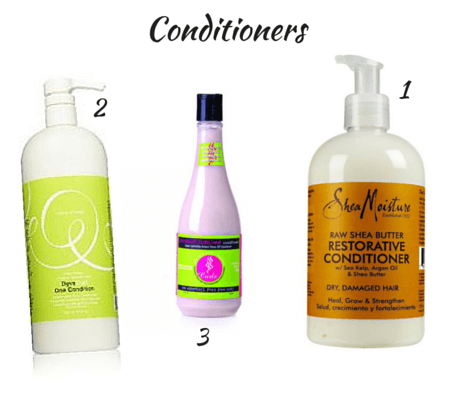 Product Examples – 1  Shea Moisture Raw Shea Butter Restorative Conditioner, 2 Deva Curl One Condition Ultra Creamy Daily Conditioner, 3 Curls Coconut Sublime Moisturizing Conditioner.
3|

DEEP CONDITIONER
---
Think of deep conditioners as your hair's opportunity to recover from damage, dryness, chemical treatments or heat styling. Your hair is left soft and smooth and, depending on its purpose, moisture, nutrition or protein, your hair will come out deeply moisturised, nourished or strengthen in its internal structure.
Keywords to look for – Deep Conditioner, Intensive Treatment, Reconstructive, Moisturising Treatment/Deep Conditioner, Conditioning Treatment, Mask/Masque.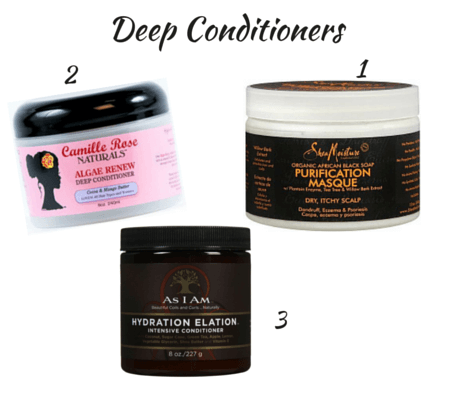 Product examples – 1 Shea Moisture African Black Soap Purification Hair Masque, 2 Camille Rose Naturals Algae Deep Conditioner, 3 As I Am Hydration Elation Intensive Conditioner.
4|

MOISTURISERS 
---
In this category, you can find your leave-in/detangler, lotion, hair milk, creme, hair butter and more. It's definitely not easy trying to navigate this sea of products especially when their functions crossover. Luckily, all products under this category have one common characteristic, they all work to moisturise your hair. Their main purpose is to put an end to dry, brittle and frizzy hair and give you back curls that are soft, bouncy, hydrated and frizz-free. There are different sub-categories under moisturisers, let's have a look.
4.1|

LEAVE-IN * DETANGLER * LOTION * MILK *
These products are good moisturisers for your hair, as they are normally packed with water-grabbing ingredients such as glycerine, panthenol, coconut oil or honey. Some of these items are also marketed has detanglers, providing some slip which facilitates detangling and styling your hair. Their consistency is often lighter than a creme and can be at times as light as a spray. They help pave the way for your styling product as your hair is now moisturised.  You can use them for daily moisture on dry hair or freshly washed hair. You'll normally find these products on a pump or press-top container bottles.
Keywords to look for – Leave-in, Lotion, Detangler,  Hair Milk, Leave-in Detangler.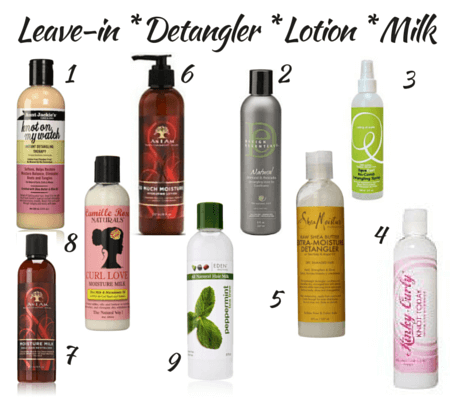 Product examples – 1 Aunt Jackie's Knot On My Watch Instant Detangling Therapy, 2 Design Essentials Natural Almond & Avocado Detangling Leave-in Conditioner, 3 Deva Curl No-Comb Detangling Spray, 4 Kinky Curly Knot Today, 5 Shea Moisture Extra-Moisture Detangler, 6 As I am So Much Moisture Hydrating Lotion, 7  As I Am Moisture Milk Daily Revitalizer, 8 Camille Rose Naturals Curl Love Moisture Milk, 9 Eden Bodyworks Peppermint Tea Tree Hair Milk.
4.2|

HAIR JUICE *HAIR MIST * HAIR QUENCH
These products are very light and are basically made of fruit or herbal waters, some humectants and oil/butter blends. They are basically liquid in their consistency and their main purpose is to give your hair light moisture and help refresh your styles without weighing them down. They usually come in a bottle spray and are very good for light daily moisture. They can also be marketed as having some detangling properties.
Keywords to look for – Spray, Quench, Juice, Mist.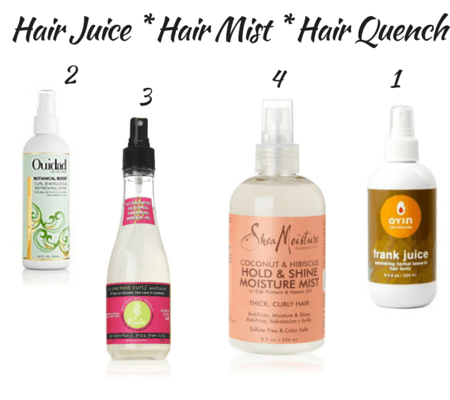 Product Examples – 1 Oyin Juice Handmade Frank Juice, 2 Ouidad Botanical Boost Moisture Infusing & Refreshing Spray, 3 Curls Quenched Curls Moisturizer (spray), 4 Shea Moisture Coconut & Hibiscus Hold & Shine Moisture Mist.
4.3|

CREME * BUTTER * WHIPPED BUTTER
Creamy by nature  cremes  are very conditioning and moisturising to your hair protecting it from dehydration, sebum depletion and the normal aggressions from the weather, heat styling and manipulation. Formulas vary greatly, but main ingredients will be water or similar (i.e. aloe vera leaf juice or herbal water), conditioning agents, vegetable oils,  butters and humectants. Can be used daily on dry or wet hair.
Although butters are not moisturisers "per se", if your hair is moisturised first with a leave-in, for instance, they will help to keep it hydrated as they work as emollients on your hair. Butters contain a unique combination of fatty acids and nourishing vitamins that will protect weakened hair from further damage and will strengthen its structure.  You will notice that butters will soften, improve elasticity and add shine to your hair (kudos to my DIY whipped shea butter!).
Whipped butters and butters, will often have shea, cocoa  or other butter as their first ingredient or the first few ingredients. They are then heavily followed by vegetable oils and by other ingredients. Whipped versions are softer versions, more easy to apply on your hair.
You will find that the cremes, butters and whipped butters often cross over and form "alliances". It is no surprise to find whipped buttercreams, butter creme or whipped cream, but if you look at the first 5 ingredients it  will tell you which one it is predominantly. They are normally kept in jar containers due to their thicker consistency.
Keyword to look for – Creme, Butter, Whipped Butter.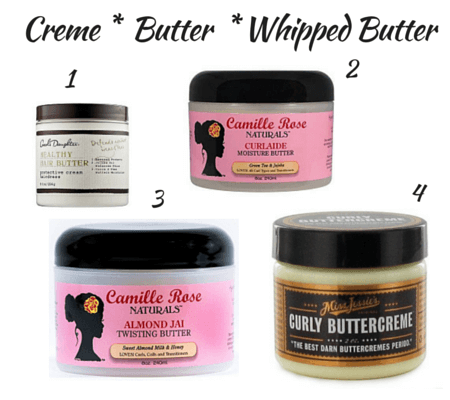 Product examples – 1 Carol's Daughter Healthy Hair Butter, 2 Camille Rose Naturals Curlaide Moisture Butter, 3 Camille Rose Naturals Almond Jay Twisting Butter, 4 Miss Jessie's Butter Creme.
5|

STYLER
---
These products are a blend between moisturising cremes, hair butters and gels. You'll find that they boast curl definition and/or hold which, for some people, make them the perfect choice for twisting or braiding styles, or to avoid frizz. The gel part of this product can be synthetic or natural with ingredients such as marshmallow root or slippery elm.
Keywords to look for – Meringue, Custard, Pudding, Curling Butter/Creme, Defining Creme, Styling, Souffle, Twisting, Whipped Butter Gel.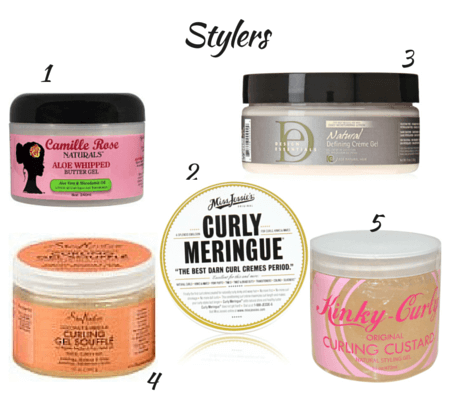 Products examples – 1 Camille Rose Naturals Aloe Whipped Butter Gel, 2 Miss Jessie's Curly Meringue, 3 Design Essentials Natural Defining Creme Gel, 4 Shea Moisture Coconut & Hibiscus Curling Gel Souffle, 5 Kinky Curly Curling Custard.
6| GEL * POMADE * MOUSSE * FOAM
---
Having natural hair, we've all come to live with, and even enjoy, some frizz. However, when we want frizz control, tamed curls and a sleek look gels can be the next best thing you reach for after your moisturiser. There are light to strong hold formulas and natural to more synthetic formulas so as to tickle everyone's fancy. The main thing to remember is that they help enhance your curls by placing a "cast" (light or strong) around them and preventing moisture from getting in.
Pomades, much like  gels, will help control your curls but they'll put in order stubborn fly away hairs, they'll help control your edges and frizz, add  shine to your styles, and you can use them just to address specific sections of hair. They'll guarantee you'll look good no matter what with their strong hold and thick paste consistency. Within this category, you can also find styling pomades, butter pomades or butter gels which attempt to marry the perfect curl control and moisture-infusing properties in a more "spreadable" recipe.
Mousses or foams can have similar characteristics to gel, curl definition and control, but they can also be styling aids to help you achieve desired looks like more volume or for setting rolls or wrapping. Once again you can find hybrids in here as is the case with gel mousses.
Keywords to look for – gel, pomade, mousse, foam, gel mousse, butter gel, butter pomade, styling pomades, jelly.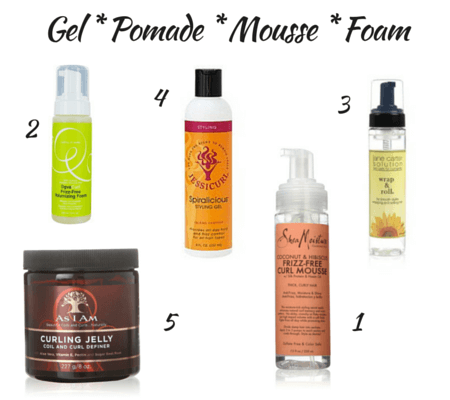 Product examples – 1 Shea Moisture Coconut & Hibiscus Frizz-free Curl Mousse, 2 Deva Curl Frizz-free Volumizing Foam, 3 Jane Carter Solution Wrap & Roll, 4 Jessicurl Spiralicious Gel, 5 As I Am Curling Jelly Coil and Curl Definer.
7|

SERUM * ELIXIR
---
Serums and elixirs can actually serve different purposes and be made with entirely different ingredients. The main thing to remember, though, is that they are meant to give your hair an extra boost, some extra TLC. Some of these products are made entirely out of silicones and will provide hair shine, fight humidity, block frizz and provide thermal protection for heat styling. Others can be made almost entirely of vegetable oils with the purpose of increasing hair growth, improving scalp health and diminishing damage, among other things.
Keywords to look for – Elixir, Serum, Styling Elixir, Silkening Serum, Hair Serum.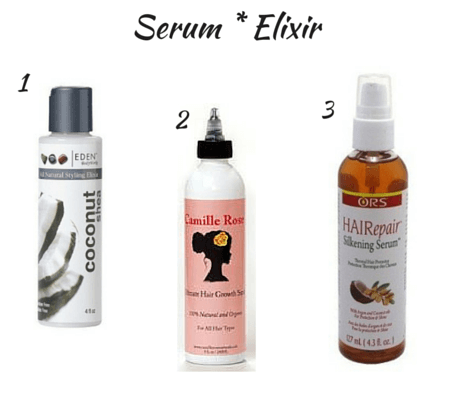 Product examples – 1 Eden Bodyworks Coconut Shea Styling Elixir, 2 Camille Rose Naturals Cocoa Nibs & Honey Ultimate Growth Serum, 3 ORS Hairepair Silkening Serum.
---
As you can see this is a long list of categories for hair products, and it's no wonder they can be so confusing. Categories can often cross over each other and arrange happy marriages, or not so much, all with the purpose to serve your hair's needs and conveniences.
But this can be a double-edged sword because while the industry is serving our needs (and theirs, let's not forget it!), it also creates confusion for less experienced consumers, let's say the "new kids on the block" who wanna be able to find that one product or the perfect product combo, and get lost in a sea of different hair product terminologies.
I hope this will make things easier for you to understand, I remember I was once where you are, and I wish I had natural hair products explained or decoded to me.
What was/is your main difficulty when buying hair products?