Have you ever questioned why that deep conditioning treatment did wonders for your friend's hair but doesn't seem to do the same thing for yours? Or why there are so many different types of hair treatments that you can't seem to make up your mind on which one to buy? Well, today will be the day I will do my best to help you identify different deep conditioning treatments out there so you can jump-start your results and stop spending money unnecessarily.
When buying your deep conditioner or treatment mask the first thing you need to pay attention to is your hair's needs. What does it need? If a product worked on your friend's hair but doesn't seem to do much on yours or it worked on your hair before but doesn't anymore it's because your hair doesn't need it. That is why sometimes we can do all the right things and still see no results. Each hair has particular care needs at different times.
When assessing these needs we need to look at different things such as hair type and texture or if any chemical treatment has been done, this will inform the type of deep conditioner you'll need as each one has a specific function. Although they come in a myriad of different names, generally speaking, they can be for Moisture, Nutrition or Reconstruction.
Moisture
---
Moisturising deep conditioners as the name entails are meant to supply your hair with water, this type of mask is good for all hair types and needs. According to L'Oreal's hair science blog, water can account for 12% to 15%  in the composition of hair and is, therefore, the second biggest component after keratin (protein). Among the three basic types of hair needs, this is perhaps the easiest to identify. As you know the shape of curly hair doesn't allow the cuticle layers of the hair to lie flat on the surface, and, as a result, the hair is more porous than Caucasian hair and loses moisture with ease, thus why we need to seal it in.
Telltale Signs Of Hair That Needs Moisture
Curly hair craves water and it's something we should care to supply our hair with, that is why you'll always hear that the most important thing we can give our hair is Moisture, Moisture, Moisture. Hair that lacks moisture is not soft to the touch, it lacks malleability, it frizzes easily, it's dry and brittle.  On the other hand, if your hair is soft, frizz-free, manageable and shiny it's properly moisturised and able to retain moisture.
Ingredients To Look For
The first five ingredients (after water) in any product will be present in higher concentration than the others and as such, they will inform you which type of deep conditioner you're looking at. Look for ingredients such as Aloe Vera, Panthenol, Glycerin, botanical extracts, fruit and fruit extracts, vitamins, fatty alcohol (cetyl, stearyl, behenyl or cetearyl) or shea butter (holds in moisture) but there are much more.
Moisturising Deep Conditioners
1 Shea Moisture Raw Shea Butter Deep Treatment Mask, 2 Deva Curl Heaven In Hair, 3 Curl Junkie Curl Rehab Moisturising Hair Treatment, 4 Alikay Natural Honey And Sage, 5 Camille Rose Naturals Coconut Water Penetrating Hair Mask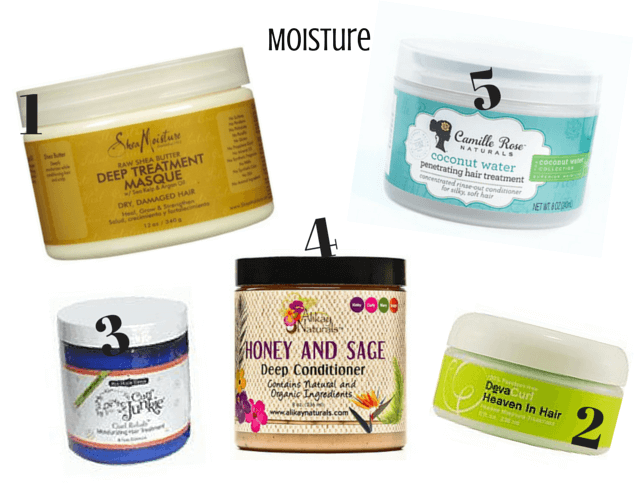 Nutrition
---
Deep conditioners that are able to provide nutrition to your hair are simply replenishing the lipids/oils in your hair at the cortex and cuticle level. Lipids formed by sterols, fatty acids and ceramides represent 3% of your hair and are what allows your hair to seal in moisture, to maintain its mechanical characteristics (movement and elasticity) and to shine. Therefore, it is very important to maintain these attributes in your hair.
Telltale Signs Of Hair That Needs Nutrition
Nutrition masks are ideal for hair that is porous because they attract and seal in moisture, for hair that lacks shine, definition, hair that is dull, easily frizzes, tangles and has single strand knots. Once you balance the lipid level in your hair it will become silky and shiny, with springy curls and not so easily tangled.
Ingredients To Look For
Look at the product label for emollients and humectants such as vegetable oils (i.e. olive oil, coconut oil, almond oil, argan oil) and butter (i.e. shea butter, cocoa butter, mango butter).
Nutrition Deep Conditioners
1 Shea Moisture Jamaican Black Castor Oil Strengthen, Grow & Restore Treatment Mask, 2 Camille Rose Naturals  Algae Renew Deep Conditioning Mask, 3 Mielle Organics Mongongo Hydrating Conditioner.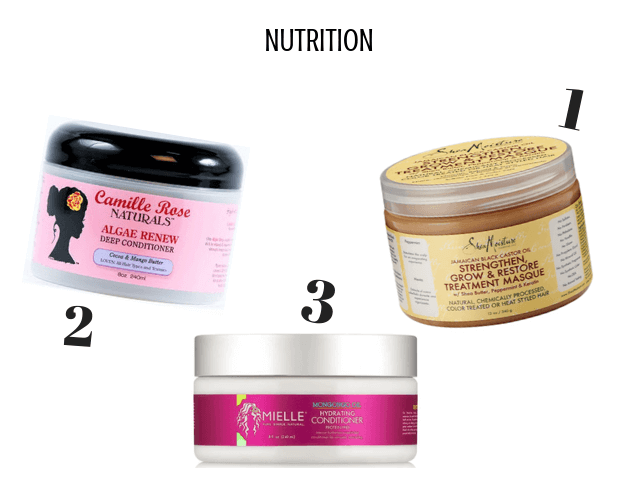 Reconstruction
---
These deep conditioners work hard to rehabilitate severely damaged hair or hair whose inner structure has been compromised through the use of heat tools, chemical procedures, manipulation or even everyday exposure to the elements. Small molecular proteins act at the inner structure of the hair, the cortex, to support the main component of the hair  – Keratin (a protein). Conversely, larger proteins work on the surface of the hair filling holes and cracks in the cuticle layer.
Telltale Signs Of Hair That Needs Reconstruction
All hair needs protein at some point, but chemically treated hair or hair frequently subjected to heat tools needs it more. If your hair is limp, sheds excessively, breaks just from manipulation lacking elasticity, is dull and lacks life, has split ends and is thinning out it's time for a protein treatment.
Ingredients To Look For
Your treatments should have in their ingredients like Ceramides, Keratin, Collagen, Seaweed or Kelp, Proteins (i.e. Hydrolyzed Collagen/Keratin/Silk/Wheat/Soy Protein) or amino acids like Wheat/Silk Amino Acids.
Reconstruction Deep Conditioners
1 ApHogee Keratin 2 Minute Reconstruction, 2 Shea Moisture Anti-Breakage Masque, 3 Mielle Organics Babassu Oil Mint Deep Conditioner.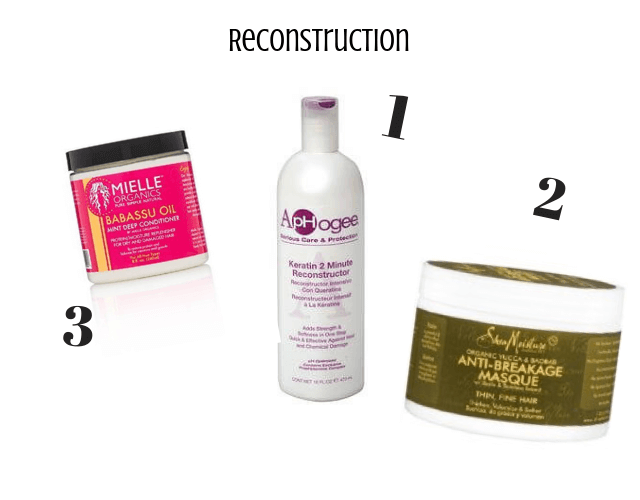 Also…
---
Although there are three major categories of deep conditioners or treatment masks – Moisture, Nutrition and Reconstruction – you will notice from the ingredients list of your products that many treatments cross over each other to make different alliances such as moisture+nutrition, nutrition+reconstruction or even moisture+nutrition+reconstruction. So how do you know which one to pick from the shelf?
Several brands will indicate on their label what the product is, for instance, a moisture mask will say moisture, hydration, moisturising or even mention their fruit, plant ingredients. Nutrition treatments will have print on the label nutritive, intense, nutrition, or make reference to oils or butters. Words like reconstructive, repair, reconstruction, penetrating or protein refer to reconstruction masks. However, this is not a rule because, as I said before, many deep conditioners crossover and there are specific lines for coloured or extremely damaged hair as well. More important than the name print on the label is the ingredients' list, looking at them will give you a clearer idea of what it does.
For me, the key is to look first at the first five ingredients and then look at the number of ingredients from each category that you find in the label. For instance, if you find that a deep conditioner claims to be reconstructive but the majority of the ingredients are nutritive and proteins only come way down the list then you've got yourself nutritive mask with a mild reconstructive function. Or this mask could also be a moisturising and nutritive one if there is a balance of those ingredients in it.
Ultimately, quenching the thirst of natural hair is the first and most important concern for those with natural hair because our hair thrives on it. Second to that is sealing all that moisture in because, as previously mentioned, our hair is inherently porous. It's pointless to seal hair that has no moisture in it or moisturise hair without the use of lipids to help attract and retain the water in. A moisturising and nutritive treatment is always a good combination for curly hair.
If your hair is 100% natural and is not dyed, bleached, permed, heat damaged or regularly exposed to heat your reconstructive treatments can be spaced further apart.  However, if your hair is severely damaged from frequent chemical procedures or use of heat tools you need to resort to these deep conditioners at least twice a month to strengthen your hair's damaged structure. Please be aware that these treatments are drying to your hair in different degrees depending on the protein concentration of the formula, therefore you need to follow them with a moisturising mask. You will notice that many masks are now being formulated with moisturising ingredients trying to address this issue, but I'd still follow this rule just to be safe.
And there you have it! I hope this tip will be useful the next time you buy your deep conditioner. I know that looking at the ingredients list sucks, but it can make such a difference in your hair regimen. It can be the difference between being almost stagnant to jump-starting your hair growth and health.
How are these tips helpful to you? Do you have any other tips to share when choosing hair treatments? What is your favourite deep conditioner?
Featured Image Credit: taken from bella-kinks.com