Hi there! I hope you're ready to continue our series of Unboxing Natural Hair! Today we will talk about what is hair porosity. We now know that according to Andre Walker there are 4 different hair types and each one has its own characteristics.  This is important because it helps us understand how our hair responds to styling and products.
However, this alone is not sufficient to understand how natural hair behaves. So let us dive into hair porosity straight away.
What is Hair Porosity?
Hair porosity is the ability of hair to absorb and retain moisture into the hair shaft.  This is determined by the flexibility of the hair's cuticle (outer layer) to open and it varies between low, medium and high porosity.
Like many things in our bodies hair porosity is genetic, but this can also be influenced by the damage done to the cuticle layer. Exposure to sun, sea, chlorine (swimming pools), heat, dyeing and/or relaxers can affect how porous hair is.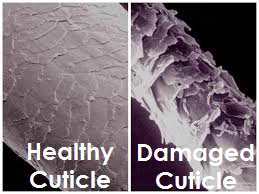 If this concept seems a little hard to understand when it comes to your hair, ask yourself "Does my hair get easily/quickly soaked in water when I step under the shower?", "When I wash my hair how long does it take to dry, before applying any products?". I believe my hair has medium to low porosity as it retains moisture very easily for a long time.
How do I Know My Hair Porosity?
To know your hair's porosity, the quickest and easiest way is to do the hair strand test. In this test, you will get a single strand of clean washed hair, free of any products, and place it in a glass of water. Observe the hair for a couple of minutes (2-4) and if it floats it has low porosity if sinks it has high porosity.
High, Medium and Low Porosity
High Porosity – Hair with high porosity has its cuticle layers open, it absorbs moisture very easily. Nevertheless, it doesn't retain it and lets it slip just as easily. Highly porous hair has holes in its structure which can be the result of genetics or damage to the hair's outer layer. The latter can be easily damaged. This type of hair will lack shine, will be prone to frizz and will have difficulties accepting chemical treatments such as dyeing.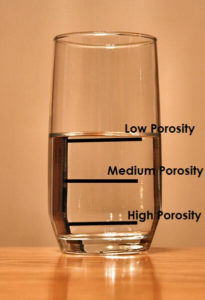 Medium Porosity – This hair is what we all desire. The cuticle layers of the hair are compact but open just enough to absorb and retain moisture properly. Medium porosity hair looks healthy, has elasticity and takes in chemical procedures well. This hair is easy to style and maintain.
Low Porosity –  In essence, low porosity hair "repels" moisture because its cuticle layers are so compact they resist the penetration of moisture in the hair. This hair is prone to build up since products just seem to rest on the hair. However, it is considered a healthy hair, because when moisture does get in it is adequately retained by the hair. One important issue to consider in low porosity hair is the fact that it resists chemical treatments.
Why is This Important to Know?
It is important to know hair's porosity because its ability to retain moisture will determine the health of your hair and will influence elasticity and texture. I hope you have realised by now that without proper moisture hair becomes dry, dull, brittle which will lead to breakage and inability to retain growth.  And this is more so for curly, wavy and kinky/coily hair.
How is This Connected to Andre Walker's  Hair Types?
Well, you know from my previous post that among other characteristics, hair type is determined by curl pattern/shape and this is highly affected by moisture. Without suitable moisture, you will have difficulties "showcasing" your curls.
If your hair has low porosity you will need to find products that are suitable for your hair. Nevertheless, keep in mind that hair porosity can change. As mentioned before, hair can be damaged by chemical treatments, sun or heat and this will affect porosity. Therefore, it is important to know your hair type but is also important to know your hair porosity.
This ends our porosity lesson. I hope you now have a clearer understanding of how important it is to know your hair type and porosity and how they are connected. Next, we will talk about density.
Have done your strand test? What is your porosity? 
Featured Credit Image: Steven Depolo_Black Girl Kinky Curly Afro on Flickr (license)