The search for that special something to boost hair growth is not foreign to the natural hair community, myself included. Patience is a trade term frequently used when this conversation comes along, generally by those who have reached their length goals or are about to.
How many blog posts and YouTube videos have you read and watched in the search for the Holy Grail of hair growth. It's true I'd like my hair to grow faster (though it grows pretty fast. we're never happy 😉 ), but I refuse myself to surf the wave of economic consumption. and blow up my budget. You can buy all kinds of products out there just to have long hair, and not really know what you are putting into your body and the extent where you can damage your health and your own health. Be safe!
I am a bit biased when talking about this subject because I favour the use of products that are as natural as possible. It's all out there in Nature you just have to look.
I know we have the inversion method out there which is pretty natural, but I honestly don't have the time to follow it every day and frankly, I'd feel ridiculous. Or maybe…, I'm just not that desperate! The truth is, hair growth is genetic!
You can not permanently increase your hair growth. This is determined when you're born and is influenced by your diet, exercise, hair care practices, health, medication, products and more. It sounds complicated but it really is not. You can read more about this here.
Having said all this, I also have o say you can TEMPORARILY (let me make it clear) increase your hair growth rate in one of three ways: with anti-inflammatory aids, vasodilatation aids or with nutrition/supplements aids. They only work for as long as you practice them. Wanna know more about this? Sure, click right here.
Anyway, if you're not ready for the Inversion Method, the Lunar Calendar, the Washing Hair Method, are too lazy to exercise and would love to have a new trick that can fit nicely into your hair routine, keep reading.
I give you…..(drumroll, please) Onions!
Yes, Onion! A Powerful Aid In Hair Growth
---
No, I don't want to make you cry with laughter (got the joke?!). But this powerful vegetable, commonly used all over the world, is a strong partner in our goal to achieve long hair.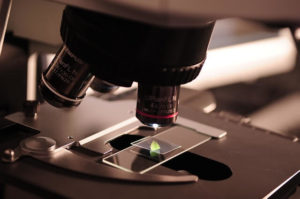 Studies have shown that this small vegetable has many health benefits with anti-carcinogenic properties, anti-coagulation activity, anti-asthmatic and antibiotic effects. It can also help treat yeast infections, scalp infections, scalp acne and dandruff because of its antibacterial properties.
Additionally, onion is considered to be an effective treatment for hair loss, alopecia and premature hair ageing (read greying). Studies have proven that using onion juice on the scalp helps stimulate hair growth.
What Is It About Onion That Makes Hair Grow?
---
The content of sulphur in onions is very high. So when you massage onion juice on the scalp it increases blood flow to the hair follicles promoting hair growth and regeneration of hair follicles. An additional benefit of this practice is that those with hair thinning will notice that onion juice helps to 'thicken' their hair.
With so many costly products in the market full of side effects, allergies and chemicals why not opt for something that doesn't need a doctor's prescription, is natural and very affordable.
Some DIY Recipe
---
The best thing about introducing onion into your hair care routine is that it is completely safe. It can be used in different ways, but the most effective way consists of applying onion juice directly on the scalp. Those with dry or oily scalp can use it as well.
Onion Shampoo
According to a slew of YouTubers, you will need your regular shampoo (sulphate free preferably), a medium onion and a container to put the mixture in. Cut the onion into pieces, put into the container and mix in the shampoo. Let it sit for 2 weeks and use the shampoo.
Though many Brazilian curlies swear by this recipe I am sceptical. It's not that I doubt the hair growth boost that it may provide. I am a bit more concerned about the possible growth of bacteria as the onion is sitting in the shampoo for 2 weeks and what that may do to our scalp and hair, especially for someone who already has skin/scalp issues.
Scalp Tonic
Cut an onion into pieces and place it in a juicer or food processor, add one tablespoon of water if needed, extract the juice and apply on the scalp. Leave for an hour and wash your hair as normal.
Onion Pre-Poo Mix
Mix the juice of 2 medium onions with 1 tablespoon of coconut oil and 1 tablespoon of extra virgin olive oil. Apply on the scalp and hair, leave for an hour and wash hair as you normally would.
These are just a few simple recipes, maybe you can come up with your own concoctions.  As you know onion has a strong scent, so if you are worried about the smell you can use a few drops of essential oil to disguise it. Rosemary essential oil might be a good choice as it is known to stimulate hair bulbs and prevent premature baldness, but you can use any. Nevertheless, the scent will disappear once you wash your hair.
Don't forget to give yourself some time to see any results, remember this is a  natural ingredient it will take more time for you to start seeing any changes. Let me know if you've ever used onion for hair growth or if you plan to make any of these recipes.
What unusual kitchen ingredient do you use for your DIY recipes?