Have you heard of the Water Only Washing Method to care for your tresses? Naputal85 recently posted a video tutorial where she talked about her new hair washing routine using this approach. The method itself is not new and must be around for ages, probably ever since people started taking care of their personal hygiene. I call it the WOW Method (Water Only Washing) maybe it's not original but let's just roll with it.
Wow, seems to be Whitney's reaction with just a few weeks on this method. She highlights the use of fewer products, a big increase of natural shine, moisture retention and the loss of less hair with this method when compared to co-washing her hair.
Water only washing is a no-poo approach to cleansing your hair just like co-washing (conditioner washing). When I came across this notion I thought,  "Our hair can't possibly be clean with just water". What about the smell, what about bacteria growing on your scalp? I must admit I quickly dismissed subscribing to this approach without looking into it, and it was only when Naptural85, a natural hair Guru on YouTube, talked about it with such enthusiasm that my curiosity was piqued.
The WOW Philosophy
---

The main argument behind the method, one which steers you into using just water to wash your hair, is one which I believe all of us transitioning or naturals already acknowledge and/or have taken steps towards it by cutting the use of harsh surfactants in our hair products.
Sulphate shampoos are very efficient at their job of cleaning dirt, dust and products on our hair, however, their effectiveness leaves our hair dry and vulnerable to damage because it also removes the natural oil (sebum) on our hair which is meant:
* to protect the hair from moisture loss and external aggression,
* to help avoid tangles
* to help provide movement and elasticity
* to give hair natural lustre
Of course, you can go low-poo (sulphate free shampoo), but that won't solve the problem. You'd still be removing the natural oils just not so aggressively as to deplete your hair completely. Co-wash then?! Our hair will certainly be more protected. However, a no-poo approach such as the WOW one, calls our attention to the environmental impact of the chemicals used in hair products that are washed away into our soils and the use of product containers that end up in landfills. There's also the economic impact of spending money excessively or needlessly.
The WOW method seems to follow these concerns to the letter and suggests that washing with only water is the best solution, not only for our hair's health but also environmentally and economically. Washing with water doesn't contaminate the soils with chemicals, doesn't produce waste and it's basically free. Plus, cleaning our hair with just water won't remove sebum from our hair.
The claim behind this approach is that by washing our hair with just water, we allow the sebaceous glands in our scalp to produce sebum that will eventually cover our hair from roots to ends to protect, nourish and moisturise it as it is supposed to do.
Back when I dismissed this method, I noticed that many Caucasian ladies used this method to help them decrease the production of hair sebum that left their hair greasy. The thing is their hair got greasy because they used shampoo frequently to remove the sebum. In turn, the sebaceous glands produced more sebum to protect their stripped hair. A vicious cycle I know! Now, with Whitney's account, I thought "But how can this help natural curly hair, when we don't want to decrease sebum production?". If anything, we want to increase it so that it covers our hair.
If you're curious and want to discover if this method can work for you download the Free worksheets I put together for you.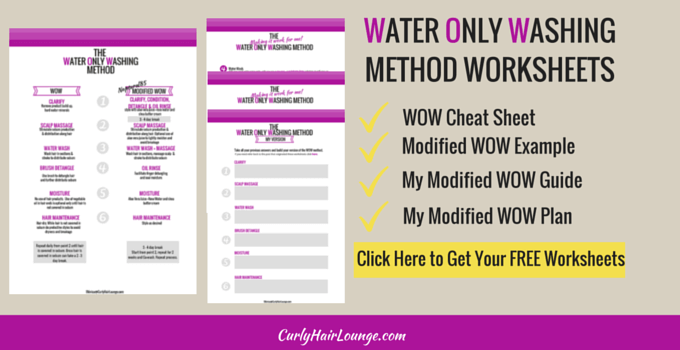 Following The Guidelines 
---
According to what I read so far about this method in hair forums, blogs and YouTube videos supporters use water to wash and maintain their hair. Yeah, I know it sounds crazy. I can just imagine my hair turn itself into a giant ball of tangled, dry and frizzy hair that would quickly start showing the signs of moisture loss (a.k.a. breakage in the long run).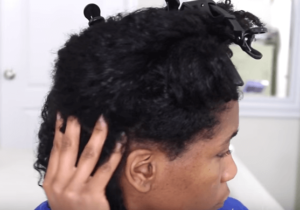 Still, followers seem to say "Fear not! This won't happen". As you stop using hair cleansing products and move to water only, your sebaceous glands will continue to produce sebum and this will eventually cover your hair to do all it's meant to do. If you're anything like me you're thinking "Really?!? Can this film forming oil alone prevent dryness, frizzy hair, tangles, breakage, and so on?" It just sounds too good to be true.
Nevertheless, just as for decades we couldn't conceive anything other than to "chemically straight our hair to look pretty", maybe we're also under the industry's spell that we need shampoos/hair cleansers to clean our hair. Therefore, let's consider the basic steps if you want to start doing the WOW Method for natural hair.
Basic Steps
Clarify Your Hair – As I've said in a previous post when starting out on a new hair method you need to clarify your hair so you can better assess your hair's health and achieve better results. Doing this will deeply clean your hair of any product build up or hard water minerals and provide a clean start. If you want to read more on why you should clarify your hair read this article.
Scalp Massage – Before any washing procedures, you need to massage your scalp with your finger pads to help stimulate sebum production and to help spread it evenly across the hair shaft. Section your hair and focus on each section separately.
Water Wash – Hop into the shower and saturate your hair with water. Then focus on one section at a time soaking, massaging the scalp and stroking the hair in a downward motion to help spread the oils. Do this to all sections.
Brush Detangling – Under running water detangle your hair with a brush, this will also help the sebum cover the hair length.
No Hair Products – The method does not indicate the need to use any products to maintain your hair. Sebum is all you'll ever need for your hair. I did find that some people apply a vegetable oil or butter at the ends while the hair is not fully covered in sebum.
Air Dry/Protective Style – You can air dry your hair, but while your hair is not completely covered in sebum and during the adaptation stage it's probably best to keep you hair in a protective style to protect it and because in the beginning there can be an overproduction of sebum that can make your hair look greasy or waxy. This way you will avoid dryness, breakage and an unkempt look.
With the discontinued use of shampoos and cleansing agents, this method is supposed to decrease the sebum production that afflicts Caucasian hair. With the exception of clarifying your hair, which should be done when you're starting this method, all other steps should be done on a daily basis to help hydrate your hair and evenly distribute sebum. Once sebum reaches the ends of your hair you can skip a few days without washing. I know there's probably a few red flags coming up for you and they also flared up for me.  
First of all, we don't want to decrease sebum production we want to normalise it since too much of a good thing can also clog the pores and cause other issues. As we all know the shape of curly hair makes it hard for sebum to travel along the hair shaft, that's why it's very important to massage the scalp and hair to help "move" the oils along the hair shaft. However, a second problem arises here.
Using a brush for this seems to invite trouble to walk in freely because even if it doesn't "hurt" your hair when it's already covered in sebum while you're transitioning into this method, naturally dry and curly hair is stripped and can break very easily. If your hair is long the wait will be long and agonising. Thirdly, there seems to be too much hair manipulation with all the daily massage and hair wash, which as we know has "breakage" written all over it.
But from what I gathered in my investigation people adapt this method to serve their hair needs. Again, if you want to discover how you can do this for you download the free Worksheets for the WOW method and build your own modified version.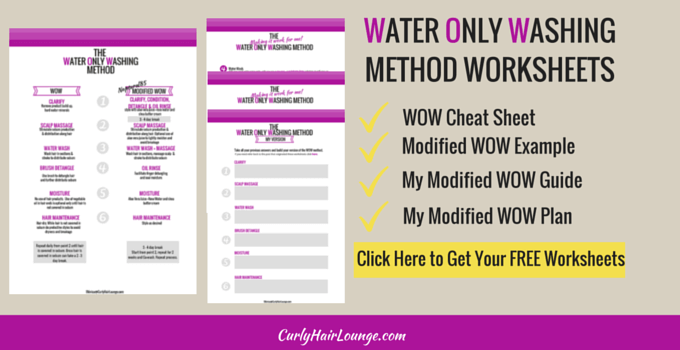 Let's see how Naptural85 was able to adapt the method to fit her hair needs and work around some of these issues.
Making It Work For Natural Hair  – Naptural85 Adaptation
---
To start off with the water only washing method Whitney clarified, conditioned, detangled and did an oil rinse on her hair. Then after 3 to 4 days, she started applying the WOW method techniques in the following way:
Scalp Massage – In the shower, massage your scalp to facilitate and distribute sebum.
Water Wash and Hair Massage – Wet hair in sections concentrating on massaging each one individually and finger detangle at the same time.
Oil Rinse – do an oil rinse to help detangle and to seal all the moisture in. Proceed to style your hair.
Style Your Hair – to style her hair Whitney applied some of her shea butter mix plus her Aloe Vera and rose water. Follow this by making your favourite styles (twists, braids, Bantu knots or whatever you like).
As you can see the hair is not washed every day, she doesn't use a brush to detangle her hair and she applies products to seal in moisture. She will do this process every 3 to 4 days for two weeks, then she co-washes to stimulate sebum production since we don't want to decrease it and then she repeats the process again.
I know that applying butters on her hair kind of defeat the purpose of using only water as you will eventually need to need to use a cleansing agent to remove build up (read more about build up). Nevertheless, as you can see Naptural85 made things work for her and so far she is very happy even though she's new to the method. Here is her video for you to witness her benefits.
Are You Convinced? My Thoughts
---
I don't know about you, but I am still not completely convinced. I still have a few doubts and I'm sure I'm not the only one.  You can address the hair odour with hair rinses (essential oils) or the waxy hair look with oil rinse or warm water to emulsify sebum,  but I think there is something important we're forgetting here.
As much as we adapt the method to our specific needs, and as much as we like to wear our curly hair out as it naturally is, many of us (if not all) like to take full advantage of our hair's versatility and many times that can only be achieved with the use of hair products that will eventually create build up. What about hard water minerals and chlorine? What about when we want to wear our hair straight and use a heat protector?
Yes, we can use a clarifying or chelating shampoo or a more natural solution such as ACV to fix this, however, you would have to be going through all the adaptation period again – from your hair being stripped of sebum to being covered in it again. For some people, it can be an easy transition, but for others not so much. Many people complain of sebum over production and difficulty disguising waxy and greasy look even after a few months.
Why would you want to go over this a few times a year? It just sounds like too much hassle, and although we all want a simple hair regimen with, fewer steps and few products the water only washing method just doesn't sound doable or worth it to me. Maybe some of you natural ladies following this method will convince me otherwise. How does method sound to you?
Are you curious but want to find out how this method can work for you and your hair needs? Simply download the FREE worksheets, work through them and in the end you'll be able to come up with your own WOW version or you can just follow the original WOW method. To make this easier for you, there's a cheat list in there for you too.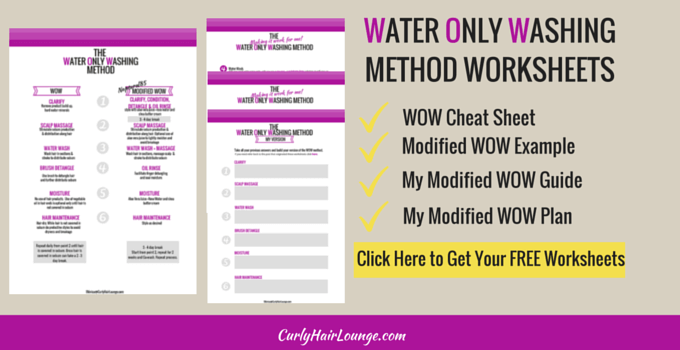 Have you heard about the water only washing method? Would you try it? What your opinion on it?