Have you ever heard of the Crown & Glory method for hair care? Well, I hadn't until a few days ago, it was completely new to me although it's not actually new in the natural hair community. You think you know just about every hair method there is and then a new one pops up on your radar. It was exciting, so I immediately started researching it as I wanted to write about it here.
Getting information on the Crown & Glory method was easy, however getting it from the horse's mouth was a whole different scenario. Several followers of this method name Robin Woods as its creator and the website www.growafrohairlong.com as the place to get information about it and to buy the products that support the method. However, I quickly found out the website no longer exists and I also registered a tidal wave of complaints on forum threads about product orders that were paid and not received.
Regardless of all the "shenanigans" going on backstage the method itself is simple, easy to follow and has produced results for many. The Crown & Glory Method supports the use of hair extensions in braids, twists or cornrows to minimize hair manipulation, reduce damage and achieve quicker hair length goals. For this to happen great attention is given to keeping the hair moisturised at all times. It's simple, isn't it!
The Method Itself
---
Although the method seems more geared to people who use hair extensions, you can also follow it even if you braid, twist or wear your own hair in a similar protective style. Moreover, it isn't solely aimed at those with natural hair, anyone can do it, even those with relaxed hair.  From the information I gathered around, the essential elements of the routine are as follows:
Using hair extensions (or own hair), the hair should be braided, twisted or cornrowed and worn for a period of 2 to 3 months, no longer than that. After this period, the hair is allowed to rest and extensions should be taken down for 2 weeks at least. This cycle should be followed until the desired hair length is reached.
Wash
Hair/Extensions can only be washed with diluted shampoo which is applied in a spray bottle to saturate the hair. I would say this is so to avoid too much motion when shampooing which will make your hair look messy and increase the need to redo your hair extensions sooner. Some people advise to just squeeze the mixture on the hair to achieve some lather. Rinsing is done with clear water and the hair are squeezed to ensure there is no diluted shampoo left in.
Conditioning/Moisture

I saw no mention of conditioning with a regular conditioner. Conditioning of the hair is achieved by mixing Infusium 23 Leave-in Treatment and African Royale Braid Sheen Spray.  These are enriched with proteins, vitamins, amino acids and herbs which are meant to strengthen, moisturise and also prevent scalp itching. Again, you should saturate your hair with this mixture daily. As an extra step, some occasionally massage their scalp with a vegetable oil and also apply it on their ends.
Method Dos and Don'ts!
---
As with all hair care regimens, there are a few things you should not do to avoid disappointments and setbacks.
Avoid using your extensions/hair in any form of micro style. This increases the risk of hair breakage, you must relieve tension from your hair allowing it to breathe and grow. You should use at least medium sized braids, twists or cornrows.
Avoid wearing your chosen hairstyle too tight, especially on your edges as you don't want to get traction alopecia. Use looser braids, twists or cornrows instead, to protect them and avoid any issues.
You should redo your hair around your edges as this is the area where most product build up happens. Oh, and let's not forget it's also the area that makes you look unkempt quicker.
Be mindful of the hair extensions you are using. When synthetic, some can cause scalp irritation and itching. Also, don't wear heavy or very long extensions as they tend to cause extra weight and tension on your scalp and lead to breakage and traction alopecia. Try to use hair extensions that are similar to your hair type. If your hair is thin use extensions with thin strands since this won't cause extra weight on your strands as well.
My Thoughts on The Crown & Glory Method
---
As you can see, it is a no-fuss regimen that is easy to follow. However, I am a little alarmed by the fact that there is no mention of conditioning or deep conditioning the hair. I believe conditioning your hair is an important step to follow after your shampoo. It will close the cuticle layers of the hair left open by shampooing and give back to the hair some of the oils that are stripped down from washing your hair. I believe you should not skip the conditioner.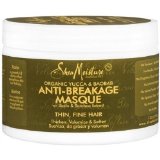 As for deep conditioning, the hair needs a proper balance of moisture and protein to strengthen and keep the hair structure hydrated and healthy. We should not forget that underneath those hair extensions there is your real hair, that needs to be taken care of.  So deep conditioning is essential. I did, however, find two video tutorials where the method was adapted to the regimen to include hair conditioning and deep conditioning.
I would say that if you are thinking of following, or are following, this hair care method you should include hair conditioning and deep conditioning. My advice would be to do a protein treatment before you start your 6 – 8-week cycle to strengthen the hair, and maybe once more halfway through your cycle. Always condition and use a moisturising deep conditioner when you wash your hair (both watered down to avoid residue on the hair). To further benefit from your intended "hair growth cycle", why not trim the ends of your hair and start on a healthy note? As with other hair methods, you can make adaptations to suit your needs.
The method itself has a simple premise, yet it doesn't seem much different from what people wearing hair extensions, or their natural hair, in braids, twists or cornrows were already trying to achieve – minimal manipulation, reduced breakage and retained hair length. This seems like a good method for those who don't like to do their hair often or on a daily basis.
Please note that these are my own personal thoughts on the Crown & Glory hair method, and they are bound to information retrieved from bloggers, video tutorials and forum threads from people who followed/follow the method. It was impossible to find detailed information on the website which originated the method since it is now closed.
Are you following the Crown & Glory method? What is your hair regimen? Have you considered following this method?