Do you like "DIY'ing" in the kitchen? I mean making your own hair recipes from scratch? Why you ask? Because today, I'm gonna be sharing with you a few recipes. It's actually not that hard DIY'ing, you don't need to be a chemist the recipes can be as hard or as simple as you want them to be. To be natural is to be able to whip up a quick concoction when you suddenly run out of your favourite deep conditioner or leave-in conditioner. You may not like doing them, but it's very handy to know a few recipes in times of need.
Lately, I have written about thinning edges and hair breakage and how it's important to make adjustments in your hair routine to address these issues. These changes include not only habits but also changes in the products you use, either because they're undermining your hair health or because you want to replace them with better ones, ones that will give you the results you want. Making your own hair products can be an option.
Yes, Monica, this is all fine and dandy, but I can easily go to my nearest hair supply shop and by all things necessary. Who in the hell, has time for this you may ask? I feel you really, I do! My time is limited too, but as I shared with you on my natural hair breakage post, natural ingredients can work wonders. Remember my hair tea rinse!? Simple, but effective.
Although natural ingredients may take longer for you to see any actual results (some are quicker than others) DIY'ing does have its advantages.  To start with You control what's in them. There are no chemical thickening or conditioning agents, there are no preservatives or other unpronounceable ingredients. Then, there's also the fact that you can customise you recipes to your liking and needs and there are no allergic reactions.
Do these sound like good enough reasons for you to try? I'm not saying you have to be "Team 100% Natural" now. No, that's not what I'm saying, but sometimes making a small change can have a big effect. Therefore, I'm going to share 5 recipes that you can use in different steps of your washing routine: pre-poo, shampoo, deep conditioner, leave-in conditioner and a shea butter creme. No, there's no conditioner because I have yet to find a simple homemade recipe that gives me what I want. So without further ado, let's start.
Oh, if you'd like to get your hands on these recipes on a nice little book, keep reading through the post and Download your Free Recipe Book.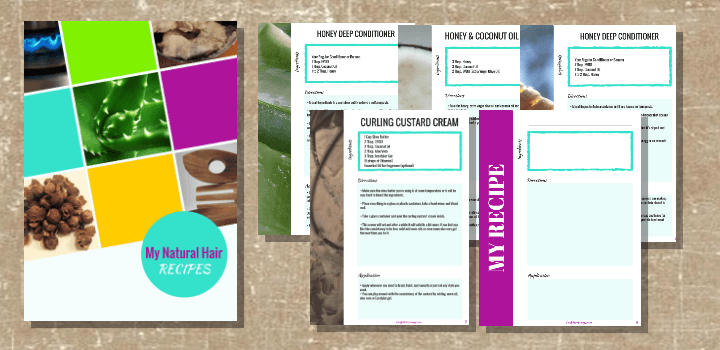 ---
LET THE MIXIN' BEGIN…
---
Pre-Poo
I personally don't like to complicate things so I won't complicate things for you. The only ingredient you're gonna need for this pre-poo recipe is Coconut Oil. There are other options you can use and mixtures, but sometimes simplicity is the way to go.
I choose coconut oil because it can penetrate the hair strand easily and protect your hair against the drying effects of a shampoo. It can also protect you from the protein loss which can happen when you shampoo, manipulate your hair or simply wet it (hygral fatigue). Besides, using this penetrating oil will allow moisture retention for longer as it will slow down water evaporation. Ultimately, coconut oil will prevent hair breakage.
Application: You can use your oil as it is from its container or you can warm it in a bain-marie (double-boiler). Massage the oil onto your scalp and hair and leave it overnight (this is how I do it) or for an hour. If you're in a hurry you can leave it  for 30 minutes), and then proceed to wash your hair.
---
Soap Nuts Shampoo
Ok, so this recipe will require a little more effort on your part but nothing too complicated. I have talked about soap nuts before as a no-poo alternative to shampoo. They are the small fruits of a tree and they have a natural surfactant that will clean your hair. This is also a good option for those who have scalp allergies since it is very soft and gentle.
The aloe vera gel in this recipe helps balance pH and reduce excess sebum production not to mention that it's very moisturising to your hair. It also works as a soothing agent to help relieve any scalp conditions due to its antibacterial properties.
Ingredients
5 to 6 Soapnuts
3 cups of distilled water
1 Tbsp. of Flaxseeds (for slip)
1/4 cup Aloe Vera Juice or Gel
Essential oils
Directions: Place the soap nuts and distilled water in a container and leave them overnight for at least 12 hours. The next day mash the soap nuts in the water with a spoon or a masher to help release the saponins (surfactants) and place everything  in a pan. Once it's simmering add the tablespoon of flaxseeds and let it boil for 15 minutes and switch off the oven. You will see that the mixture forms a froth on top and has a jelly consistency.
Strain everything and once it's cooled off  pour the aloe vera juice/gel into a flip-top container, follow with the strained liquid and add some essential oil of  your choice.  As a suggestion, you can use a few drops of vitamin E to help preserve the mixture and some drops of  rosemary essential oil to help with thinning and brittle hair. Or maybe, you can choose lavender for a more relaxing experience. Choose your favourite! Shake the container and it's ready to use. Keep this in the fridge.
Application: Wet your hair and massage your scalp under water to release excess dirt and grease. Apply your shampoo and continue massaging and cleaning your hair as usual. You will notice that this shampoo doesn't lather like a regular shampoo, however, it's still cleaning your hair perfectly well but in a much gentle way. Rinse, repeat if you want to and continue with your washing routine.
---

Honey Deep Conditioner
As far as deep conditioners go, I've already given you the starting point to making your own homemade recipes in a previous post. They're not complicated, they are actually very simple and so is this recipe. If you want you can replace the conditioner with banana. This fruit helps provide consistency to your mixtures and is very softening to your hair. You'll notice more elasticity and manageability which helps prevent breakage.
Ingredients
Your Regular Conditioner or a Banana
1 Tbsp. EVOO
1 Tbsp. Coconut Oil
1 to 2 Tbsp. Honey
Directions: Mix all ingredients in a container until you have a uniform paste. Adjust quantities to your hair length and try using a conditioner that doesn't have any proteins in it. If you choose to use a banana as your base make sure that it's ripped and well blended so it doesn't leave any bits on your hair. It will be an epic job trying to get them all out! If you want to make this a protein treatment just add an egg or an avocado and reduce the conditioner in the recipe.
Application: Divide your hair into sections and apply the concoction on each one making sure to really work the deep conditioner on the hair so that no hair strand is left behind. Once you're finished cover with a plastic cap or bag and leave for 30 minutes or apply some heat for 15 minutes. Rinse and style your hair.
---
Aloe Vera Leave-in Conditioner
No hair routine is complete without a leave-in conditioner whether you prefer a milky or creamy consistency. Again you can make this as simple or as complicated as you want, but again I don't want to scare you off so I'll make it quick and easy. I know I keep saying this but they really are simple. I'm giving you the simplest possible version.
You have the option of using distilled water for your base or you can replace it with black tea which helps thicken and strengthen the hair to prevent breakage. If you really want to venture even more in your mixology abilities you can mix the distilled water with aloe vera.
Ingredients
2 cups of distilled water or black tea (cold)
2 Tbsp. Conditioner or Aloe Vera Gel
1 to 2 Tbsp. of a vegetable oil
5 to 10 drops Essential oil(s)
Directions: Put all ingredients inside a spray bottle, shake well and it's ready to use. If the consistency of the leave-in is too runny or thick for you, you should adjust quantities according to your liking, but because it's in a spray bottle it won't make much difference I believe.
Application: Shake and apply throughout your hair when needed and as you like.
---
Shea Butter Creme
Shea butter is an ingredient you'll actually find in many hair care products and it's no surprise because it improves the condition of your hair and scalp and aids in hair growth. It's best to use unrefined and unprocessed shea butter as it's more beneficial. Beware that shea butter is a fat, not a conditioner. This means it should not be applied directly to your hair without your it being moisturised first. If you don't do this you can actually dry your hair, by preventing moisture in or out and this will cause breakage.
Ingredients
1 cup Shea Butter
1 to 3 Tbsp.  EVOO
1 to 3 Tbsp. Coconut oil
1/2 Tbsp. Castor Oil
10 drops of Vitamin E
Essential oil for fragrance (optional)
Directions: Make sure the shea butter you're using is at room temperature or it will be very hard to blend the ingredients. Place all everything in a glass or plastic container, take a hand mixer and blend everything well. Take a glass container and place the shea butter cream inside.  This creme will set and after a while, it will solidify a bit more. If you find you like the consistency to be less solid add more oils or even some aloe vera gel the next time you do it.
Application: Apply whenever you need to braid, twist, smooth or as part of your LOC method. The great thing about this cream is that you can also use it as a body lotion.
---
And there you have it, 5 recipes (more like 4, since the pre-poo is so simple) that you can use to replace your current hair products. You'll notice that there is no conditioner recipe and this is intentional because with transitioning and natural hair I feel we need all the slip we can get to detangle our tresses without the stress from lack of conditioning. I have yet to find a recipe for a conditioner that replaces my store bought one. If you have one please share it with all of us!
Hey, are you ready to put on your apron and start mixing some ingredients? Good 'cause I got all these recipes in a Downloadable Recipe Book for you. It's completely free don't worry. You also get a blank recipe page for you to record your own recipe and two additional recipes! Awesome isn't it!? Click on the image to download your recipe book. If you do make your recipes please take a picture and share on Instagram with the tag #chlrecipes, I'd like to praise you for your work and motivation.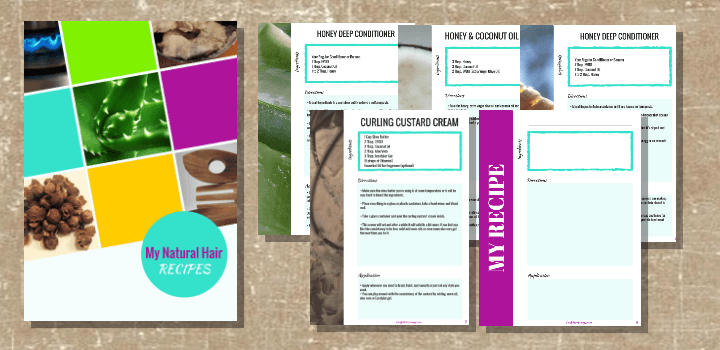 You can use all the recipes together as they'll fit well in the LOC method or you can pick and choose which one you'd like to try. I've made them simple so you don't spend much time on them because time is of the essence for a natural girl. Even the soap nuts shampoo, despite the prep time, is very easy to make don't you think?
A few remarks…
You should adjust quantities to your needs and hair length.
Vegetable oils and essential oils are only a suggestion and you can replace them with whatever you have available.
Give preference to extra virgin/cold pressed vegetable oils.
Start with an easy recipe such as the leave-in to gain confidence and then try other things.
Think these recipes could take a place in your hair regimen? What concoctions do you come up with? Share your favourite recipes with me. 
Featured Image Credit: Wil C. Fry no changes made (licence).