This time of the year is when we generally realize that Winter is really here. The temperatures keep getting lower and the rain, snow and cold breeze become relentless on our hair. Keeping our hair moisturised is a major concern and having products that support this is a must if we are to keep our healthy hair. So, if you want suggestions of good moisturisers for your winter hair regimen keep reading.
Of course, having a good moisturiser is a must for your hair, but you should also keep in mind that having good hair practices during Winter is important, oh and let's not forget to shield your hair too (here is some inspiration). If you've been following me for a while you know I love the LOC method for keeping my hair moisturised, it works perfectly for this time of the year (or anytime, really!) and my hair stays moisturised all week until my weekly wash day. Regardless, of the hair method you use these 5 moisturisers will help to keep your hydrated, let's have a look at them.
1|
Camille Rose Naturals Almond Jai Twisting Butter
1st Five Ingredients: Deionized water, behentrimonium methosulfate (BTMS) cetearyl alcohol, prunus dulcis (almond milk), prunus dulcis (almond) oil, cucurbita pepo(pumpkin)seed oil.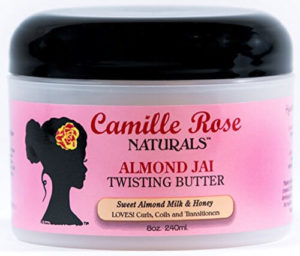 The first ingredient is water, as it should be, and is then followed by BTMS which is a conditioning and detangling ingredient (there is also slippery elm in the formula!) that will keep your hair soft and facilitate styling. Moisture is kept in with a succession of oils including those mentioned above but also castor, olive and macadamia oils and a splash of honey. This heavier cream will stay for longer on your hair, thus keeping your hair moisturised.
2|
Mixed Chicks Leave In Conditioner
1st Five Ingredients: Water (Aqua), Glycerin, Amodimethicone, Emulsifying Wax, Hydrolyzed Wheat Protein/PVP Crosspolymer.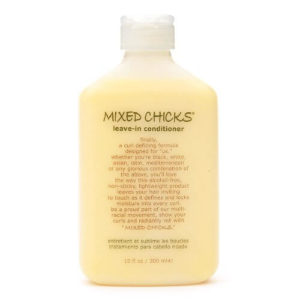 Yes, this formula has silicone (amodimethicone) and if this is a concern to you, you don't need to run away from it from fear of drying out your hair, read this post to know more. Your natural hair will be hydrated with water and will stay that way with the moisture attracting features of glycerin. The protein will strengthen your hair during the harsh winter weather and the wax and silicone will seal the moisture in and protect you from environmental conditions. Ready to give it a try?!
3|
Shea Moisture Curl Enhancing Smoothie
1st Five Ingredients: Deionized Water, Butyrospermum Parkii (Shea Butter), Cocos Nucifera (Coconut ) Oil, Macadamia Ternifolia Seed Oil, Mangifera Indica (Mango) Seed Butter.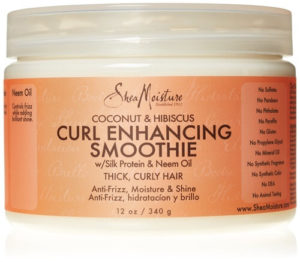 Despite the shea butter being the second ingredient here, and also containing mango butter,  this product has a light consistency that won't weigh down your hair. Your curls will be hydrated, moisturised and soft and bouncy at the same time.
4|
Big Hair Leave-in Moisturising Milk
1st Five Ingredients: Aqua (Water), Aloe Vera Leaf Juice (Aloe Barbadensis), Meadowfoam Seed Oil (Limnanthes Alba), Murumuru Butter (Astrocaryum Butter), Shea Butter (Butyrospermum Parkii).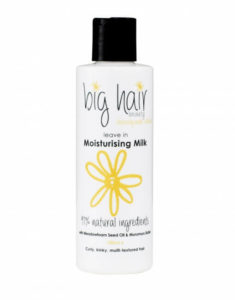 Not only is water the first ingredients in this leave-in moisturiser, it is also followed by thirst quenching aloe vera juice which lets you know that this product is a keeper in your stash. To seal all that moisture in you also got meadowfoam seed oil and butters.  Being a hair milk it is light and easily absorbed into your hair, may be especially good for fine hair 'cause it doesn't weigh it down. But, if you like something heavier or have coarser hair why not follow with a sealing oil or use Big Hair's Moisture Me Whipped Butter.
5|
Eden Bodyworks All Natural Curl Defining Creme
1st Five Ingredients: Water (Aqua), Cocos Nucifera (Coconut) Oil, Vegetable Oil, Aloe Barbadensis (Aloe Vera) Leaf Juice, Cetyl Alcohol.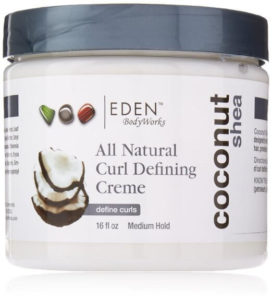 This is a thick moisturizing creme that will define your curls while controlling frizz and infusing moisture into them. Use it in your wash and go's, braid outs, twist outs or in your LOC method and you'll get good results. This creme also has shea butter, hydrolyzed silk protein and keratin amino acids (protein's small constituents).
What will your choice be? What do you use to moisturise your curls during Winter?