So I guess it's officially Winter now. Well, at least in Europe. If you live in tropical areas of the globe I can only say I am very, very jealous of you. Anyway, if temperatures are mercilessly low and you can feel them in your bones, well then imagine how your hair is "feeling". I guess the question is, how are you protecting your natural hair against the cold breeze, wind gushes, high thermostat temperatures, snow, rain, … You get the picture, don't you? I don't need to make things more gloomy and sad, do I?
Besides having a good hair regimen set up for the Winter and engaging in more protective hairstyles, you should also take advantage of accessories that cover your hair such as scarfs or hats. If you read last week's post about Christmas Gift Ideas For Natural Hair Transitioners, you probably saw the gorgeous satin lined beanie caps from Breezy Tee. If you don't have one head here and purchase yours for the sake of your hair.
If you use one of Grace Eleyae satin lined bonnet or a satin bonnet inside your beanie that is OK too, but if you can invest on one of these beanies as they are comfortable, elastic, are made with a good quality jersey which is gentle on your hair and also because they are really cute. Anyway, the objective here is to protect your hair and, of course, still look stylish. These beanies will definitely help protect your hair against dry scalp  during winter and give your hair the much-needed attention it needs if you were a bad girl and were careless during your summer hair care regimen. Anyway, if you need some styling tips on how you can wear them here are some.
#1|

Hat Style
For this style, you simply use your beanie as you would a regular hat or wool bonnet. The good thing about these beanies is that they are satin lined and won't remove the moisture from your hair. They will not only keep you hair moisturised but will also protect it from the winter weather. Check out Taren Guy's cute hat style even with an old wash and go. How cute is that?
#2|

Front Flat Twist Style
LipsticknCurls gives us this protective style in a beanie. It's a front flat twist which you keep visible to score some major points on the adorability factor. Since you've taken the time to moisturise your hair to do the twist, you can rest assured that your hair will remain that way under your satin beanie. And since your ends are also kept away from the cold weather I guess you're ticking all the boxes here.
#3|

Twist Updo Style
Here's a different version of the previous style. If you planned a low maintenance week with twists and want to protect your hair when going outside, but still want to look good there are no worries. Gather all your twists and place them inside the beanie making sure to leave a front part out. Here is NaturalMe4C version.
4#|

Updo Style
This is perhaps my favourite style, and it's super easy to accomplish. Basically, you just need to section a front piece of hair, make it as deep as you like, and then you tuck away the rest of your hair inside the satin beanie. You can tie your hair loosely in a low ponytail before you "hide" it away if it's easier for you. How do you like Mo Knows Hair's updo? Watch the video.
#5|

Hat Over Twists or Braids
If you have braids, twists or locs the satin cap can offer your natural hair further protection and make you look and feel good while you're using it. There's really not much to say about this style, just put your beanie on! Check Naptural85 tutorial. Alternatively, you can do it as Taren Guy and slightly tuck the ends of your twists/braids inside the beanie.
#6|

Lazy Protective Style
If you have one of those lazy days when you don't feel like retwisting your hair the night before or even setting our hair in a bun in the morning, I completely understand you, hand in my heart. But then comes this magic satin beanie to make our life easier and fulfil our wishes for zero effort (virtually) and 100% stylish queen. Which one do you like most? Mo Knows Hair, Taren Guy or Alyssa Forever?
Don't forget to moisturise your hair even when under a beanie, just because it protects your hair from the weather and helps to keep it moisturised it doesn't mean your hair won't get dry over time. Being lazy and not moisturising your hair before, during or after your beanie style is no excuse either. Now, go and get your beanie! Breezy Tee has an array of jersey satin lined beanies with attractive contrasting colours. Just choose your favourite and slay these styles.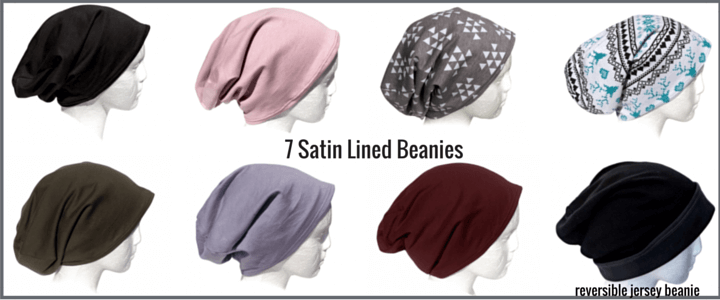 Do you have your beanie already? Which is your preferred beanie style?