Let's face it we've all had bad hair days. Whether we wake up in the morning with our hair less than perfect, humidity decides to play with our hair or a good hairstyle goes wrong I know we've all been there and sometimes it can set the mood for the day. However, the latter does not need to happen! In order to fix a bad hair day, every curly girl should stock up on a few items.
Water Spray Bottle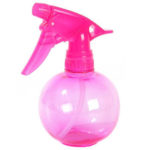 This little item can literally be a life saver. You don't even need any special concoction to use it honestly, sometimes water can be all you need. If you're not feeling your wash & go or twist out anymore just spritz your hair where it needs fixing, apply your moisturiser of choice and re-twist or scrunch your curls back. If you need help choosing a moisturiser read 3 Moisturisers For Transitioning Hair.
Elastic Hair Bands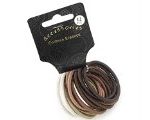 Avoid those that have a metal binding part as it snags and breaks your hair. Also, try to look for those that have plenty of elasticity, it's sooo irritating when you're trying to tame the beast on your head and they fail miserably by breaking. Anyway, having these will allow you to pull your hair into a quick ponytail or bun. It's a no brainer! Read more about what hair accessories to avoid.
Bobby Pins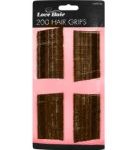 This is another indispensable item in your curly hair tool box. Many times bobby pins are a better option than an elastic band since they don't leave indentation marks and you can create the most amazing hairstyles such as pompadours, side swept, Mohawk  or banana styles. Make sure you have plenty as they seem to  disappear…
Headbands
It's always good to have a few of these around, you can have them as simple or as fancy has you want them. Many have flowers, jewellery, gorgeous colours or imitate braids and you can create laid back, elegant or romantic styles and save your bad hair day.
Scarf
Talk about a hair accessory you can literally wrap around your hair and forget about the hair disaster you have woken up to. There are tons of things you can do with one of these on your hands, your imagination can dictate many of the styles you come up with. See the video below from UK girl LoveYourTresses to  start you off with a few ideas.
Hat or Beanie
I love hats and beanies not just to save me from a bad hair day but because they are so versatile in giving me different looks. Preferably, they should have a satin or silk lining to prevent all the moisture in your hair from being removed. If yours doesn't have this protection you can always wear you satin bonnet underneath. Read Summer Style For Transitioning Hair – Hat Edition and see a few tutorials.
Moisturiser
Having a water based moisturiser at hand is always a good idea sometimes, after a water spritz, it's all you need to bring your hair back to an acceptable condition or a much better one than before. It can save your wash and go's or reset your twists and braid outs back to perfection. Don't forget to apply it where your hair feels dry and always put some on your ends. Read 5 Moisturisers For Your natural Hair Regimen During Winter or 3 Products For Your Braid Outs And Twist Outs.
Starting your day with bad hair can be upsetting but it doesn't have to ruin your day if you have these things you can fix any bad hair day and enjoy your curly hair.
What do you use to fix a bad hair day?
Featured Image Credit: Taken from LoveYourTresses