I'm sure you travelled many times before, and I'm certain you can handle packing up for a few days or even for the Christmas holiday. However, while this was pretty straightforward before you started transitioning, today travelling with natural hair takes some planning. You don't wanna forget an essential item for keeping your hair moisturised or setting up your styles. You can possibly have a disaster on your hands. I'm sure you want to shine this season trying all the different holiday updos I dug out for you.
You'll soon find out that travelling with natural hair can bring a smile of amusement to your face, especially when you pack for more than a two or three-day stay. I mean, when you set aside all the different items you need and put them in your travel bag you'll discover it takes a significant space in it.
But, hey! A girl gotta have her stash of products and tools to keep her natural hair on point! To help you showcase your beautiful curls, I'll give a list of things to pack for a journey longer than a week. Oh, and because you probably have too many things to focus on for your travel arrangements I prepared a FREE CHECKLIST OF HAIR ITEMS TO PACK WHEN TRAVELLING that you can download and print. When the time comes to pack you only need to cross your items against this list. Super cool, isn't?! Keep reading!

The Hair Products You'll Need
---
1| Sulphate Free Shampoo or Cleansing Conditioner – Regardless of which one you prefer, you'll need this for your wash day.
2| Conditioner – Well, you can't have shampoo and not have conditioner, it would be a tangled nightmare. You might be able to get away with a cleansing conditioner and a detangling leave-in but let's not do that.
3| Deep Conditioner – Never skip this treatment. After your cleansing your hair and detangling it, you should follow with a deep conditioner to deeply moisturise and strengthen your hair.
4| Leave-in Conditioner – A must in any hair regimen, it is the first step to well moisturised hair. Pack a leave-in that has good detangling properties, just in case you run out of conditioner.
5| Butter Cream or Moisturiser (Hair Styler) – These will help set your styles. Plan your hairstyles ahead so you don't have to take too many products.
6| Gel and/or Edge Control Paste – Frizz-free hair or sleek down edges don't often come without the help of these. Choose one or, if it's too hard to go part ways with either one, get the containers with the smallest size available.
7| Vegetable Oil – you may not have much, or anything at all, but if you have a vegetable oil to help seal in the moisture on wet hair then not all is lost.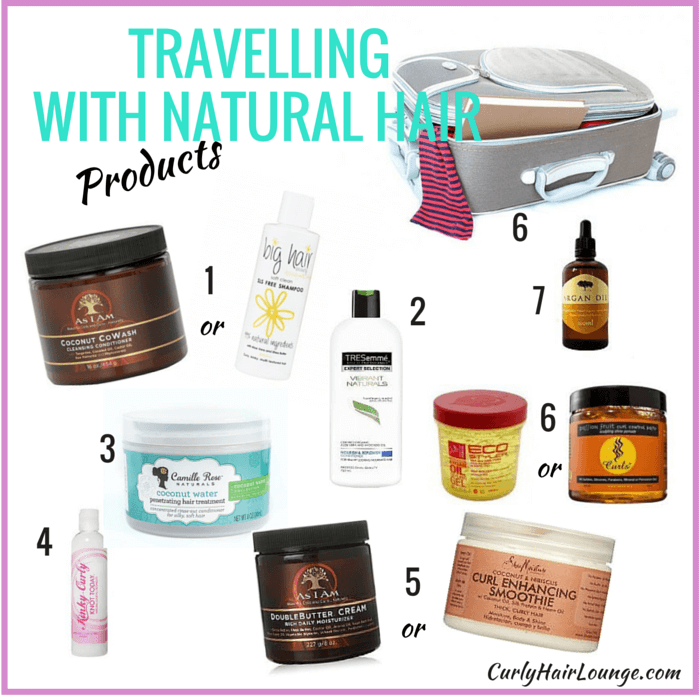 1 Sulphate Free Shampoo or Cleansing Conditioner, 2 Conditioner, 3 Deep Conditioner, 4 Leave-in Conditioner, 5 Butter Cream or Moisturiser, 6 Gel and/or Edge Control Paste and 7 Vegetable Oil.
The Tools & Accessories
---
1| Elastic Hair Bands – These will help fix any bad hair day, turn your 3-day old twist-out into a beautiful ponytail or come in handy when you're feeling lazy.
2| Bobby Pins – This is another must in any situation. I'm guessing you'll need some of these if you want to try some different hairstyles for this holiday season.
3| Satin Bonnet or Pillowcase – Taking one of these won't take up much space in your bag, but it will make a big difference for your hair if you forget to use it. Linen can absorb all the moisture off your hair and help make it dry and brittle.
4| Flexirods or Perm Rods – These can take up space in your bag, so decide if you'll really need them or pick just one. It's best to plan your hairdos beforehand, but I totally understand if you take both. Sometimes we just can't decide what to do with our hair, or worse, our hair just doesn't cooperate with us and having options releases the stress.
5| Wide Tooth Comb – Some prefer finger detangling, but you might prefer using a comb so don't forget it. Nevertheless, some hairstyles do require a comb and it can come in handy to part your hair neatly.
6| Bristle Brush – A brush is always needed if you want to replicate sleek styles like a bun, a pompadour or frohawk. I often use it for this effect.
7| Spray Bottle – You can quickly create an easy moisturiser for your hair with a small spray bottle. Mix water with some of your conditioner and your hair can now be re-moisturised or simply spritz water and use your own moisturiser. Really, it's a lifesaver!
8| Blow Dryer with Diffuser & Hooded Bonnet – Now, I know this item takes a significant space in your travel bag, so you'll need to think hard if you really need it. On the other hand, if you take a travel size hairdryer it won't take as much space and you can use it for your conditioning treatments or to help dry twists or braids so you can spend more time enjoying yourself with the family time.
9| Microfiber Towel or T-Shirt – I don't ever leave my house, even if for a few days, without my microfiber towel. Cotton towels are too rough on our hair.
10| Satin Scarf – I personally never travel without this scarf. If you want to have your edges nice and sleek this is what you need. Apply your edge control gel or paste, tie your scarf for a few minutes and you're done, you look flawless!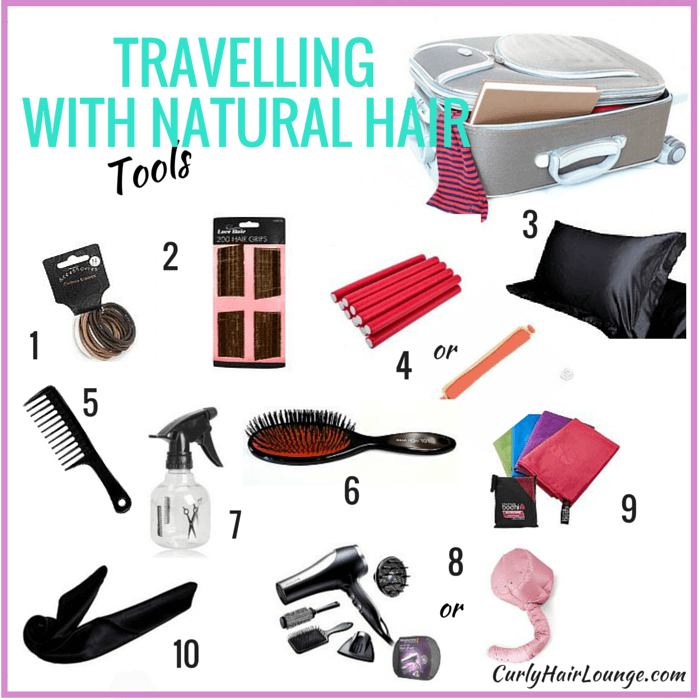 1 Elastic Hairbands, 2 Bobby Pins, 3 Satin Nonet or Pillowcase, 4 Flexi Rods or Perm Rods, 5 Wide Tooth Comb, 6 Bristle Brush, 7 Spray Bottle, 8 Blow Dryer With Diffuser & Hooded Cap, 9 Microfiber Towel, 10 Satin Scarf.
These are all the items you need to pack to travel for or week or two. As you can see it's a long list of items, and I could add more such as hair clamps or headbands, but we don't want to take the whole house with us, do we? (Oh, if only we could!) There are a few items you need to consider if they are worth taking such as the blow dryer. Most hotels have them, and if you're staying with family there will be one for sure.
To prevent any accidents, such as spillage, I always place my products in individual plastic bags. You don't want to open your baggage and see conditioner or vegetable oil, which is worse, staining your clothes. Because travelling can be stressful and I don't want you to forget any item at back at home, here's a FREE CHECKLIST OF HAIR ITEMS TO PACK WHEN TRAVELLING that you can download and print so you don't leave behind anything. Oh, I added a few items in the list that I thought would be useful to you too. Have a safe journey!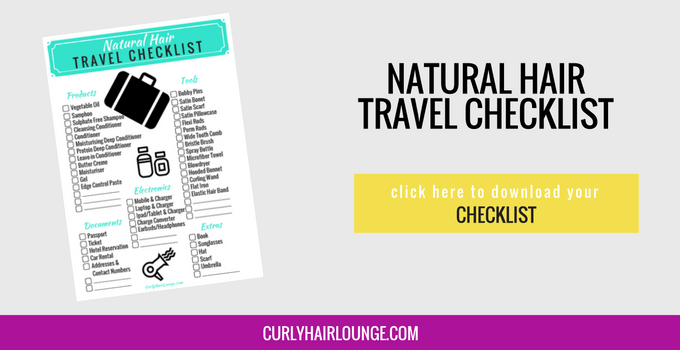 What are your must-have items for your hair when travelling?