I'm sure you heard that laughter is the best medicine in life and I truly say AMEN! to that prescription. I love to laugh, I mean who doesn't?! Really, who doesn't?? Laughter has many health benefits and in case you don't know it laughing relieves pain, reduces stress and it increases memory, learning, and creativity. I'm also pretty sure it makes you live longer or healthier. Well, if not longer and healthier than a lot happier I'd say. Wouldn't you like to laugh your way into your transition? Or be able to see the funny side of your hair adventures? Yes, laughter is what we need in our curly hair journey.
Transitioning Can Be Hard
---
I know that transitioning to natural hair can be difficult. It can be especially hard if you're doing this on your own and have no frame of reference from a friend or family member, and also if you're trying to learn and do everything as you go. Your motivation can wither away with every new challenge you face.
In addition, having to face cynical or skeptical people, who don't respect or want to understand your decision to go natural can bring your spirits and energy down. Hopefully, nothing that will make you go back to the creamy crack and make you lose the opportunity to meet your curls in their true splendor and learn more about yourself along the way. Yes, this is not just a hair journey, it's a journey of self-discovery as well! Keep your eyes peeled for an upcoming post where I'll share with you what I've learned about myself during my transition.
Anyway, if you feel any hint of discouragement or need help knowing how to deal with naysayers I got you covered girlfriend. Read 8 Signs You're Having A Natural Hair Meltdown & How To Stay Motivated and my other post about Facing Natural Hair Naysayers and get your game on for whatever comes along. Oh, and let's not forget laughter! Your journey will probably go a lot better if you put things into a different perspective.
Tall N Curly

May Be All You Need!
---
Sometimes all you need to turn a bad (hair) day around is some laughter or humor. When it comes to our curly hair there are days when we really need that medicine and I know just the right person to inject a little bit of that into your life. Have you heard about Tall N Curly?! No… Yes!?!
Well, Tall N Curly, a.k.a Cheyan is a graphic designer and illustrator, and she is tall and has naturally curly hair. Where is the relationship between natural hair and laughter? Well, nothing and everything actually. Yes, there are plenty of people from all walks of life that have natural hair and can be funny, or make you laugh. Yes, that is true, but I have yet to find someone who was able to capture all the small, and big, intricacies of having natural curly hair and illustrate them so perfectly.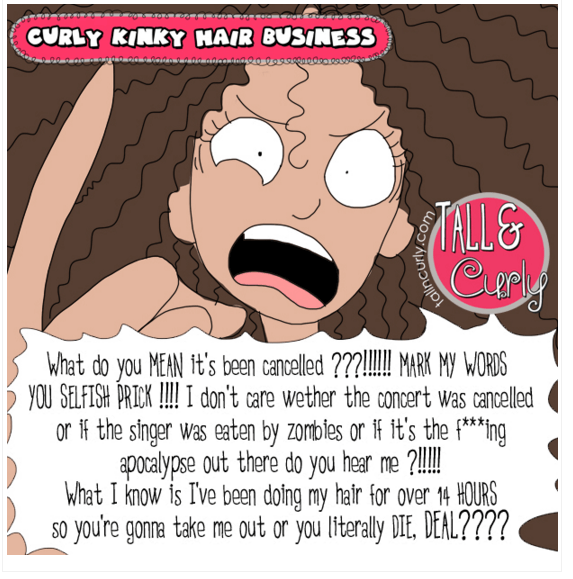 Tall N Curly celebrates the perfect marriage between the bipolar and frustrating emotions about having curly hair and the humouristic side of those same emotions. The first time I found her, I literally devoured all her work in one sitting! No kidding. I laughed like I hadn't in a long time. Do you miss laughing so much that tears run down your eyes and your stomach aches with pain!? If you do, you better bookmark this lady and get ready to be entertained.
Labour Of A Love-Hate Relationship
---
Her work is born out of her experiences in school when she was teased because of her height and curly hair (I'm sure some of you can relate to this). Tired of hating her hair or wishing to be or have something she couldn't, Cheyan decided to embrace what made her so unique, what made her be her – her height and her curly hair. But, instead of showing a "pink fairytale" story about natural hair she writes, as she says, about those days "when, if there was a vaccine against inches or curls" she would get an injection.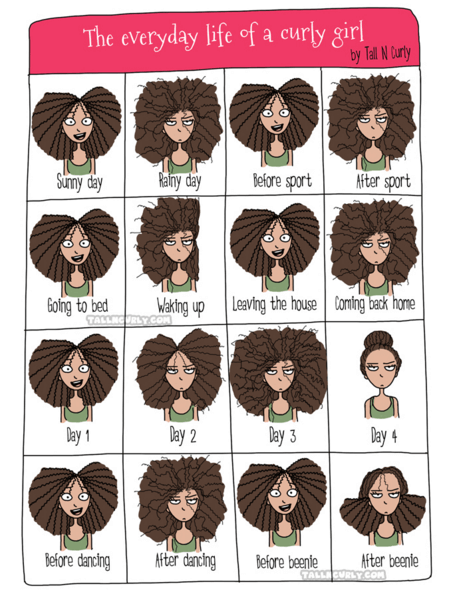 This may seem strange to you, and even shocking, if you're not familiar with her work but trust me once you meet her you're hooked. No, she doesn't hate her hair, she actually loves it, but you know as I do, that sometimes we can have a love-hate relationship with our hair. Just tell the true girl, don't lie about it! We all have to fight to control frizz or dryness, we all fight to get that wash day down to a couple of hours instead of the whole day and we all hate how it can go from flawless to highly misbehaved in one minute. I could go on like this, couldn't you?
What I Love About Her
---
What I love about her comics is the way she portrays many episodes in her life, but you feel as if it is your life is being displayed in those illustrations, or maybe someone close to you. To me, this is so because we've all been in that same place. It's very easy to relate to her and see ourselves in the hilarious situations she illustrates, saying, thinking and doing the same things she does. Well, if we haven't done the same or similar, we wish we had. That's why we can't help to laugh at a situation that maybe was driving us to despair a few minutes or days ago, but is now making us shake with laughter.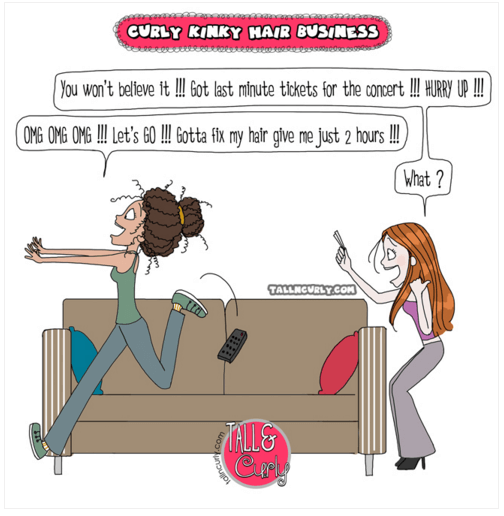 In a way, you end up learning that your hair is just the way it is, you can't force it to be or do something it doesn't want to. Some days it will work with you, but on other days, nothing will force its own will. What you need to know is that this is OK. Your hair has as much personality as you have! You just need to accept it the way it is, just as you need to accept yourself the way you are, all of you (hair included). This is Tall N Curly's message and I wholeheartedly stand by her. Being natural is also a personal journey.
Are You Ready? Get Set,…. Go!
---
So are you ready for some contagious, out of control giggle and belly laugh? Sure you are, we all need some that! Learn to laugh during your transition and things will go a lot smoother and quicker. Please remember that laughter is important but so is humor and having a positive attitude in life. Don't neglect these, they all work together plus make it your job to find a supportive other or a group, and chances are you'll be a lot happier throughout your journey and more successful.
But, I couldn't finish this post without asking you to support this amazing artist by taking a look at the book she is self-publishing all on her own and by asking you to help to spread the word out there. The book is called Asha and the Spiritz and no, sadly it's not about curly hair (Hei, Tall N Curly, if you're reading this we're waiting for a book on this or a compilation of your work). Nevertheless, the story is heartwarming and the illustrations took my breath away, it makes a great gift. If you're interested in buying or knowing more about her book check the book's web page and get a preview of the books' story in the video below.
Don't forget to check Tall N Curly's website page to see all her amazing work or, you can check Curly Hair Lounge's Pinterest account where you'll find the Curly Hair is Fun board with all her curly hair comics.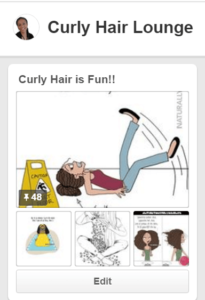 What brings laughter into your life? Were you familiar with Tal N Curly's work? Ready for a bit of laughter in your life?