It's amazing how the year goes by so quickly and, suddenly, before we know it, here comes Christmas again. I wonder if you've done all your gift shopping and if so, did you remember to include yourself in that list? I hope so, you deserve a reward for all your efforts during your hair journey, or have you been a bad girl!?! If your case is the latter, then this is a good opportunity to set new goals for the next year and start fresh. If you lack in inspiration on what to buy for yourself I have a very exciting list of Christmas gift ideas for natural hair transitioners and you can also use it to shop for your curly friends.
---
CHRISTMAS  GIFT IDEAS 2015
---
PRODUCTS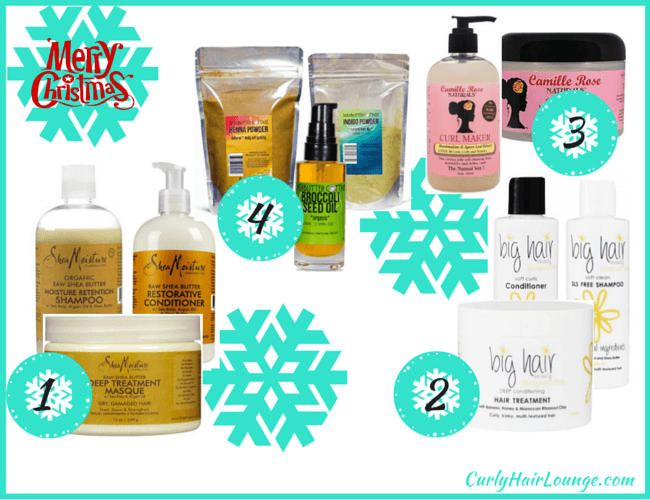 #1|

Shea Moisture

 
We all know this brand that we've come to love and cherish for being able to harmoniously blend together natural and organic ingredients and make them affordable to all of us.  Their Raw Shea Butter collection is the perfect choice to accompany you in your transition as its main components – shea butter, argan oil, coconut oil and sea kelp extract –  will help rebuild your hair.  Shop for:
– Raw Shea Butter Moisture Retention Shampoo
– Raw Shea Butter Restorative Conditioner
– Raw Shea Butter  Deep Treatment Mask
#2|

Big Hair
I know US brands populate the market when it comes to natural hair products even in the UK, however, it's great to find a British brand that rivals at the same, or superior level of excellence. I've talked about this brand here before, and I'll continue to do so because I believe in the quality of their products and I will always want to share with you whatever products I'm excited about. Get ready to be enchanted by their products carefully formulated with natural and chemical free ingredients. Shop these three basic products to have your initial experience and expect to have your hair deeply moisturised. Shop for:
– Big Hair Soft Clean SLS Free Shampoo
– Big Hair Soft Curls Conditioner (can also be used as a co-wash)
– Big Hair Deep Conditioning Treatment
#3|
Camille Rose Naturals
Ok, so you have your choice of two hair care lines to cleanse, condition and deep condition your hair. Now, you need to set your curls and you can either use Camille Rose's creamy moisturising butter with rice milk, coconut and shea butter for all your hair styling options, or you can use their curl maker with marshmallow root extract.
– Camille Rose Naturals Curl Maker
– Camille Rose Naturals Curlaide Moisture Butter
#4|
SheaButter Cottage
If you're a DIY fan, or you are willing to give it a go this year after reading my henna post on how to achieve different colours, you might want to head out to British-based Sheabutter Cottage. In here you can get your supply of BAQ (body art quality) henna and indigo and venture into new shades, or discover a diverse choice of essential and vegetable oils, butters, herbs and their own label products. This is where I go shopping for my henna, herbs, and oils. Be sure to check my henna post and download the Free guide to help you achieve different hair colour.
Another product they have I am excited to share with you guys is their broccoli seed oil. You can use this oil as an anti-static/frizz-free alternative to silicone or mix it in your concoctions. Sounds amazing, doesn't it? If you want the benefits of silicones without the worry this may be what you're looking for. Visit their website and look for:
– Sheabutter Cottage Henna (BAQ)
– Sheabutter Cottage Indigo Powder
– Sheabutter Cottage Broccoli (Organic) Seed Oil
ACCESSORIES/TOOLS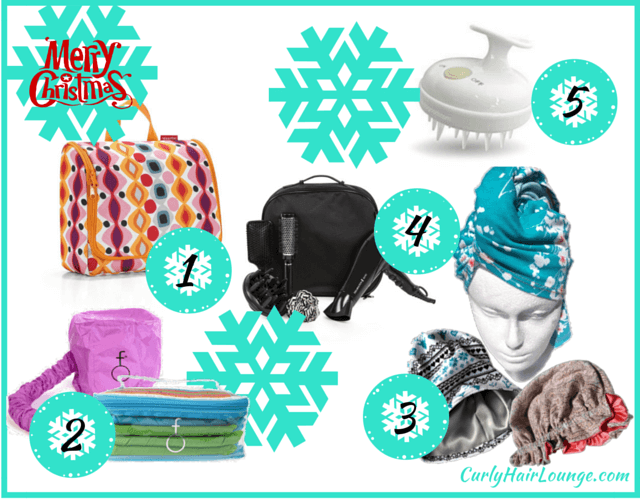 #1|
Reisenthel Toiletries Bag
This toilet bag is super cute, colourful and very attractive, not to mention super spacious. If you're planning to travel this little beauty will be able to hold most of your hair product needs. This  XL version has compartments for your full-size products, plus your hair and makeup brushes, and it also has sections with zippers where you can hold your bobby pins, hairbands and more. There's a whole rainbow of colours waiting for you and you'll have a hard time choosing one from the 10+ options available to you.
#2|
Curformers
If you want a change of scenery in your hairstyling options but don't want to risk your hair's health this is the perfect substitute to heat styling tools. I have a set of curls Curlformers and I can tell you my hair looked as if I had been to the salon, except I didn't. You can use the set and let the hair air dry, but I would advise you to spend a little more and buy Curlformers' soft bonnet to help dry your hair faster. This bonnet is spacious enough for your Curlformers to fit inside, most other ones won't fit them.
– Curl Formers Genuine Patented 40 Long Curls Curlformers
– Genuine Patented Soft Hood Hair Dryer Attachment
#3|
Breezy Tee
I know there is some brand competition on the soft towel-slash-beanie arena, however, this brand caught my attention because of their use of colour and patterns into their products. Their jersey t-shirt towels are offered to you in many different block or duo colours and their slouchy beanies are all satin lined with beautiful contrasting colours. I personally just love the reindeer beanie which I feel is so appropriate for the season, don't you think?! There are also kids' sizes for beanies and hooded jersey towels, and if you need to change you black and bland satin bonnet (yep, that's me!) they have a reversible one in a coral tone. Shop for:
– Jersey Satin Lined Slouchy Beanie
– Satin & Jersey Sleep Bonnet Reversible
#4|

Remington

 
Do you need to replace your old blow dryer, get your first one or simply get a better one? Then this lightweight professional blow dryer might be what you are looking for to diffuse your hair or boost your deep conditioning sessions. It comes with ionic (anti-static) and ceramic technology (balanced heat distribution), has 3 heat settings with a cool shot and, best of all has a long cord (1,8m).  Oh, It also comes with a number of accessories and a case to avoid losing anything and for travel. Shop for:
– Remington Get The Look Deluxe Dryer kit Professional
#5|
VitaGoods Scalp Massager
This is not exactly for a relaxing head massage if that's what you were expecting, however, it may feel like that to you. With this tool, you'll be sponsoring a healthy scalp which leads to healthy hair. By massaging your scalp, you will deeply cleanse and exfoliate your scalp, you'll increase blood flow and promote hair growth, you'll control dandruff and all while washing your hair. Shop for:
These are my Christmas gift ideas for 2015, you can take them and splurge to reward yourself on your hair journey efforts and take the chance to set new goals for the year ahead. Alternatively, you can be generous and offer your curly loved ones the products and tools you love so much, so they too can get bewitched.
What will you buy for yourself (hair) this Christmas?