It's been over a 1,5 year since I became completely natural and although during my hair transition (2,5 years)  I mainly stuck to my DIY concoctions to moisturise and style my hair things changed when I cut my relaxed hair. Ever since I became a natural girl (sounds like a rite of passage) I have been playing around with new products and trying out some brands. Yes, and in the process of doing this, I found a few products I really like and I decided to pick my favourites the natural hair products I'm loving now.
I know this post will speak mainly about my experience but sharing is caring and if by sharing my favourites I can help you find your staple product, I'll be happy.
#1|

Shea Moisture

JBCO  Leave-in Conditioner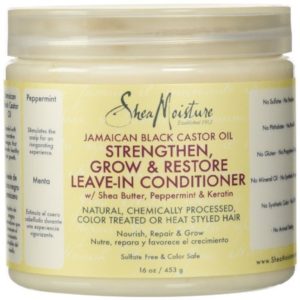 I have already dedicated a whole post to this leave-in conditioner but I had to mention it again. This product is A-MA-ZING and I think everyone needs to know about it and try it! Has the name says, it has castor oil but it also comes packed with protein to strengthen and help your hair grow. A little goes a long way with this one because it has great slip, a liquid-like consistency and quickly absorbs into your hair. I'm not kidding, you can literally feel your hair behaving differently.  It's Unbelievable!
To me, it has a chocolaty scent that is not perfume like, but it's pleasant. I am, however, surprised that this leave-in doesn't come in a pump container because of its consistency. You can easily spill it and I had this happen to me twice on different occasions. 🙁 But, hey, I scraped every little bit of it back in the jar. Are you kiddin', I wasn't gotta mop that liquid gold. Besides the floor was clean – wash day is also my house cleaning day. ;P
Anyway, I tried it as the liquid in my LOC Method for a braid out and had amazing results. Moisture all week long. So yes, these days I keep a jar of this leave in conditioner in my cupboard and use it consciously cause it does have protein and I don't want to overload my low porosity hair.
#2| Flora & Curl

Complete Moisture Therapy Kit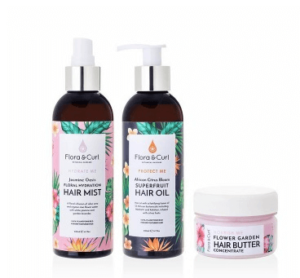 This product kit was a lovely surprise Rose, a subscriber to the blog and the founder of this brand, had the kindness to send me to try and review. Product reviews on request are something I don't do lightly here on the blog because I like to do it on products I have tried at least once and on brands that resonate with what I believe are good hair products with good ingredients.
All three products in this kit – Hair Mist, Hair Oil and Hair Butter – were a pleasant surprise and are certainly a repeat purchase for anyone, especially if you do the LOC Method like I do. You can, however, use and buy them separately. If you asked me for my favourite item I'd really have difficulties choosing one 'cause they all work perfectly together and individually. But if I was really 'picky and mean' I had to go for the soft, fluffy, pink and heavenly scented butter… Crazy Gooood! 😀
If you're a subscriber to the blog don't forget to grab your discount (not an affiliate) and pamper yourself. I know these products will work for your hair whether you do the LOC  Method or not.  You can check my in-depth review of the Complete Moisture Therapy Kit here and you can buy it at Flora & Curl.
#3|
Maui Moisture Curl
Quench + Coconut Oil Curl Smoothie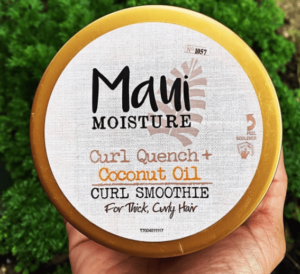 I bought this one on an 'impulse' at Boots after seeing it was on sale. I had briefly seen it on the shelves before but dismissed it thinking it most likely had ingredients I stay away from. To be honest, the brand quickly slipped into the back of my mind and I didn't even check the ingredients.
Luckily, for me, nothing speaks more to a woman than a sale sign and the chance to make a good deal. 😀 😉 Yes, that's what it took to get my eyes on this brand. I left the store with three items, but not without spending some good 20 minutes checking out the list of ingredients and checking if they'd work for my low porosity hair.
I liked all the products I purchased, but this curl smoothie stood out and worked great for my hair. Lots of moisture, which was to be expected since the first ingredients are aloe vera, water, glycerin and coconut oil, but there's more… it has good slip, smells good and won't last you just a couple of times. We all want our money's worth, right?!
Many people compare it with Shea Moisture's Enhancing Curl Smoothie, saying it's very similar in performance. However, if like me, Shea Moisture's smoothie never really worked for your hair (sorry, still love ya Shea Moisture! 😐 ) try this one, you may love it. Check it here.
#4|
Breezy Tee
T-shirt Hair Towel Wrap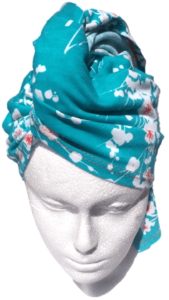 I had my eye on this t-shirt towel (and the satin lined beanie) since 2015. Yes, it's been a long time, but I finally had the change to try it out. Microfiber towels and t-shirts are basically the only things you should use to snuggle your curly hair into. They won't snag, pull, trap, break or cause split ends.
I have advised the use of microfiber towels ever since I started this blog, and I still do when compared to terry cloth towels. However, when I compare it with this t-shirt towel I have noticed that I experience less frizz when using the t-shirt towel. However long I leave any towel on my hair the microfiber towel gives me more frizz as it seems to suck more moisture from my hair.
Whenever I move on to moisturise and style my hair after washing it I always have to use my spray bottle to wet my hair if I use the microfiber towel. However, the same things does not happen with Breezy Tee's t-shirt towel and after I style and let my hair dry I get less frizz with it. You really have to try it to check the results! The only thing I wish this towel was is bigger because of my waist-long, high-density hair. Sometimes it can be a juggling number trying to fit it all in. 😀 😀
Anyway, you can choose from a range of 16 colours and patterns and you can even choose between the towel wrap or the towel wrap hood, which has a fitted coconut shell button. You can check Breezy Tee towels, wraps, beanies and more of their products here (not an affiliate link).
---
So far, these are the products that really caught my attention over this year and a half of being completely natural, which I thought was worth sharing with you. Maybe you'll find your hidden gem or your staple product here, who knows!?
What new product have you tried that exceeded your expectations?
Share them with us!