So I've been dipping my toes into unchartered waters lately, and today I decided to do something I don't normally do: a product review. Why?! Because out of all the product experimentations I've done so far, the product I'm about to discuss was the one that caused the most impact on my hair. Have you by any chance tried Shea Moisture's Jamaican Black Castor Oil Strengthen & Restore Leave-in Conditioner? No? Then let me tell you what it did to my hair.
If you've been following this blog for a while, you will know product reviews are nearly inexistent, and this is mainly because I was never this much impressed with a product. I mean I have tried other good products in the past , but this one had me at "Hello!", and I thought this was worth mentioning to you.
I must say I don't stray too far from the DIY mixtures I make to style and moisturise my hair and this is because they work wonderfully well and they have nourished my hair to waist length over a 38 month period and continue to do so. However, I was pleasantly surprised when I tried this product.
So before I tell you what exactly this product did to my hair, I wanna tell you why I decided to pick this product out of the shelf and talk a little about its ingredients?
Why I Chose It
---
To be honest, why not experiment a little?! You see, over the last months, I have been more seduced to try products whose formulations have left me wondering if my hair would do even better if I included them in my hair regimen.
I wasn't exactly looking for something that would bring my hair more moisture because frankly, my DIY mixtures coupled with the LOC Method were doing more than well. What I was looking for or experimenting with were hair styling options. I wanted to see if my hairstyles would look better, last longer or of have less frizz.
So, when choosing a new product the first thing I always do, and you should too, is read the ingredients' list. Yes, the fine print on the front label will give you an indication of what the product is, who is it for and what's inside the container, but the real proof is in the ingredients list.
You always want to avoid ingredients that take moisture from your curly hair and if you're wondering what these are you can read this post where I talked about them.  Anyway the point is you should always read the list of ingredients and this is what I found:

Ingredients:

Water, Ricinus Communis (Castor) Seed Oil, Stearyl Alcohol, Cetyl Alcohol, Behentrimonium Chloride, Fragrance (Parfum), Butyrospermum Parkii (Shea) Butter, Cocos Nucifera (Coconut) Oil, Panthenol, Cocodimonium Hydroxypropyl Hydrolyzed Keratin, Dicaprylyl Ether, Hydroxyethylcellulose, Glycerin (Vegetable), Simmondsia Chinensis (Jojoba) Seed Oil, Adansonia Digitata Seed Oil , Mauritia Flexuosa Fruit Oil, Tocopheryl Acetate, Aloe Barbadensis Leaf Juice, Yeast Extract, Hydrolyzed Vegetable Protein PG-Propyl Silanetriol, Mentha Piperita (Peppermint) Leaf Extract, Hydrolyzed Rice Protein, Butylene Glycol, Niacin, Dextran, Acetyl Tetrapeptide-3, Trifolium Pratense (Clover) Flower Extract, Vinegar, Caprylhydroxamic Acid, Caprylyl Glycol, Macadamia Ternifolia Seed Oil.
*Note* There is a different ingredients list for this same product on Shea Moisture's web page, however, this is what my product has listed on it. Therefore, I don't know how that different formulation would work the on my hair.
A quick observation of the first five ingredients informed me there were no moisture-depleting ingredients. In fact, the star ingredient in this product, Jamaican Black Castor Oil (JBCO), is the second ingredient, not the 7th or 13th like many other products who make bold claims about an ingredient and its presence comes way down the list having minimal impact in the formula. So here's what you have:
Water

– an imperative ingredient that should always come as the first ingredient in your moisturising hair product.
Castor Oil

–  a highly regarded vegetable oil in the natural hair community that helps to prevent hair loss, revert and regrow thinning hair edges and has proven to be effective in the treatment of traction alopecia that affects so many people. This powerful oil also has anti-fungal and bacterial properties that make it perfect to help fight scalp conditions such as dandruff. Similarly to other vegetable oils it will help nourish and moisturise your hair improving its elasticity and resilience to breakage.
Stearyl Alcohol & Cetyl Alcohol

– are fatty alcohols, the good ones, that remain in your hair for a longer period of time and help retain moisture inside the hair.
Behentrimonium Chloride – this is a positively charged (cationic) mild surfactant (a.k.a. detergent) that can also work as an anti-static and conditioning agent and an emulsifier (help blend water and oil). Because it helps close the cuticle layers of the hair is makes the hair feel softer and easier to manipulate and detangle.
Having the JBCO as the second ingredient did make me think if the product wouldn't be too heavy on my low porosity hair, I was definitely not aiming for the greasy look. The main concern for those with this hair porosity is to get the moisture in and then have emollients (oils and butters) to close it all in and soften/lubricate the hair.
What finally made me go for it was the fact that it had moisture grabbing ingredients (fatty alcohols, panthenol and glycerin) and  moisture trapping ingredients (shea butter and vegetable oils), but it also had the Behentimonium chloride, an emulsifier that would mix all these ingredients with water and prevent them from separating and just sitting on my hair and making it look oily.
What about the proteins in it, Monica? Won't they be too much for your low porosity hair?
What About The Proteins In It?
Oh, I'm so glad you asked this. Despite popular belief, proteins are not just suited to strengthen your hair and fill up holes in hair structure. Proteins are also good hydrating agents. They have the ability to hold water inside your hair, so that when your hair is dry it keeps it better moisturised and for longer.
In this case, we have Cocodimonium Hydroxypropyl Hydrolyzed Keratin 10, Hydrolyzed Vegetable Protein PG-Propyl Silanetriol and Hydrolysed Rice Protein. The tenth, twentieth and twenty-third ingredients which have hair conditioning effects on your natural hair and seem to make this product a mild restorative product.
There is, however, one thing I should warn you about.
Hydrolyzed Vegetable Protein PG-Propyl Silanetriol is an ingredient that is a blend of a vegetable-derived protein and silicone. This ingredient will condition your hair but will also create a tight grip on it (like silicones do) making your hair feel soft since it helps to close the cuticle layers of the hair. I can almost guess your next question.
Is this ingredient water soluble? Do I need to use a regular shampoo to remove it?
Most information on the net will tell you Hydrolyzed Vegetable Protein PG-Propyl Silanetriol is not a Curly Girl friendly ingredient, meaning it creates a film on your hair that needs a drying sulphate in order to be removed. Common sense will tell me that mixing a silicone will indeed create build-up, but I wanted to be sure. So, I have contacted Shea Moisture to clear this info, but I'm still waiting for a reply (I'll keep you updated).
What could I do next? I got the info straight from a scientist.
The intel is that the raw ingredients in Hydrolyzed Vegetable Protein PG-Propyl Silanetriol will dissolve in water, but you may need a mild shampoo to remove it from products that contain it as ingredients do not stand alone in a formula. Got it?! Not that bad right?! 🙂 You just need to reach for your  low-poo shampoo. Furthermore, this ingredient comes so far down the list that the silicone impact is significantly more reduced than if it was in the beginning.
However, if you're still unsure about this ingredient you can still have a go at it. If you regularly clarify your hair to remove build up from product ingredients and water minerals (I highly advise this) you can try the Jamaican Black Castor Oil Strengthen & Grow Leave-in Conditioner a week before or the wash day before this deep clean is due. This way on your next washing day you'd be removing all worries away. 😉
One last thing I would like to add is that even though the proteins in this product are lower down the list of ingredients you need to be aware of how much protein there is in the products you apply on your hair, you don't want to overload it with proteins, especially if you have thicker/coarse hair or low porosity hair.  It can become brittle and break easily. So make sure you alternate its use and don't let all the products you regularly apply on your have proteins.
THE PRODUCT
---
Price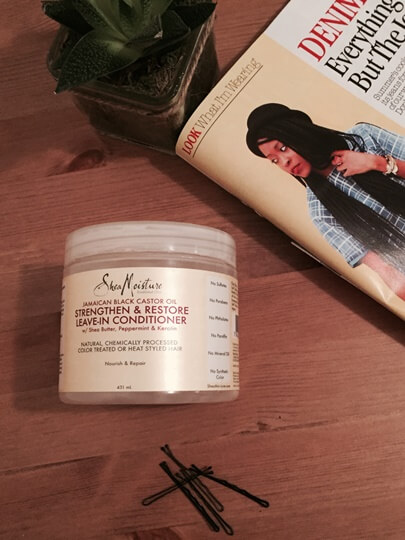 The JBCO leave-in conditioner comes in a fairly big container and at £12.99 pounds for 16 oz/430 ml it feels like good value for your money since it a little goes a long way with this product. But, this doesn't feel like much of a surprise since Shea Moisture is known for giving us good products with all the natural hair ingredients we sigh for at a good price.
Consistency, Package & Scent
Upon opening the jar I was surprised to find a very runny concoction. Prompted by the jar, I was expecting some sort of cream, not something I think would be better in a top lid or pump bottle.
This is definitely an aspect of this product that  should be re-evaluated – the packaging. I spilt product when opening it and while using it and because of that I lost a considerable amount of it.
As for the look and scent, it has a pearl-like colour and a scent that is not as good as The Curl Enhancing Smoothie, but it's not bad. I can live with it. It smells something like a vanilla ice-cream and cookies (could this be a real flavour, if not maybe I should patent it).
What The JBCO Leave-in Did To My Hair
---
Having low porosity hair means that many of the products I try on my hair seem to just sit on top. They may moisturise and give my hair a nice look once it's dry, but when I apply them on my hair I feel I need to use more product to really nourish my hair.
This is also one of the reasons why I like to style my hair when it's really wet not damp, otherwise, I will end up with frizz and will need to remoisturise it more often. So how did the JBCO Strengthen and Grow Leave-in Conditioner by Shea Moisture performed on my hair?

One of the things I immediately noticed with the JBCO Leave-in by Shea Moisture was that it instantly sunk into my hair, to the point where I thought my hair needed to be less wet. It really didn't feel heavy on the hair, despite having the castor oil as its second ingredient,  it was a moisture shock on my hair in a good way. 😉
The second main bonus about this product is that is has a lot of slip and what curly girl doesn't appreciate a product with good slip, be it a conditioner or not? Man, I really loved this about it! It can be hard trying to manipulate a high-density mane like mine and slip is a major bonus.  Plus, it also meant I didn't need to apply that much, which also translates into a product that will last you a long time. 3 bonus!!!
I applied the JBCO leave-in conditioner and continued with my LOC. I followed with coconut oil and then my homemade shea butter. Next, I styled my hair in several braids and kept it like that for three days and then did a braid out. I was very surprised my how moisturised my hair was and how soft and shiny it was, not to mention the definition and absence of frizz I got for the next few days. It was by all means and purposed a very successful braid out!
Thumbs up for Shea Moisture's Jamaican Black Castor Oil Strengthen & Restore Leave-in Conditioner, they really scored on this one!! It was a very pleasant surprise that exceeded any performance expectations. I will definitely keep  it on my list of favourites. What about you?
Have you tried the JBCO leave-in conditioner? What is your favourite hair moisturiser and what do you like most about it?