There's a new kid on the block and it goes by the name of Curl Memory Leave-in Conditioner. It's part of Shea Moisture's Professional Curl Care line that came out in April and I got my first glimpse of it through social media. Unfortunately, the fact that it's so new means that it will take a while before we'll be able to put our hands on it here in the UK.
Together with the Curl Care Professional line, which brings life to your curls by locking in moisture and nourishing them with a Cocoshea BioLipid Complex, there is also the Color Care and Keratin Care line and they're all being exclusively sold at Sally's Beauty supply. The Color Care line, as the name entails,  helps preserve colour treated hair and prevents it from fading and the Keratin Care line works to help strengthen the cortex of your hair. Well, there seems to be something for everyone in Shea Moisture's Professional Line.
The Curl Memory Leave-in Conditioner will grab your attention not only because its name is begging you to pick it up from the shelve, but also because it claims to reduce shrinkage and block humidity for a frizz-free curl definition. A leave-in conditioner is your first attempt at moisture retention and there is never one too many out there when you find the perfect one for your hair regimen, so I got curious with this one and dug around to give you a heads up on it.
First  things first, to have a leave-in named "Curl Memory" is kind of a big thing I think. I believe we've all had our share of success and failure when it comes to trying hair products and what they claim to do for our hair. So, from the start, this leave-in sets your expectations high.
Performance & Price Expectations
---
Given that the Curl Care Line doesn't come with creamy moisturisers or styling products, I expect this product to leave my curly hair super defined and moisturised without needing to add much more on top of it. Along with the Curl Memory Leave-in  Conditioner this line also comes with:

Shea Moisture Professional Clear Start Shampoo: This is your clarifying shampoo, a sulphate free deep cleansing shampoo designed to remove product build up and residue.
Shea Moisture Professional Moisture Infusion Shampoo: A soft shampoo that will gently clean your scalp and hair and help minimise frizz. 
Shea Moisture Professional Curl Enhancing Smoothie CoWash: A conditioning cleanser without any surfactants able to clean your hair and scalp without removing all natural oils.
So, if I were to use only this line I would require it to give me a lot with just these products. But then again, professional products are usually more concentrated in their formula and you can expect more results with less product. Nevertheless, one thing you can't expect to have with Shea Moisture Professional is that perfect balance between quality and price that this brand as been able to offer its costumers.
With this professional line, all products are $19.99 in Sally's Beauty store, which is far from the 10 to 12  dollar range the regular lines from this brand will cost you in the US. Sadly, for us British curlies, this means even higher prices with all the overseas shipping costs.  You can, however, rejoice in the fact that you will be getting more for your money as all products come in 16oz./450gr bottles or jars.
The Product
---
If you follow the Curly Girl method you'll be happy to know that the Curl Memory Leave-in Conditioner has no sulphates, parabens, silicones or mineral oil and you can easily add it to your regimen. Here's the ingredients' list.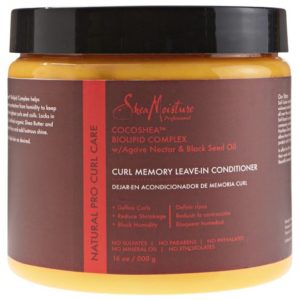 Ingredients:  Water, Capric/Caprylic Triglycerides, Glycerin, Cetyl Alcohol, Butyrospermum Parkii (Shea) Butter, Fragrance (Essential Oil Blends), Helianthus Annuus (Sunflower) Seed Oil, Stearyl Alcohol, Maltodextrin/VP Copolymer, Glyceryl Stearate, Glyceryl Caprylate, Mangifera Indica (Mango) Seed Butter, Cocos Nucifera (Coconut) Oil, Nigella Sativa Seed Oil, Melia Azadirachta Seed Oil, Hibiscus Rosa-Sinensis Flower Extract, Aloe Barbadensis Leaf Juice, Linum Usitatissimum (Linseed) Seed Oil, Agave Tequilana Leaf Extract, Cacao (Cocoa) Seed Butter, Shea Butter Ethyl Esters, Tocopheryl Acetate, Tricholoma Matsutake Extract, Hydrolyzed Keratin, Theobroma Grandiflorum Seed Butter, Glyceryl Undecylenate
According to good and bad reviews, this product has a light consistency, is easily spread and absorbed in the hair. A characteristic that I believe can be attributed to the Capric/Caprylic Triglycerides which come second in the ingredients list. These are the result of fractionated coconut oil fatty acids mixed with glycerin which give you a light, silky and oil-free sensation in the hair. They are also good emollients and help to reduce moisture loss.
Together with Water and Glycerin and Cetyl Alcohol, this leave-in will provide moisture, softness and manageability to your hair. At the same time, their CocoaShea Biolipid Complex is said to reduce shrinkage and block humidity, which results in better curl definition without frizz. From the few reviews available so far, this could be the reason why most people love this product and claim it shortens their hair regimen as it is easy to work with and can be used as a leave-in, detangler and styler all at the same time.
Although the leave-in contains Maltodextryn/VP Copolymer, an ingredient normally found in gels to provide hold, some people find that it also works well with Ecostyler gel. As far as the scent goes, almost everyone though it had an indescribable scent that was neither good or bad and wasn't over-powering. Despite acknowledging how well the product works most, users would only buy the product if on sale or on a BOGOF (buy one, get one free) promotion because they believe it is a bit pricey.
There are, however, a few reviews that would not buy this product again and claim it added nothing to their hair. Some of the complaints were: oily hair to the touch, crispy hair or gel-like cast, high shrinkage and frizzy hair. Keep in mind that the way products work in our hair depend on a number of factors – the way products are paired, hair health, environment, hair type, chemical treatments, etc.
Final Comments
---
If you want to know how a product works for you the best way to find out is to try it on your hair. Try a few different product combinations before you rule it out. Although this product is light in consistency it's not only suited for type 3 natural hair. If you find that your type 4 hair needs a heavier product, why don't you include the Shea Moisture Professional Curl Memory Leave-in Conditioner in your LOC method regimen as your liquid or leave-in?
I hope I was able to tickle your curiosity about this product as mine is and I wish we can share experiences here when it comes to the UK (let's hope it does!).
Do you like Shea Moisture products? Would you buy the Curl Memory Leave-in Conditioner? Have you used it already? What's your verdict?