Summer really makes us wanna wear our hair out more often, especially after a long transition full of protective styles like I had. I guess we all feel more adventurous, carefree and open to new experiences, and what feels more freeing than having the wind blowing in your hair on a warm summer day? You feel invincible and, yeah, a bit sexy too. But you gotta be careful, as good as the summer sun can make you feel, your hair may actually be crying out from dehydration. This summer, keep you hair moisture under control with curl refreshing sprays.
We all know how damaging the sun can be to our curly hair if we don't take proper measures to ensure its protection. Therefore, it is extremely important you tweak your hair regimen to account for this.
Intense sun, high temperatures and dry weather can make a real dent on your hair's health. Water is your greatest allied, and water is what you need to look for in a curl spray, as with any other moisturiser. However, because you may need to refresh your natural hair often throughout the week look for light sprays or hair mists.
Using heavy sprays to refresh your curls on top of your (hopefully) well moisturised hair will weigh it down, and I think we all like free flowing curls, right?! Here are some options I found for you.
---
CURL REFRESHING SPRAYS
---
1|
Shea Moisture

Coconut & Hibiscus Hold & Shine Moisture Mist
Ingredients

: Deonized Water, Cocos Nucifera (Coconut Oil)*, Butyrospermum Parkii (Shea Butter)*, Silk Protein, Essential Oil Blend, Melia Azadirachia (Neem) Seed Oil, Behentrimonium Chloride (Conditioning Salt), Hyssopus Officinalis Extract, Salvia Officinalis (Sage) Leaf and Equisetum Arvense Extract, Lonicera Caprifolium (Honeysuckle) Flower (and) Lonicera Japonica (Japanese Honeysuckle) Flower Extract, Tocopherol (Vitamin E), Hibiscus Flower Extract.

You can definitely use this mist as part of your styling tools on your wash day. It can be your first step to adding moisture to your hair as its formula lends itself to it with coconut oil and shea butter as its first ingredients. But, you can also use it to revive your curls in the summer.
Fine hair may prefer something lighter, but for thicker hair textures this little bottle may be the right refresher. The coconut oil and oil blend in it will retain the moisture inside while the silk protein will help strengthen it, pupping life into your natural or transitioning hair.
2|
Deva Curl

Mist-er Right
Ingredients: Water, Glycerin, PEG-40 Hydrogenated Castor Oil, Lavandula Angustifolia (Lavender) Oil, Melissa Officinalis Extract, Humulus Lupulus (Hops) Extract, Cymbopogon Schoenanthus Extract, Chamomilla Recutita (Matricaria) Extract, Rosmarinus Officinalis (Rosemary) Extract, Achillea Millefolium Extract, DMDM Hydantoin.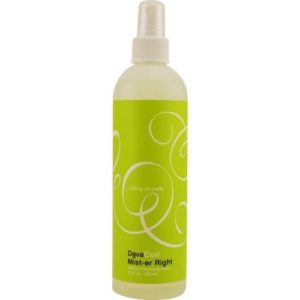 If you want soft bouncy curls with good hold Mist-er Right can give you that. Although working as a hole in the formula, for me, glycerine and hydrogenated castor oil are the key ingredients here. Glycerin is an humectant and, as such, will draw and keep the moisture in, while the hydrogenated castor oil will penetrate and lightly seal the hair structure helping to hydrate and giving hold to your curls. The mix of plant and herb extracts will nurture your hair with their amazing benefits and then there's the lavender oil that will lend its lovely scent to this hair mist.
3|
Anita Grant

Aloe Rose Oil Free Hair Spray
Ingredients: Organic Rose Water (Rosa Damascena), Aloe Vera Juice (Aloe Barbadensis), Organic MSM (Methylsulfonylmethane), Vegetable Glycerin (Glycerin) and Love.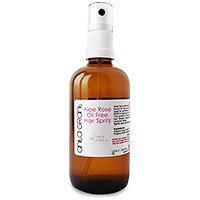 Do you love rose water? Great, me too 'cause Anita Grant's Aloe Rose Spritz will toy with your senses. Not only does it smell good, but it also has antiseptic and astringent properties that will keep your scalp healthy.  The aloe vera will balance your hair's pH and along with glycerin will keep your transitioning hair moisturised for longer.
Another interesting thing about this curl reviver it that it has MSM, an organic compound of sulphur that is needed for the formation of healthy cells, skin, hair and nails. This ingredient will assist in keeping all these different elements hydrated and, therefore, your hair (to discover a much-desired side effect of MSM read this post). Oh, if you have fine hair and want to give vegetable oils a pass then this is your choice. There are no oils in  this little bottle.
4|
Oyin Handmade

Juices & Berries Herbal Leave-in & Hair Tonic
Ingredients: Aqueous Infusion of Equisetum Hyemale (Shavegrass) Leaf, Lavandula Officinalis (Lavender) Buds, Urtica Dioica (Nettle) Leaf, Matricaria Recutita (Chamomile) Flower, and Rosa Centifolia (Red Rose) Petals, Linum Usitatissimum (Flax) Seeds (Organic), Aloe Barbadensis Leaf Juice (Organic), Vegetable Glycerin, Fragrance, Lavandula Angustifolia (Lavender) Essence, Citrus Aurantium Dulcis (Orange) Essence, Citrus Grandis (Grapefruit) Seed Extract, Citric Acid, and Love!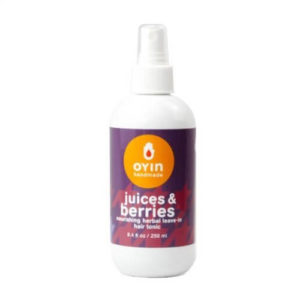 This is a light leave-in-slash-hair-tonic for your tresses and although it's formula may seem apparently uninteresting, don't be fulled. This little blend of herbs/botanicals will quench and keep your kinks and coils hydrated while the glycerin and aloe vera will keep all that in. It's a favourite among many despite the light feel, which is actually god for summer or for fine hair. Check it here.
5|
Joliette

Caribbean Coconut Hydrating Mist
Ingredients

: organic aloe vera leaf juice, palm free vegetable glycerin, avocado oil, solubizer, blackberry extract, pomegranate extract, parfum.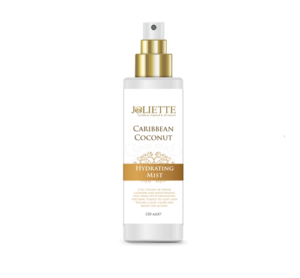 Remember Afro Deity? A British brand I talked about in this post? They are responsible for the mist in this beautiful container through their Joliette hair line. Whether you use it during the winter as part of your hair regimen, or during the warm summer days to quickly bring life/revive your curls, it will surely do the job as it is packed with aloe vera juice and glycerin as its first ingredients.
6|
Hug My Hair

Hair'Negy Hydrating Hair Mist
Ingredients

:

 Rose X damascene (Rose Water Hydrolat), propylene glycol, aqua & pelvetia canaliculata, laminaria digitate (Bio Energizer), glycerin, benzyl alcohol, salicylic acid, glycerine, sorbic acid and love!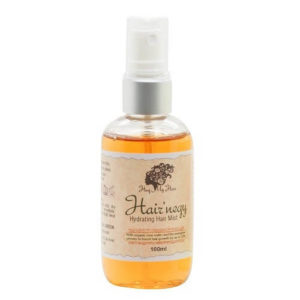 This hair mist comes from another British brand I discovered recently and, just as Anita Grant's spritz, its formula is based on rose water (Sweet!). If you know a bit about ingredients you'll see propylene glycol in here, which divides opinions among people. If you don't know, this ingredient is derived from petroleum products and, as you've probably heard before in the natural hair community, this is a major no for the health of your curls.
This is so because petroleum creates a film around your hair strand that is difficult to remove "suffocating" it and helping to create build up. However, propylene glycol is completely water soluble and metabolised by our bodies. It can be used as a humectant or emulsifier in a formula, however, the decision to use it is yours. It doesn't seem to pose any risk for our hair.
You also have your hair's moisture needs met with glycerin and benzyl alcohol, a fatty alcohol. But the secret ingredient comes in in the form of algae (laminaria digitate) that, studies show, when paired with glycerin and massaged on your scalp can increase your hair growth. Not bad. I would say!
7|
Mahogany Naturals

Hydrating Hair Juice
Ingredients:  (Aloe Barbadensis) Aloe vera,(Prunus Dulcis) grapeseed oil, (Tocopherol) vitamin E, (Olea Europaea) Extra virgin olive oil, ceteryl alcohol, vegetable glycerin, (Cocos nucifera ) coconut oil, silk amino acid, mango and grapefruit essential oils.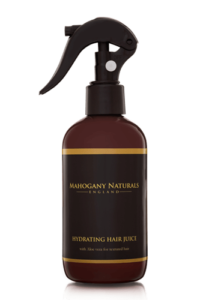 This is a mighty juice for dry curls and it will certainly help to keep thirsty coils hydrated throughout the summer. Not only that, but it has vitamin E, which is full of antioxidants to help fight free radicals and the damaging effects of the sun. You also have silk amino acids to lend strength and elasticity to your hair, coconut oil that helps to prevent protein loss and other vegetable oils and glycerin that will maintain constant moisture.
This may be totally unrelated, but I gotta say I love the look of this hair spray, don't you? Check this hydrating juice here.
8|
Afrocenchix

Sheen Natural Moisturising Spray
Ingredients

: Aqua (Purified Water), Aloe Barbadensis (Aloe Vera Juice), Glycerin, Vitis Vinifera (Grape Seed Oil), Polysorbate 20, Citrus Paradisi (Grapefruit Essential Oil), Citrus Medica Limonum (Lemon Essential Oil) ,Citrus Aurantium Amara (Orange Essential Oil), Cymbopogon Schoenanthus (Lemongrass Essential Oil), Benzyl alcohol, Dehydroacetic acid, Benzoic acid and Sorbic acid (Environmentally Friendly Preservative), Xanthan Gum, Disodium EDTA.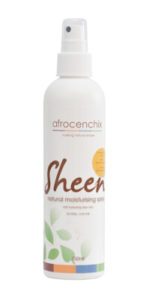 Sheen, Afrocenchix's dryness and breakage prevention weapon, has a nice blend of moisturising ingredients such as aloe vera, glycerin and benzyl alcohol that will have your curly, coily or kinky hair refreshed. Additionally, if you love citrus scents the mixture of orange, lemon and lemongrass essential oils will have you smiling.
9|
Mane Divas

Botanical Silk Spray
Ingredients

: Aqua, Aloe vera juice, Bamboo Shoot Extract, Polysorbate 20, Wheat Protein, Honeyquat, Vegetable Glycerine, Soy Protein, Corn Protein, Wheat Protein, Pro-VitaminB5, Liquid Silk, Nettle Extract & Citric Acid.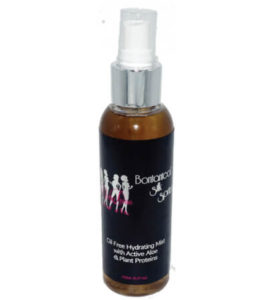 If you need to give your transitioning hair a shot of intense moisture and strength this may be your option. Full of hydrating ingredients the Botanical Silk Spray is also full of plant-derived proteins such as Wheat, Soy and Corn that also hold the moisture inside the hair. You can expect strong, hydrated hair capable of withstanding the dangers of the sun and a demanding winter.
10|
I Love Afro

Moisture Mist
Ingredients

: Aqua, Althea Officinalis (Marshmallow root), Matricaria Recutitia (Chamomile), Algae Extract (Carrageen), Vegetable Glycerine, Ricinus Communis (Hydrogenated Castor Oil), Parfum, Polysorbate (emulsifier),Phenoxyethanol (and) Caprylyl Glycol (and) Chlorphenesin (Mild Preservative).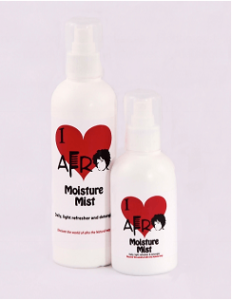 Moisture Mist promises to extinguish the thirst of your locs, braids and afros, but you will also be able to restyle your curls with ease because of the detangling characteristics granted by the marshmallow root in this mist while the hydrogenated castor oil will make your curly hair softer.
---
I hope these curl refreshing sprays will give you enough options to keep you hair moisturised this summer, although they can also be used in your winter hair regimen. You can use them to refresh your curl at night or during the day as needed by your hair. Some formulations will be lighter than others, with fewer oils and more herbal extracts, but all will be moisturising.
All ingredient listings were taken from the brands' online pages and, with the exception of Shea Moisture's Coconut & Hibiscus Moisture Mist, all hair mists/sprays have glycerin in them. This is an ingredient you need to be careful about because although it has the ability to retain moisture in your hair, it can also take it out and cause dryness. However, many products these days have it.
Glycerin can be a bit tricky to use as it needs specific weather conditions. When the humidity in the hair is low, it will take moisture from your hair and when the humidity is high glycerin will draw too much moisture inside you hair and cause frizz. Therefore, a balance is needed so your hair can reap the most benefits, and this signals it's important you know what are your local weather conditions.
These effects will be more or less evident depending on where in the ingredients' lists glycerin is placed. The closer it is to the first five ingredients, the more you need to be careful. However, some people love it and seem to experience no problems. Here's a quick list of the curl refreshing sprays you can pin.

How do you refresh your curls?