The sun has made its entrance, or is about to, and whether or not you enjoy this time of the year and make the most out of it, you still need to be responsible and take care of your transitioning hair. In case you don't know, the sun can play tricks on your hair. Yeah, its warm embrace is pretty deceptive to our hair (and skin), and you want to make everything possible to avoid its bad effects on your hair. Therefore, if you want to end this season on a high note here are some awesome curly hair tips for Summer hair care.
#1|
Get Your Hat On!
It's never enough to say this, but you have to be conscious that you need to be on top of  your moisture game. One of the best things you can do this is to protect your hair during the beach season. A simple way to do this is if your wear a hat or scarf.
You may like to put your hair out for display, but reaching out for one these hair accessories won't make you lose any points on the cuteness factor. In fact, it will make you gain more. Not sure how to style a hat with natural hair? Well, don't let that stop you,  you can get some ideas here.
If on the other hand, you prefer something more colourful and close to our African roots you can definitely try a head scarf or wrap. It's an increasing trend and a welcome one! Check here for my latest crush on head wraps.
#2|
Don't Skip The Leave-In
If you're not a big fan of leave-in products, and you go straight for the moisturiser, I urge you to rethink this during Summer. As the Summer makes its approach, most of us like to shelve heavy moisturisers in favour of light ones as they allow us to achieve hairstyles with more volume and dimension, and you know what they say, "The Bigger The Better!" So why not reach for the leave-in conditioner instead!?
Another great advantage of leave-in products is that they provide rapid moisture for your hair. Their first ingredient is normally water, or a water- based ingredient, that prevents and quenches hair dryness but also have other nurturing ingredients for your hair.
For hairstyles with more volume use a leave-in spray conditioner or one with a very light consistency. If you have a creamy leave-in product reduce the amount of product you normally use or use fewer sections when applying it.
3#|
Have Your Spray Bottle Ready!
Your leave-in can be your go-to Summer hair product, however, don't disregard the power of a spray bottle when combating brittle dry hair this season. You can easily create a simple mixture that will refresh and moisturise your curly hair.
Have some distilled water, a vegetable oil, and a few drops of rosemary or the floral and soothing scent of lavender essential oil put together in your spray bottle and you're done! For an on-the-go solution take advantage of travel size spray bottles. Try to always have one ready in your purse for you when you're out and about,  they can literally save your hair!
"Prevention will always be your best weapon
against Summer hair damage, don't neglect it!"

4#|
Shea Butter (Unrefined)
I'm not even gonna ask you if you've heard of this "magic" butter before, 'cause I'm certain you have. You probably have a stash of natural hair products with this ingredient in them. Don't believe me?! Just do a quick check on your products and you'll find it there (Butyrospermum Parkii). If not, you better question what product you're using 'cause you're missing out on a major Summer benefit.
Did you know that shea butter has SPF between 4 and 6? Doesn't sound like much!? Well, it will when I tell you that a sun protection factor of 10 offers a 90% protection. It sounds much better now, doesn't it? Don't forget that the closer to nature the better, therefore, use unrefined shea butter, it's the best and it will offer your hair a better and higher protection. You can get the best quality one from SheaButter Cottage, one of my favourite natural ingredients' shop. They ship worldwide and, if you sign in to my newsletter bellow, you can get access to a 10% discount offer for a limited time.
You can learn more about this Fairtrade company here, where I buy my body art quality henna to safely dye my hair. Oh, and don't forget to also read about their Broccoli Seed Oil, a wonderful silicone substitute.
5#|
Oils For Moisture & Protection
Oils help to hydrate your hair by retaining and preventing moisture loss from your hair. You should always moisturise your hair first with a leave-in conditioner or other moisturiser, and then apply a sealing or penetrating oil. If you always get a greasy hair when using oils you should read this to avoid that look, I'm sure it will help you. Another advantage to using oils is that they also provide sun protection. Have you read my article on this? Go check if your favourite oil is on the list. I can tell you that the best ones on the list are extra virgin olive oil and coconut oil. They have an SPF of 7.5 and 7.1 respectively.
Not sure about applying oils on hair because you heard they can fry your hair with high sun temperatures? Stop worrying about that, the temperatures on your hair would have to reach those similar to your flat iron, and before you could notice anything on your hair, you'd certainly feel it on your skin. Besides, we normally shade ourselves from the sun, we use hats, we enjoy climatised environments and so on. You can shop for oils on Sheabutter Cottage or you can look for them on Amazon.
Don't forget, you should always moisturise your hair first when using oils and butters!
6#|
Co-Wash
Co-washing can be a quick way to restyle your hair mid-week without having to go through another wash day routine, but it is is also a great way to add moisture your hair. During Summer, our hair's moisture needs  can increase considerably, especially if you live in an area where there is no humidity in the air.
Additionally, with higher temperatures we normally sweat and exercise more and the salty sweat on our scalp and hair needs to be removed. Co-washing can add moisture to your hair, and can refresh and clean your curls, but don't use this as your sole hair cleansing method, be cautious!
7#|

 
Deep Condition Weekly
Your deep conditioning hair treatments are a secret weapon to prevent and combat moisture depletion. If you enjoy the sun, the high temperatures and like to make the most of out this season this means you're probably having contact with chlorinated and sea water and you're exposing yourself more in the sun.
Doing weekly treatments will infuse intense moisture into your hair, more than your regular moisturiser. Plus, they have ingredients that work hard to keep your hair hydrated for longer. Please don't forget to do your protein treatments too. They'll strengthen the protein bonds in your hair to avoid breakage from the sun's damaging effects.
I hope you take these curly hair Summer tips to adapt your regimen and protect your hair, otherwise, you'll be risking bringing forward your big chop day by the end of the season (and maybe that's OK, who knows!). Prevention is your best weapon against possible hair damage this season.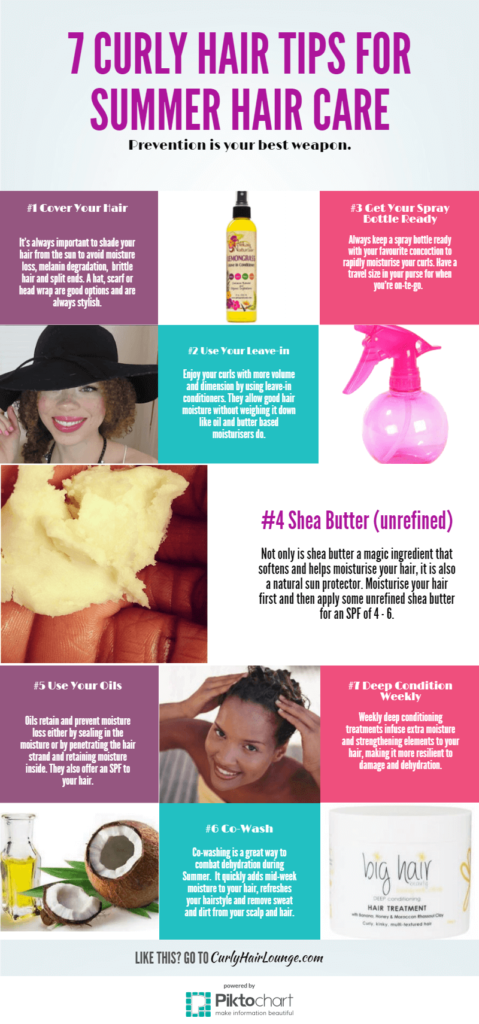 What do you do to protect your hair in the Summer?