I won't lie, Summer is my second favourite season of the year. Nevertheless, as temperatures rise and the sun makes its appearance more noticeable and desired I wonder if you're protecting your transitioning hair from the damaging effects of sun exposure. Just as we protect our skin from the sun we should do the same for our hair. We now have several hair products that offer protection from the sun, chlorine, the wind and seawater and you can buy them at your local shops. However, if you favour the use of fewer chemicals in your products there are ingredients you can use that offer natural sun protection for your hair.
Sun Damage to Hair
---
I think we all welcome the sun after a long, cold and sheltered winter, and as soon as we have the opportunity we let the sun embrace us. We show more skin, we enjoy ourselves at the beach or pool, we sunbathe, we take walks in the park and so on. Still, just as we are conscious of the negative effects of the sun on our skin and are (or should be) diligent in using sun protection, do you know the damages it can cause to your hair?
Your hair follicles have a hydrolipidic film that protects them from moisture loss. However, in dry hair this film is broken. As we all know, dryness is a normal characteristic of naturally curly hair due to its flat and coiled shape, which means that we are more vulnerable to sun exposure than those with straight hair.

Additionally, those who colour their hair will be causing further damage to the protective film as your hair is now more porous and sun rays penetrate much easier. Once the film is broken the hair shaft will be exposed to the sun allowing moisture evaporation. As a consequence, your hair will become frizzy, unmanageable, tangled, dry, brittle and will eventually have split ends and suffer from breakage. If you add to all of this sea water and chlorine damage, we possibly have the makings of an "hairpocalyptic" event.
If you're like me you'll be happy to know that there are some natural options you can use to protect your hair from sun damage.
Natural Sun Protection
---
For any product/ingredient to be an effective sunscreen it has to offer protection against ultraviolet radiation (UV) A and B. In short, the former (UVA) ages us and the latter (UVB) burns us or give us that tanned look we love so much. You might be wondering why should this matter if our hair is not a living thing, it's dead? Well, this issue isn't that simple. Yes, our hair is not a living thing, however, if sun radiation can penetrate deeply into our skin it can do the same with our hair grabbing all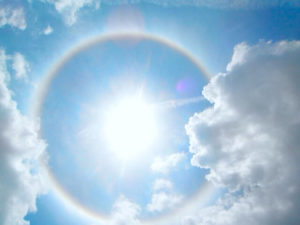 moisture, and you know what happens to curly hair without it.
Environmental factors such as sun radiation cause the release of free radicals. These can occur naturally in our body or as a result of pollution or radiation. In our hair, exposure to sun radiation/free radicals brakes the protective film in our hair strands and makes our hair vulnerable to damage as I mentioned earlier.
The good news is that antioxidants can effectively fight off the negative effects of sun radiation and free radicals. These are more commonly found in vitamin A, C, E, beta-carotene, selenium or lycopene and can be obtained through a healthy diet.
Vitamin A  – known as retinol, vitamin A is an antioxidant that aids hair growth and fights of dry hair as it stimulates sebum production.
Beta Carotene – a vitamin A precursor, beta-carotene is essential in fighting hair loss  and can be found in pumpkins, carrots, dark leafy greens mangoes or apricots.
Vitamin C – has anti-aging properties, is an anti-free radical agent and is able to repair cellular damage. Vitamin C can improve hair growth, fight dandruff and scalp conditions, stop hair loss, help retain natural hair colour (anti-greying) and it strengthens hair. It is found in citrus fruits, peppers, kiwi, broccoli, cantaloupe and others.
Vitamin E – is a highly effective antioxidant. It can help treat dry hair and scalp by conditioning it, it treats minor burns, stops hair loss, promotes hair growth by increasing blood circulation, prevents premature ageing (hair greying), repairs split ends, provides shine and much more. You can have access to vitamin C by eating dark leafy greens, vegetable oils, nuts or eggs.
If you're like me, you might be thinking. This is ok, but all I'm doing is providing nutrients to protect my hair from within. What about the outside? How can I protect my hair from direct contact with sun radiation and free radicals? Well, keep reading girl!
Natural Ingredients For Hair Sun Protection

 
---
Shea Butter – It is an essential ingredient in many hair products and homemade concoctions. This butter is not only good for your hair but is also good for your body and face. Rich in vitamins A, C, D, E, F and fatty acids, shea butter fosters and accelerates healing, it stimulates collagen production and protects the hair and skin from radiation.  It benefits an array of conditions such as blemishes, eczema, dermatitis, skin allergies, insect bites, fine line wrinkles, stretch marks, sunburns and much more.
I was pleasantly surprised to discover that this rich moisturising butter offered a sun protection factor between 4 – 6. I know it is not a lot,  but if an SPF 10 offers 90% protection then shea butter's SPF of 4-6 doesn't look that bad.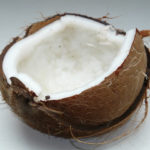 Coconut Oil – I have talked about this wonder oil many times before and we know that it can generally improve our hair's health by fighting hygral fatigue,  retaining moisture, preventing protein loss or strengthening our hair. Coconut oil is rich in vitamin E and antioxidants that fight free radicals, it has fatty acids that protect the hair from breakage, it has antiviral, antifungal and anti-bacterial properties that fight off dandruff and lice. The benefits are many when and it has an SPF of 7.5.
Olive oil – is another regular in natural hair community. It is easily available to buy, it is one of the few vegetable oils along with coconut oil, that penetrates the hair shaft. It conditions the hair giving it shine and softness, increases blood circulation, prevents breakage and split ends by moisturising dry hair and prevents hair loss. It is rich in vitamin E, K and antioxidants with antibacterial, antifungal and anti-inflammatory properties that fight off dandruff, lice and other scalp conditions. Just as with coconut oil, olive oil offers an SPF 7.
Red Raspberry Seed Oil – this oil is not so common in our DIY cabinet maybe because it is not so known or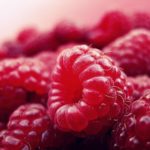 maybe because it is somewhat expensive. Nevertheless, in clinical tests this oil absorbed UV- B and C rays and showed potential for use as a broad spectrum  UV protectant. This oil is rich in potassium, vitamin A, magnesium, calcium, omega 3, 6 and 9, is full of powerful antioxidants and has astringent properties.  All of these nutrients promote good hair health by fighting scalp conditions (dandruff, itchiness, eczema, psoriasis), moisturising the hair and scalp leaving it soft and shiny, preventing moisture loss and adding elasticity to hair.
Additionally, the fatty acids and vitamin C present in this oil prevent cellular damage, while vitamin C, magnesium and antioxidants repair cellular damage. According to a study performed in 2000 (1), red raspberry seed oil offers a UV protection comparable to that of sunscreens with titanium dioxide that offer a UV-B (SPF) of 28-50 and UV-A protection factor of 6,75-7,5. Therefore, raspberry seed oil can offer at least an SPF (UVB) of 93%. Awesome right!
Here are some other oils you can use to protect your hair. This list was obtained from a study which examined In vitro sun protection factor determination of herbal oils used in cosmetics. Hope you find this useful.

Some Considerations
---
As these are all natural ingredients their SPF will vary according to the source of your ingredient, how it was extracted if it's mixed with something else and in what quantities.  So, when sourcing your natural ingredients for sun protection always buy unrefined butters and cold pressed extra virgin oils or essential oils to ensure the highest protection possible. Regardless of this, exact SPF can only be determined by testing and this is truer for homemade concoctions. Nevertheless, some protection is better than no protection. Plus, if you take further protective measures your hair will thank you for it.
Avoid sunlight in the Summer when it's most dangerous, between 10 am and 16 pm.
Always wear a hat or a scarf to protect your hair from the sun when out in the sun.
Check your hair for dehydration and spritz with water or an aloe vera juice mix, this will avoid moisture loss and dryness.
If you're at the beach or pool don't forget to protect your hair from the salt water and chlorine. Read this article.
What do you do to protect your hair from the sun? Do you use any of these natural suggestions?
(1) Oomaha, B.D., Ladetb, S., Godfreya, D.V., Liangc, J., & Girarda, B. (2000). Characteristics of raspberry (Rubus idaeus L.) seed oil. Food Chemistry 69, 187±193.