I'm guessing that most people who decide to go through a hair transition are either too attached to their hair length, have had some traumatic experience (that would be me) or can't imagine themselves with short hair. Whatever the reason, any dreams of having natural hair will have nothing to do with dramatic haircuts (big chop). Nevertheless, I'm sure you can't not stop to admire those who have the courage to Big Chop  especially when there are some natural girls daring to cut their hair short after being through the short stages of a BC.
The thing is, recently, I catch myself looking at shorter haircuts and imagining how they'd look on me. Have you done the same? I'm not talking about a TWA (teenie weenie afro), that would be too extreme for me I'm talking about chin length hair. Anyway, in doing this I found some brave ladies who have been through their natural journeys, have grown their hair and now decided to go short again. Quite a shocker isn't? Maybe not, because they look A-MA-ZING! Here are some brave girls.
Carmen
---
This girl has been natural since 2009, and, believe it or not, this is the 6th (!!!) time she does the big chop. Many of us love long hair and agonise over the time it takes to achieve the hair length that we aspire to have. Well, this girl has grown it out twice and has always gone back to short, or shall we say TWA!? Some girls just love this look, and I gotta say she is rocking it! Check out the before and after pictures. If you want to, you can check her out here, where she shares a YouTube channel with her fabulous sisters.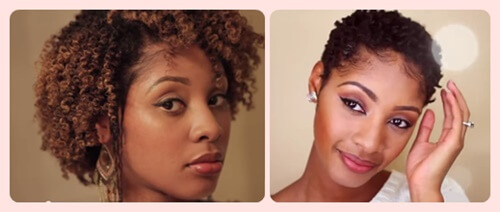 YoursNaturally11
---
Once you're natural I believe we all like to free our curls, experiment with hairstyles and, why not, have fun with a bit of colour. However, colouring our hair can be a risk, and at times, things don't go so well. YoursNaturally11 cut her hair after being natural for 5 years because of this same reason. What I admire in this girl is her compromise to have healthy hair and willingness to cut damaged hair just to stay on track. I'm certain it got to hurt, but on the other hand, the short hairstyle seems to suit her. What do you think?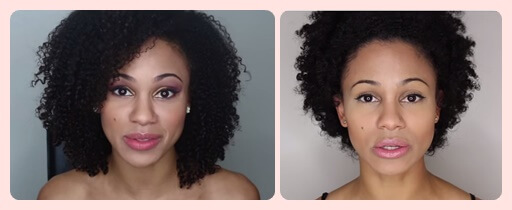 Beauty by Lee
---
Ok! So here is another girl, Beauty by Lee, showcasing how short hair can look so feminine. Short hair highlights your facial features and lets the beauty in you shine. There is no need to rely on long hair to feel like a woman. I'll let you know that I secretly desire a short haircut like this. Don't know if I'll ever have the courage to do it, but I can always look and admire these brave ladies.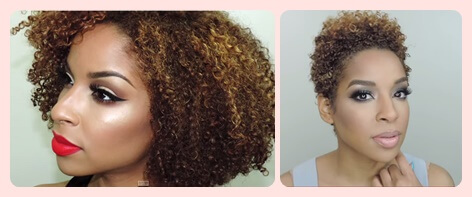 Going Short On Your BC!?!
---
If you're on your transitioning hair journey or thinking about going into one, and you're agonising over the day you'll have to cut your relaxed ends, don't be. I set myself a two-year mark for this journey and there have been times where I thought I wouldn't be able to go through with it. Not because I was thinking about relaxing again, but because two years felt like too little time to achieve a hair length acceptable to me. Especially if you think about all the shrinkage you'll get once you go natural.
However, the beauty in this journey is that it can be frustrating, exciting, surprising, empowering and more. Depending on the time you set yourself for this journey, you will experience all of this, more intensively or not. I believe the journey also prepares you for the big day (big chop), but only if you don't resist the journey.
It is important that you are willing to know and learn more about your hair, that you don't have unrealistic expectations, and that you are patience throughout the duration of your journey (most important!). Your willingness to do this will help you when your BC day comes as it will feel like a natural passage, and maybe (who knows!?) you'll feel the itch to anticipate this day, just like me. 😉
Take inspiration in these ladies and know that you'll be OK, know that you'll be beautiful whether you have long or short hair. Who knows, maybe we'll decide to flaunt a short haircut when we BC (big chop) just from having girls like these as models of femininity and beauty.
Is your BC day approaching? Do you feel anxious or excited about it? Would you dare to go short?
Featured Image: Beauty By Lee (YouTube)