Lately, I've noticed that my hair is in need of a trimming session, and I wondered if you know when you hair needs a trim too. I know that when we're transitioning to natural hair, or even when we have certain length goals, this is the last thing we want to hear or talk about. However, this is an important part of our journey and we need to face it. The need to trim our hair ends  is an issue that involves a lot of debate for women of all hair types. Many trim every 6 weeks others will wait 3 months, 6 months and some only cut when they feel they need to. So when should we trim transitioning hair then?
Signs That You Need to Have a Trim
I guess we've all been conditioned by our hairstylist or even our mothers, that we should trim our hair regularly, every 6 to 12 weeks so we could have beautiful healthy hair. Many of us followed this advice without questioning it while others (more anxious about trimming) didn't. However, regardless of this, do you recognize the signs when your hair is in need of a trim? Don't worry I'll give you some tips.
Thinning/Weathering of the hair – This is a very noticeable sign. As our hair grows the ends  become thinner or start weathering because they have been exposed the longest to the environment (the sun, the wind or cold weather), chemicals (dyeing, relaxing or chlorine), manipulation (shampooing, toweling and hairstyles) and/or styling tools (blow dryers, flat irons, curling rods, etc). The hair becomes thinner because it loses its protective layer (cuticle layers)  which leaves its internal structure exposed (cortex).
Split ends – This is what happens to thinning hair that is not trimmed. Hair will eventually have split ends and will start breaking off. When you have split ends the hair won't have a soft feeling to the touch it will feel rough. You should have a cut before you reach this stage because you risk needing to cut more than you intend to on your next visit to the hairstylist. Furthermore, if you have length goals not trimming your hair will actually prevent you from reaching those. Once you have split ends they can "travel" along the hair strand and your hair will be weak and brittle. This means breakage and it will certainly stall whatever goals you're trying to reach.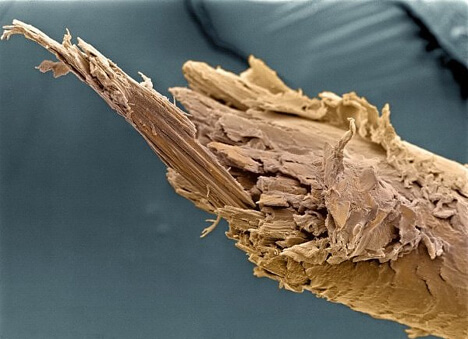 Detangling – Do you notice that when you're detangling your hair and it gets harder as you reach your ends? It's like your hair is all wired, surprisingly more tangled and never really smooth in the ends especially when dry. Well, this is another sign you need to cut your hair. Making the scissor your enemy won't help. Friction with clothes and manipulation will cause your split ends to break off.
Easy Breakage – If whenever you style, touch, detangle or even don't do anything  to your hair you notice that it snaps or breaks easier, or you see more broken hair strands fallen around the house floor you are in need of a hair trim.
Warning! Don't confuse breakage with shedding! When shedding, the hair has its root attached and it's longer than broken hair, which has different shorter lengths, can have knots and doesn't have the root. Take a look at the image below. Read this post to know more about the difference between shedding and breakage.

How Often Should You Trim Your Hair?
Stylists will probably tell you to trim your hair every 6 to 12 weeks. I believe that this is very much connected to the way you treat your hair. Do you submit your hair to frequent chemical treatments, do you apply heat frequently, do you deep condition, do you seal your ends to protect it? etc, etc… Much is involved and each case is different. So you need to be attuned with your hair, notice the signs and trim to prevent damage.  However, I would say that if you put your hair under a great amount of "stress" you should probably trim your hair every 6 to 8 weeks. I honestly don't want to tell you, and I am not telling you, to follow a rule. Just pay attention to your hair and try to identify any of the signs mentioned here.
Obviously, if you are trying to reach a specific hair length you will not trim your hair at the same rate as it grows since you won't see any growth. If your hair grows an inch and a half (about 4cm) in three months maybe think about cutting half an inch (about 1.3cm) every 3 months, this is of course if you've been a good girl and taken good care of your hair.
Are you able to notice when your hair is in need of a trim? Or by the time you trim it you already have split ends? Do you do it regularly? Does is cause you anxiety just thinking about it?