Building a natural hair regimen can seem like an impossible mission to do and maybe many of you just wing it. Although it needs some planning this doesn't have to be complicated. To help you out on this task I'm gonna help you consider a few important components of it when taking care of your hair.
If your transitioning journey just started it's possible that your brain has been fed with a lot of information like hair type, texture, density, porosity and a whole host of other terms that seem hard to grasp and even sound like gibberish. On this initial stage, I don't want you to worry about any of this. Yes, they are important concepts for you to know, but I don't want you to feel too overwhelmed by it,  it can be, and it is, a lot to start with.
The products you use are also important and they will inform part of your hair regimen, such as the frequency to use a clarifying shampoo. I prefer to use products that have natural ingredients and/or have the least chemicals on them because there is less need to use these drying shampoos. However, you can introduce new products as your old ones finish, this way you won't throw away any product (read what to do with unwanted products) or spend money buying new ones (read going natural on a budget). So you see, you don't need to focus on the products just now, instead start by focusing on your hair.
The most important thing while you're building your hair regimen and starting your journey is for you to know your hair, for you to learn how it feels when you apply a specific product or a combination of products. Does this shampoo leave my hair dry? Does this conditioner have enough slip for me to detangle easily? Is this product moisturising enough for my hair? These are some of the things you will need to consider and they will help you cross out any products that are not working for your hair. Then you can introduce new ones.
Any hair regimen needs at least four important building blocks to start with: Cleansing, Conditioning, Deep Conditioning and Moisturising. If you initially put some thought into these you will see that taking care of your transitioning or natural hair will be much easier and it will help keep your hair healthy. Still, there are other practices you can include in your regimen that will further benefit your hair in terms of its health and growth, but I'll talk about them as we move along.
Want to get a 5-page worksheet to help you work through your hair regimen while you read this post or even after? Great, click the button bellow and start working right away. Let's start!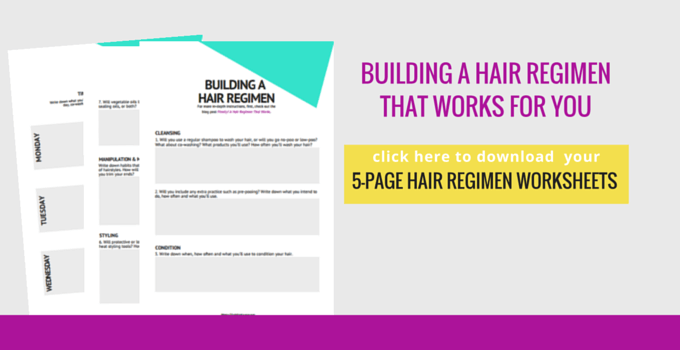 Cleansing
---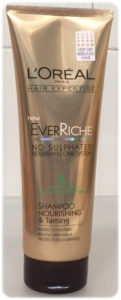 In the natural hair community you will see that there are many ways you can go about this one. You can use a regular shampoo, you can go for low-poo (sulphate free shampoo) or no-poo (not using any shampoo). Additionally, you can go from cleansing your hair once a week to only once a month. You will also need to consider your lifestyle into this. If like me, you exercise regularly during the week and get a sweaty scalp you might need a mid-week co-wash to refresh your scalp.
If you choose to clean your hair using a shampoo please don't rub it all over your hair while piling your hair on the top of your head! Start by wetting your hair and briefly massage the scalp to remove some of the initial dirt and grease, then apply the shampoo only on your scalp massaging it with your finger pads to give it a good cleanse. Let the lather run through your hair length and use it in a stroking motion to clean it too. Consider washing your hair in section to avoid making further tangles and knots.
If, on the other hand, you decide to go for a no-poo solution such as co-washing (washing with a conditioner), start by massaging your hair under running water for a couple of minutes to lift all dirt, oils and products on your hair and continue by applying your co-wash.  Focus on the scalp with a good circular motion massage and then clean the length of your hair with a stroking motion. Again, don't pile your hair and try sectioning it. Read Reducing Hair Breakage When Washing Transitioning Hair.
Other Important Practice to Consider
Pre-poo Treatment– This is something you do to your hair before you wash your hair to facilitate detangling, to protect it from the drying effects of using a shampoo or to add moisture. You can do using an oil, oil mix, conditioner or a combination an oil and conditioner. Read more about pre-poo and how to do it here.
Hot Oil Treatment – This is very similar to the pre-poo, but you will need to warm up your oil or oil mix in a container with hot water and apply it on your hair. Cover with a plastic cap and let it sit for 30 minutes. You can leave it overnight or you can use a soft bonnet dryer, or a microwavable head wrap for 15 – 20 minutes and proceed with washing your hair. The benefits are the same as with the pre-poo treatment.
Clarifying or Chelating Shampoo – These are deep cleansing shampoos designed to remove product build-up, chlorine (clarifying) and hard water minerals (chelating). How often you use them depends on the product build-up on your hair, how often you expose your hair to chlorine or if you have hard water running through your house taps. In either case, you will need to follow them with a moisturising deep conditioner. Read more about clarifying, when to clarify and hard water minerals.
Condition
---

Conditioning is very important and should not be skipped even if you co-wash your hair. After cleansing, conditioning gives back your hair the natural oils that were taken, it will help close the cuticle layers, it will provide moisture back into your hair and leave it smooth. Find a staple conditioner with good slip to help detangle your hair. I personally love Tresemme Naturals, it has good slip, it's moisturising, it's cheap and comes in a big bottle.
Other Important Practice to Consider
Section Your Hair – Transitioning hair can be particularly hard to detangle because of the two different textures. To avoid unnecessary tension in the demarcation line and possible breakage, section your hair in four or more section and work each section.
Finger Detangle – Your hands are the best tools you can have when it comes to sensing and responding to the tangles in your hair. If you use a brush you won't be able to feel the knots and tangles in your hair, and you'll push through possibly breaking your hair. Alternatively, if you're not up to this you can use a wide tooth comb and gently detangle your sectioned hair. Read 5 Tips For Detangling Transitioning Hair.
Deep Condition
---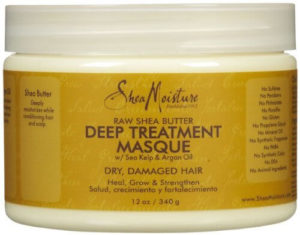 Get yourself in the habit of doing these treatments every time you wash your hair. Skipping this step can put all your other good practices to no avail. Deep conditioners contain important emollients and proteins that help restructure our dry and fragile hair. Everyday manipulation, cleansing, the environment, heating tools and chemical treatments weaken your hair's structure taking away moisture, natural oils and proteins. These treatments also have humectants to help keep our hair moisturised for longer. If you hair has any chemical treatment (dye, bleach, relaxer, perm) it is even more important you do this.
I know many naturals like doing deep conditioning overnight because it leaves their hair super soft and buttery, but it's something I don't do and I advise you not to as you can subject your hair to hygral fatigue and breakage. If you'd like to know more about why I don't deep condition over night click here.
Other Important Practice to Consider
Moisture and Protein Balance – Your hair needs moisture to keep dryness at bay because if it creeps in you know what you'll get – dry, brittle, dull and prone to breakage hair. On the other hand, protein is what gives strength to your hair. It penetrates the cuticle layer of the hair into the cortex to help provide strength and elasticity and also fills in the holes in your hair to protect it from breaking. You need to have both in your regimen.
Generally, you will need to do use a protein deep conditioner once a month or every 6 weeks. But this will depend on whether you hair is chemically treated or not or even if you use heat styling tools regularly. If you have 100% natural hair and avoid heat tools this rule might be good to start with. However, if this is not your case you may need to increase the frequency of your protein treatments depending on your specific circumstances.
Tip. To check if your hair is in need of a protein treatment take your thumb and index finger and hold a strand of hair close to the root, then using the same fingers on your other hand hold the same hair closer to its end and pull it gently. If it breaks easily with little or no pressure it needs moisture, however, if it stretches and takes a while before breaking it needs protein.
Moisturising
---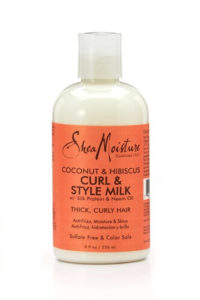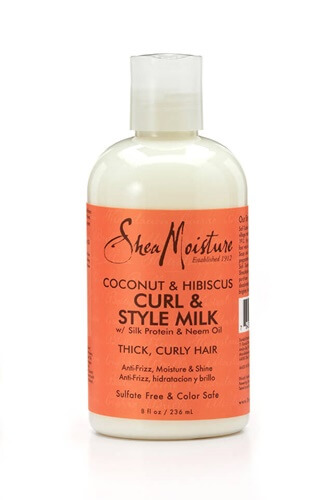 When it comes to moisturising your hair the number one rule you need to look for in your products is that the first ingredient in it is Water/H2O. There will be combinations of moisturising ingredients with emollients, softening and detangling agents and even proteins. Moisturising products can range from your leave-in to your hair custard cream.
As with everything I said previously, your hair's characteristics will determine the type of products you use (read the 5 part series post Unboxing Natural Hair). For instance, if your hair has a fine texture you may prefer light products such has a leave-in or hair milk followed by a styling cream. A coarser hair might prefer a creamy leave-in and hair butters. You will have to try a few combinations and see what you prefer.
Other Important Practice to Consider
Sealing You Hair – What you should always keep in mind is that when moisturising your hair it's not only important to put the moisture in, but it is very important to that it stays in. Therefore, you need to seal that moisture in. This can be achieved with the use of a vegetable oil such as extra virgin olive oil, jojoba oil, coconut oil or any other oil you prefer. (read more about penetrating and sealing oils).
You can also use hair serums which normally have silicones to seal your hair and provide shine and smoothness. However, you need to be careful with these as they also create a barrier that prevents moisture absorption and they need sulphate shampoos to be removed from the hair, which in turn leaves your hair dry.
Also Important In Your Hair Regimen
---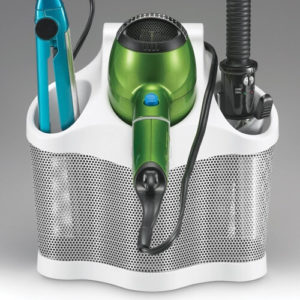 The way you style and manipulate your natural hair has an influence on its health. Natural hair is by nature dry and very fragile, and because of this, it can be doomed to exist under the spell of breakage. But it doesn't have to be like this, here are a few things to consider.
Manipulation & Maintenance
Avoid, at all costs, stroking your hair or passing your fingers through your hair all the time. Over manipulation can help break hair that is already damaged and/or fragile. If you're transitioning to natural hair, this is your case. I know you're getting acquainted with your hair and maybe even falling in love with it, but this bad habit needs to end. Keep this to a minimum!
Keeping moisture in your hair should be a constant concern to you. Consider practices that promote this by protecting your hair at bedtime with a satin bonnet or pillowcase and by restoring moisture levels in your hair throughout the week when needed.
In my opinion, regular trims are a must for your journey's success. Some people do them once a year, other only whenever they feel it's necessary. However, even if you don't see any split ends, the ends of our hair wear away, become thinner because they are the oldest part and have been exposed the longest to manipulation, weather conditions and such. Eventually, split ends will occur and it is best to prevent this with a little trim, rather than a big one when you let things go too far.  Try to do them every 3 months.
Styling 
Protective Styles – Consider doing protective styles to avoid hair breakage, to retain and increase hair length, to help keep moisture and to explore your creativity with some amazing and versatile hairstyles. These are hairstyles in which you keep the oldest part of your hair (ends) protected from exposure, you can do braids, twists, flat braids or twists, buns, Bantu knots or you can use wigs or weaves. The choices are many and so are the benefits. Go to YouTube and explore from the thousands of videos you'll find.
Heat Styling Tools –  heat is not the enemy here, it can be good when allied with your oil treatments or your deep conditioner. However, when you over do it with the use of blow dryers, flat irons or curling wands you are putting your hair at risk for heat damage and breakage. Ideally, if you're transitioning, you shouldn't be putting more stress on your hair by straightening it, keep away from this practice. Use these sparingly and set them for the lowest possible setting to avoid damage.
Time To Build Your Hair Regimen!
---
Now you have all the basic information to start building you hair regimen and incorporate your hair products. With time, all the planning won't feel so foreign and it will come as second nature. It's possible that as you move along in your natural hair journey and as you get more familiar with all the concepts and information, you will want to experiment with different hair care methods.
Regardless of the hair care method you try be it the Curly Girl Method, the L.O.C Method, the Greenhouse Effect or any other, the four building blocks of your hair regimen will remain the same – Cleansing, Conditioning, Deep Conditioning and Moisture.
If you want access to the 5-page hair regimen worksheets to help you build a hair regimen that will work for your needs and routine, then just click the button bellow and get them fro free!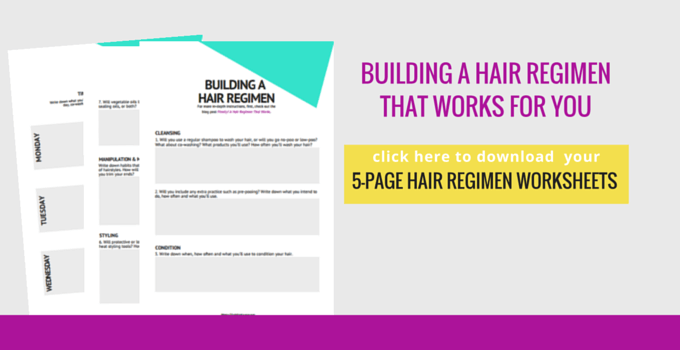 An Example For You
Saturday
Pre-poo or do a hot oil treatment for 30 minutes (optional). Cleanse your hair with your shampoo, low sulphate shampoo or co-wash. Condition, deep condition, moisturise and style your hair.
Sunday/Monday/Tuesday
Use a moisturising hair spritz (water and Aloe Vera) and/or a daily moisturiser if you notice that your hair is dry. Pay attention to your ends and always moisturise and seal them.
Wednesday
Co-wash your hair or do a simple water rinse, if you need to refresh it then condition, moisturise and style it. It's possible that you won't need this mid-week co-was during winter. Adapt accordingly.
Thursday/Friday
Use a moisturising hair mist (water and Aloe Vera) and/or a daily moisturiser if you notice that your hair is dry. Pay attention to your ends and always moisturise and seal them.
Moisture and Protein Balance – Start by introducing a protein deep conditioner once a month, in between your moisturising deep conditioner. With time, you will learn to notice if you need more or less protein. If you notice your hair feel dry after applying it do a moisturising deep conditioning treatment, as this may happen. If you're transitioning and/or have dyed hair you will probably need more protein. However, start small and go from there, too much protein can also damage your hair.
Clarifying or Chelating Shampoo – this will depend on a number of circumstances, but you will eventually need to clarify you hair to remove product build up. Read the articles provided previously on this post to inform your hair needs.
And there you have it! I hope this information was helpful and has provided you with some guidelines on building a natural hair regimen that works for you whether you're transitioning to natural hair or are already natural. Please note that the pictures in the article are only meant to serve as guides, they are not necessarily the products I use on my hair or the ones you should use.
Do you have a hair regimen? How is it working for you?
Featured Image Credit: David Robert Bliwas_I musta said something funny… on  Flickr (license)