Using flat irons while transitioning to natural hair is something I have avoided throughout my journey, and it's something I would advise you to stay away from if you're on that same journey. I'm not saying flat ironing is something you will never be able to do again. I'm just saying to focus on growing healthy hair and getting to know it before you even have the chance to damage it. Having said that, the day will come when you will use a flat iron on your natural hair. So, if you want to avoid heat damage it's best to know the lingo of flat irons and avoid the woes.
I'm gonna be honest with you, me writing this article is not only meant to help you transitioners and naturalistas out there, it is also meant to help me.  Before I started transitioning I flat ironed my own hair and before that, I went to an hairstylist to do that for me. The thing is, I used a flat iron that was given to me and replicated on my hair what I saw my stylist do.  Recipe for a disaster you might think. It was certainly one of the factors weighing in on my hair's poor health even though I only did it once every 3 or 4 months.
Nevertheless, when you have the right tools and knowledge you can avoid damage. The problem is when you're used to having someone else care for your hair you may not know what the right tools look like. Let's be honest, terms like nano, infrared, tourmaline or oil infusion technology are used to describe flat irons and you can bruise your brain trying to figure them out while choosing the best flat iron. On a mission to save your neurons (and mine!), I did a little research so next time we go shopping it won't be so hard.
The ABC Of Flat Irons
---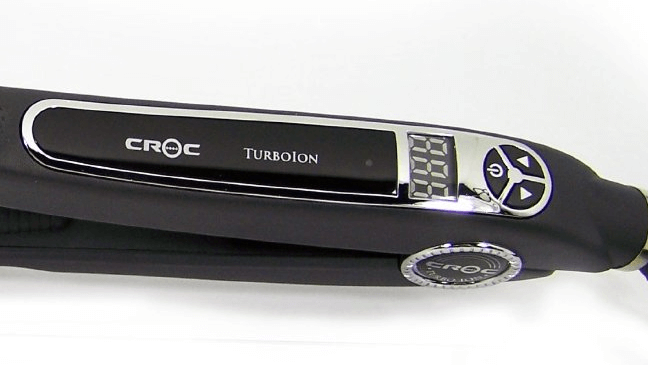 Before we even start to dwell on A, B or C let's first agree that an effective straightener is one which will give your hair a sleek, shiny and smooth look. For this to happen your positively charged hair needs to have a net (neutral) charge. Thus, why whenever you see a hair tool with ionic technology it refers to its ability to generate negative ions and neutralise the positive charge on your hair giving you the desired look.
Ceramic, titanium or tourmaline are all metals used on flat irons due to their ability to conduct heat and electricity so well. This happens because negatively charged ions (electrons) "run" freely on metal bonds. So, whenever you switch on your hair tool the negative ions in it are attracted to the positive charge on your hair, and your hair is then "neutralised".  Electrons on your tool will also allow you to straighten your hair faster with less damage. Got it?! Let's move on!
PLATES
Ceramic – This is not exactly a foreign word and you probably have a few ceramic pots and pans in the kitchen. Ceramic plates on a straightener allow the heat to be distributed evenly for a quicker and better finished look. If you need to go over your hair several times to get the job done you are sure to get heat damage eventually.  These plates are safe for all hair types as they are very delicate.
Ceramic plates can heat up in 10 seconds, they will treat your hair delicately preventing heat damage and will give your hair a shiny and healthy look. If you want the real deal, look for those that have solid ceramic plates, not coated ones.
Titanium – If you are looking for a flat iron that is lightweight and won't rust, then look no further. Although it is as strong as steal, Titanium's low density makes it a light metal that is frequently used in alloys for aerospace, military, automotive or medical prostheses. Having a titanium straightener means quick and even heat distribution with good slippage, more manageability as your wrist won't feel tired with the weight, high durability and resistance to corrosion, and gentleness over your tresses.
These features make titanium flat irons a step up from ceramic ones, however, its quick heat conductivity could also mean heat damage if you're reckless. Remember with this tool you'll probably only need to go over a section of hair once, maximum twice. These plates are suited for all hair textures and frequently used by professionals and if used improperly it can cause damage, so if you're unsure it's best to go for the ceramic one.
Tourmaline – It is a crystal silicate mineral classified as a semi-precious stone that is grounded and coated over metal plates.  These plates will give you the gentlest straightening experience for your hair. It is highly praised by professionals as it will give you superior results with light, soft and shiny hair, it also locks in moisture and protects your hair (meaning less damage).
You will also find flat irons with a mixture of ceramic and titanium plates or ceramic and tourmaline plates. This way you can get the best of both! Although it is not as common you can also find flat irons with tourmaline, titanium and ceramic metal technology
TECHNOLOGY
Flat irons will have different technology abilities to improve its functionality and final results. Nano Technology is such an example, it manipulates matter (metal) on an atomic and molecular level.

Nano Antibacterial Technology – it uses ionic silver nano-particles to provide your tool with antifungal and antibacterial features since silver ions suppress and inhibit bacteria's metabolism and cell growth. You'll have a germ free experience and I suspect it can possibly help with dandruff issues.
Ultra Sonic/Vapour/Steam Technology – These tools introduce a water mist while you're straightening your hair, which not only lubricates and conditions the hair but will also make it smooth, shinier with your styles lasting longer. With this feature the plates on your iron will have a middle channel (s) or vented/perforated plates to introduce the water mist.
Oil Infusion Technology – Similarly to the steam technology, these flat irons have a water and oil mix mist. When the iron runs over the hair its cuticle layers open and the steam delivers the oil. Your hair will not only feel moisturised and nourished but also feel  silky, shiny and smooth.
Titanium, Tourmaline and Ceramic Technology – using nano gel particles of all three different metals plates the metals are transformed into solid plates to allow a greater concentration and distribution of heat and greater resistance and durability to damage and corrosion. This means less time styling, less hair damage and longer durability for your hair tool.
Infrared Heat Technology –  infrared penetrates deep within the hair strand, and heats it from inside out. The water in the hair is broken down into smaller pieces which are then absorbed into the hair. With this technology the hair is heated evenly, moisture is locked inside and the negative ions eliminate frizz and you hair is left smoother and shinier for longer.
ADDITIONAL FEATURES TO LOOK FOR
Temperature Control – with this feature you can control the temperature of your flat iron, which is always good. Fine and weak hair doesn't need or can take as much heat as thicker/coarser hair does. Too much heat on our naturally curly hair can make it lose its curls, meaning heat damage.
Digital Display/Control – comes with a digital screen from which you can control heat and/or steam intensity.
Swivel/Long Cord – for me this is an important feature for any hair tool because it allows me to maneuver it freely without feeling constrained.
Lightweight – you're gonna be spending some time doing your hair and you don't want your wrists tired in the first few minutes, so look for a flat iron that is lightweight.
Dual Voltage Use – if you travel frequently this is a must, as it allows you to freely travel anywhere in the world without the need to buy a different hair straightener or the danger of accidentally exploding it.
Side Plates or Rounded Edges– if you want to effectively multitask and be able to achieve not only a straight look but curls and waves with your hair tool look for this feature.
Plates' Width – there are plates with several  widths and you can choose according to your preference, but 1 1/2″/3.81 cm is a good measure. This way you will use smaller sections of hair and will only need to go over them 1 or 2 times. With a wider plate, you can be tempted to put too much hair to speed up the task, but you would probably need to iron your hair more times because natural hair can be thicker and quite curly.  In the end, you can be inflicting heat damage on your hair.
Automatic Shut Off – if for any reason you get out of the house in a hurry and forget your flat iron switched on this feature will give you peace of mind. Imagine if you're going out on a date(a good one for a change!) and you have to run out in the middle to avoid burning down the house. This is a good little feature!
You might also find terms such as Ion Technology, Instant Heat Technology or Tourmaline Technology thrown around, in my opinion, just to inflate the attributes of the metal plates and/or flat iron. The technology surrounding flat irons is always changing and evolving so be on the lookout for novelties. Still, if we have this basic knowledge it will help us on our next shopping expedition, so pin the infographic above for future reference.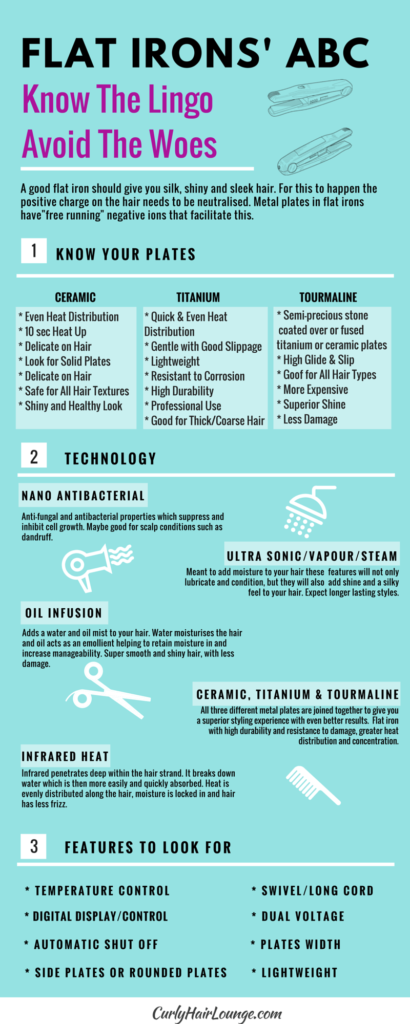 What flat iron do you use? Why are/aren't you happy with it? Did you find any clarity in this article?