Co-washing, or conditioner washing, is a great way to keep our hair clean and moisturised during summer or winter time when the weather can get to extreme temperatures. It has become a popular practice with the Curly Girl Method and the industry is now increasing its offering by developing more and more co-wash and cleansing conditioners for curly hair.
With this no-poo hair cleansing method, you just need to get yourself into the shower and grab your co-wash to quickly bring your curls back to life without stripping them of their natural oils and avoiding the squeaky clean feel of a regular shampoo that is prejudicial to our natural hair.  Our hair is gently washed and conditioned at the same time.
If you've been around the natural hair community you'll know that for many naturalistas co-washing is their only hair cleansing method, has it doesn't have the dreaded sulphates a regular shampoo has. It is also gentler than a low sulphate or low-poo shampoo, but if you're eager to embrace creamy cleansing conditioners into your hair regimen you should read 5 Things You Need To Know When Co-Washing Curly Hair.
But, for now, I'd like to introduce you to a list of co-wash and cleansing conditioners you can use to clean, condition, detangle and some you can use even use for deep conditioning. Talk about all-in-one, right? The prices range from the more accessible price to the more expensive one.
---
12 CO-WASH AND CLEANSING CONDITIONERS
---
#1|
BIG HAIR
Soft Curls Conditioner (£11.95/200ml)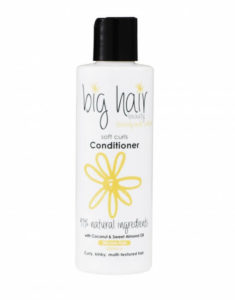 Although it is actually not labelled as a co-wash or cleansing conditioner, this silicone free conditioner can be used as such. Moreover, leave it on for half an hour or 15 minutes under a steamer and you have yourself a deep conditioner in your hands too.
#2|
ANITA GRANT
Curl Cleanse Co-Wash Conditioner (£11.95/150ml)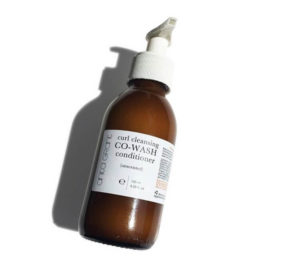 I mentioned this brand briefly on 14 British Natural Hair Care Brands and I am mentioning it again. I really like the care Anita Grant puts into their products and this co-wash is no different. It is formulated to clean, condition, combat frizz and promote healthy hair with its blend of vitamins, fatty acids and antioxidants.   You can also choose the scent you like between citrus mint, rosemary mint and unscented.
#3|
CAMILLE ROSE NATURALS
Caramel Co-Wash Cleansing Conditioner (£16.99/250ml)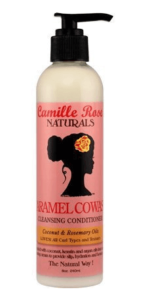 With rosemary and witch hazel, you are in for a refreshing cleansing experience. The oils, caramel extract and glycerin will tame and nourish your tresses while the cocamidopropyl betaine, a gentle cleanser, will help remove all the dirt, sweat and product residue.
4#|
ROOT2TIP
Comb-Out CoWash (Duo £28.50)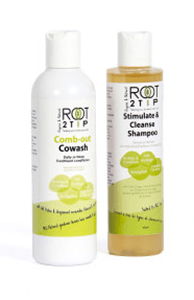 A light formula that will sink into your hair, help to detangle and leave it soft and clean. Your hair will not be stripped as this formula is mild and gentle on your hair. If you have kids you can also find a co-wash for them. Apparently, this co-wash is sold as part of a combo with a sulphate free shampoo, but it will come handy as even though a co-wash cleanses your hair a good clean is always needed (know why here).
#5|
ALMOCADO
Jasmine Hibiscus Conditioning Co-Wash (£12/230ml)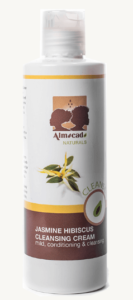 A cleansing cream with organic castor oil and coconut oil to give your hair a stronger feel and appearance. The mild properties of cocamidopropyl betaine will gently clean your hair while the hibiscus will promote healthy hair and scalp.
#6|
BRIOGEO
Be Gentle, Be Kind Avocado + Quinoa Co-Wash (£18.50/250ml)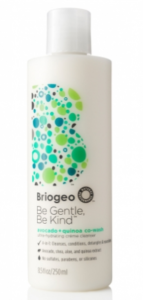 If you want to cleanse, condition, detangle and nourish your hair in one go and shorten your wash day in the process, Briogeo offers you this 4-in-1 creamy co-wash. It has avocado and quinoa and our beloved shea butter.
#7|
JANE CARTER SOLUTION
Creamy Conditioning Cleanser (£13,50/230ml)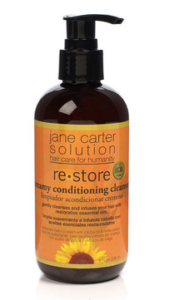 It gently cleanses your hair and it will then infuse it with restorative oil and glycerin to help prolong that moisture in. Did I mention it has some henna in there too? It will help strengthen your hair.
8#|
PALMER'S
Olive Oil Formula Cleansing Conditioner Co-Wash (£5.99/473ml)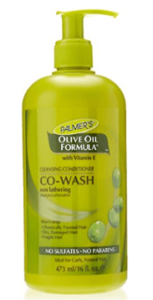 If you're looking for an affordable co-wash with no mineral oil, sulphates, petrolatum, phthalates or any other harsh chemicals, Palmer's Olive Oil Formula Cleansing Conditioner may be the right choice for you. Contrary to popular belief, being natural doesn't mean breaking the bank, the money you pay for the amount of product you get is a bargain when compared to other products. If you love coconut oil you can also buy Palmer's Coconut Oil Formula.
9#|
AS I AM
Coconut CoWash Cleansing Conditioner (£9.99/ 454ml)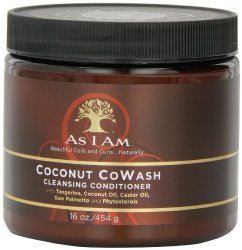 Claiming to promote hair growth from the follicular level, As I Am Coconut CoWash Cleansing Conditioner is a creamy co-wash that has an attractive blend of oils and conditioning ingredients that will help detangle and moisturise your hair.
10#|
EDEN BODYWORKS
Coconut Shea All Natural Cleansing CoWash (£15.99/ 473ml)
Coconut oil and shea butter are most natural's favourite ingredients and, as you can tell by the name of this co-wash, they are the stars in this product. The All Natural Cleansing CoWash has none of the nasty things we try hard to avoid, will make your detangling easier and will leave your hair smooth and moisturised.
#11|
DEVACURL
No-Poo Original Zero Lather Conditioning Cleanser (£15/945ml)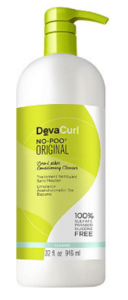 DevaCurl's No-Poo Original Zero Lather Conditioning Cleanser offers you a cleansing experience with a good dose of moisture. This conditioner comes from the brand that put co-washing on our radar, therefore, it had to be featured here. Devacurl products are all Curly Girl friendly with no sulphates, parabens and silicones.
#12|
THE MANE CHOICE
Soft As Can Be 3-in-1 Revitalize & Refresh Conditioner Co-Wash (£24.99/trio pack)
Wow! Don't you just love when a product can double up as something else? Yes?! Me too, but the Soft As Can be Revitalize & Refresh Conditioner Co-Wash can work not only as 1 or 2 different products but as 3 actually: a co-wash, a leave-in and a detangler, thus its name. It serves all hair types and promises to give your hair shine, softness, manageability and less breakage when detangling. A recent arrival in England, it's a must try, isn't it?
This product is currently sold at British Curlies in a trio pack that comes with this co-washer along with the Detangling Hydration Shampoo and the detangling Hydration Conditioner.
---
I hope a couple or one of these co-wash and cleansing conditioners caught your attention, it's always good to have this option to quickly moisturise our when it's in need. However, you should know that this shouldn't be your only option to wash/cleanse your hair, as you could eventually damage your hair. To know more read this post.
These products are all available in the UK either through Amazon, the brand itself or you can buy them at one of the many British online shops I mentioned in this post (with links).
Is co-washing a part of your hair regimen? Which co-washing conditioner do you use and why?