If you've been following me here on the blog for a while or if you get my weekly newsletter you know I dye my hair with henna since I started transitioning to natural hair and frankly, I recommend it to anyone. I love it, it's just great! However, after doing henna for curly hair for a while, I still hear a lot of people complaining about not seeing the results they want or worse saying they hate it. Therefore, I decided to address some of the common mistakes when using henna for curly hair.
First of all, I'd like to quickly say that henna is a natural plant dye, which leaves release a red-orange translucent dye that binds with your hair. Its use permanently changes your hair colour and the colour you get will vary according to your own hair colour. It is a great hair conditioner and will strengthen your hair as it will fill the "holes and cracks" you have on your hair.
Anyway, I have written a few posts about henna and you can read and learn more about Henna For Hair Care, you can get hold of My Henna Hair Dye Recipe and, if you want to Achieve Different Colours With Henna,  you  can even download  a Henna Guide to help you out, click the image to have access to it.

Enough intros now… let's get to the juicy stuff, or should I say the messy stuff?! Well, let's just get started, right?
---
COMMON MISTAKES WITH HENNA
---
#1|
Not Using BAQ Henna 
First of all, you should make sure the henna you get is Body Art Quality (BAQ). This basically means your henna is 100% natural, it is not mixed with other plants, metals or chemicals and that no pesticides have been used.
Unfortunately, many commercial brands do mix other ingredients and chemicals that render regrettable results like getting a greenish hair colour. Henna can only dye your hair in different hues of red-orange. This will be more noticeable, or not, depending on whether your hair is a lighter or a darker shade of brown. Don't fall into commercial marketing!
Achieving different and darker tones with henna is be possible by mixing it with Indigo, Cassia or other plant dyes. Again, make sure no metals or chemical are mixed as you can get shocking results, especially if your hair was chemically dyed. Download your free Henna Guide and if you need a good place to buy your henna, do it like I do, buy it at SheaButter Cottage.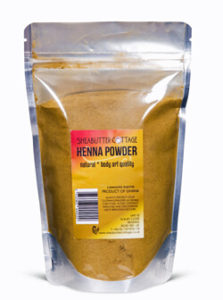 #2|
Not Letting Your Henna Dye Molecule Release
The amount of time it takes for the Henna red-orange dye molecule to release with a cold liquid will depend on its surrounding temperature. As an indication, if the temperature averages 100˚F or 26˚C your henna will be ready in 8 to 12 hours.
You can try and speed this up by placing your henna in a warmer location, but you should not microwave it or anything crazy like this. If you mix your henna with a near boiling liquid it will be ready to use immediately, however, you will get a brassy/vibrant orange tone. I like to rest my henna 12-16  hours just to make sure it's ready to use.
#3|
Mixing Oils
 Or Pre-Pooing Hair Before Henna Application
I know us naturals like to sprinkle some vegetable oils whenever and wherever we can, and your henna paste looks like the perfect opportunity to do it, right? I thought so too. However, doing this will interfere with how well the henna dye will bind with your hair and you'll end up with a washed off colour.
As for applying oil on your hair right before your henna, this is something I've recently read that people do. People pre-oil or pre-poo their hair to avoid getting the dry hair at the end of a henna treatment. However, as you may know, vegetable oils, whether penetrating or sealant, are occlusive. They will create a barrier around your hair strand that will prevent proper henna uptake.
The best thing you can do to revert the dry hair syndrome is to do a moisturising deep conditioning treatment after you rinse out the henna paste. Despite the initial dry sensation, henna is very conditioning to your hair, as it binds to your hair and "mends" any imperfections making it smoother and softer.
#4|
Mixing Yoghurt and Eggs
I'll raise my hand and say, "I'm guilty of this too".  Listen, I'm a bit of a DIY'er. I like doing my shea butter mix and leave-in concoctions, so it's normal for us (DYI'ers) to add to a recipe thinking we can improve it. In some cases this is true, but in this particular one… not so much.
Eve though I was warned that it could interfere with henna results, the truth is I didn't have adverse results (due to using BAQ Henna) so I mixed in my yoghurt. I only did it twice, but when I stopped doing it I did notice my hair was shinier.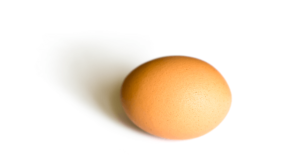 The henna dye molecule naturally binds with your hair's proteins, but if you make your paste with yoghurt or eggs (some people do), the proteins in them will be the first available proteins for the henna dye to bind with and your end result won't be as vibrant as it can be. Therefore, you should leave these ingredients out if you want better results.
#5|
Using Only Tap Water
Henna can be mixed with water, however, to release the lawsone dye it needs to be slightly acidic. Water regulations here in England limit water pH between 6.5 and 8.5, this means your water is not acidic enough. At its lowest concentration water pH is basically neutral, but it's generally mostly alkaline.
To fix this, use some lemon juice instead or, do what I do, and make a really strong black tea and add some lemon juice. Some people also like to use coffee or wine (if you can tolerate the smell).
#6|
Build-Up On Hair
Build-up happens as a result of hard water minerals, product residue and even the use of naturals ingredients such as vegetable oils and butters. This happens to all of us, and it needs to be removed as it creates a film around your natural hair that will prevent its moisture intake, will interfere with your products performance and will make your hair not act like itself.
As expected, hair build-up will also interfere with your henna hair dye treatment. Therefore, you should wash your hair with a shampoo right before your henna application or you can use a clarifying shampoo to really remove all "muck" out.  I like to pre-poo the day before and clarify my hair on the day of the application or, if you're afraid of the drying effects (I haven't had any bad results), you can clarify a week or a few days before.
#7|
Henna + Indigo Mix Didn't Work Well
Contrary to henna, indigo is a quick release dye that only needs water to activate it.  As soon as you make its mixture you have a very small window of time (20-30mn) to use it or it will oxidise.
Therefore, only mix your indigo paste with your henna paste as you are about to start your plant dye application. I like to apply my henna paste first, rinse it out and then apply my indigo. I admit it's double the work, but the results are better.  Remember, you don't need to wait for your indigo to activate, use right away and leave it for an hour or two before removing.
---
These are some of the common mistakes I've seen or read people make online. Because I have been using henna with such great results for a couple of years now, I want to help people achieve these same type of results. Yes, I'll give in and say it's messy and a bit laborious but it's totally worth it and with time it will be easier and quicker.
I believe I have covered some of the most common mistakes, but it is possible that your particular doubt or problem is not found in here. If that is the case, please leave it in the comments section and I'll do my best to help you.
Don't forget to read my previous posts on henna and maybe venture in trying my recipe. Try downloading the free Henna Guide if you want to achieve different colours for your natural hair? I know you hardcore DIY'ers will love it, but anyone can use it. Click the image below to get access to it.

 What were your results using henna? What difficulties have you found?