Detangling is such an important part of any natural or transitioning hair regimen that we spend a significant part of our washing hair routine dedicated to it. The fact is that this task can be made easier or more difficult depending on the conditioner we use. I'm sure we can all relate to having our hopes raised high only to be crushed within the first minute of trying a new miracle conditioner. However, I have come to notice that when it comes to conditioners there are two ingredients to look for as they seem to work wonders on our tangled curls.
Behentrimonium Methosulphate
If you normally read the list of ingredients on your hair products I'm sure you've seen this ingredient many times before. It is a cationic surfactant, which means that it can work as a "detergent" on formulations to clean your hair, albeit a very mild one due to its long number of carbons. Contrary to anionic surfactants such as SLS (sodium lauryl sulphate) which has a negative charge, behentrimonium methosulphate (BTMS) has a positive charge and a long tail. This simply means that it will be attracted to the negative charge of your hair penetrating and working as a conditioning and anti-static agent. Once the charge on the surface of the hair is balanced the cuticle layers of the hair remain flat, the hair becomes easier to detangle and your washing routine becomes much shorter.
Here are a few products with behentrimonium methosulphate in their formula:
1 Camille Rose Jansyn's Moisture Max Conditioner, 2 Kinky Curly Knot Today, 3 As I Am Detangling Conditioner, 4 Big Hair Soft Curls Conditioner.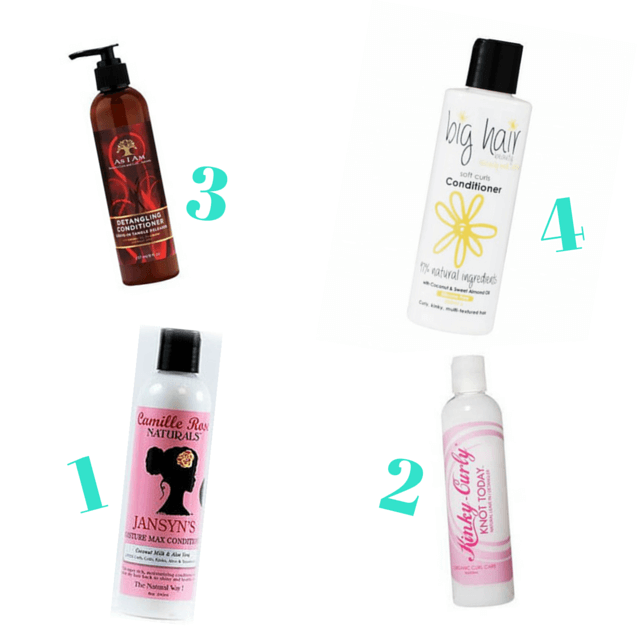 Behentrimonium Chloride
This is another cationic surfactant very similar to BTMS although not as mild. It can serve many purposes in a formula such as a preservative, a conditioning, anti-static or cleaning agent. Its long positive tail means that it will spread well along the negative surface of the hair surface, decreasing frizz and making your tresses glide off each other allowing you to detangle your hair without much resistance. You can also expect softer hair as it penetrates the hair shaft for increased conditioning effects.
Here are a few products with behentrimonium chloride in them.
1 Shea Moisture Raw Shea Butter Restorative Conditioner, 2 Herbal Essences Hello Hydration Moisturising Conditioner, 3 OGX Nourishing Coconut Milk Conditioner, 4 Deva Curl One Conditioner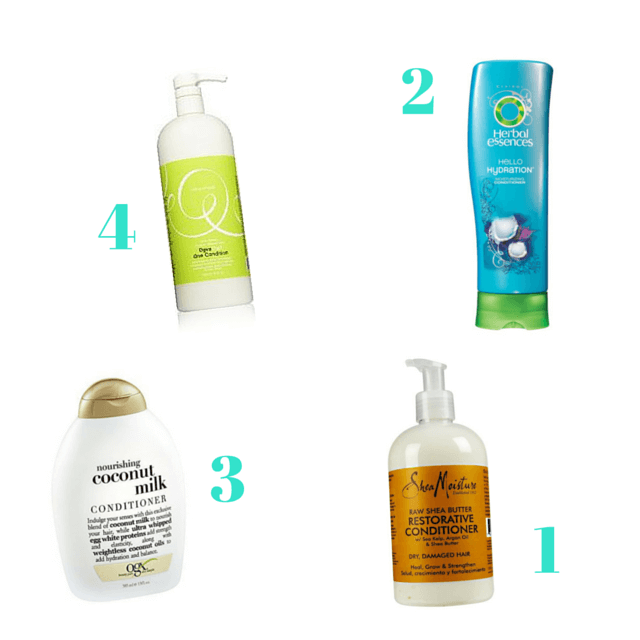 When looking for these cationic surfactants on your products check to see if they are paired with cetearyl alcohol or another fatty alcohol, they will lend any conditioner enhanced detangling properties. As with many other substances present in hair and skin products, some people can develop sensitivity to some ingredients which can result in allergies. According to the Environmental Working Group, as long as the ingredient concentration is respected there are no concerns. However, these ingredients can be naturally derived, in fact, you'll see that these ingredients are present in some known brands that pride themselves on being natural and/or organic.
Note! The OGX conditioner contains two silicones, to know how to use them effectively and avoid problems associated with them read this post. Herbal Essences contains a modified silicone created not to accumulate on the hair strand, so a sulphate free shampoo will remove it.
What do you look for in your hair products?