Before I dipped my toes and completely plunged into the natural hair community I was aware of a few household ingredients that could be used to cater for our hair needs. They were eggs and olive oil! Yeah, if I think back hard enough, that was it. Disgraceful isn't it, considering the array of household ingredients we have at our disposal to make our hair feel and look better. If you are anything like I was, if you're in the beginning stages of your natural hair journey, if you like DIY'ing your own hair products or if you'd like to diversify your knowledge you may want to read this article and add another chapter to your natural hair education. Here are 20 household ingredients that work wonders on your transitioning hair.
1|
EGGS
Widely known and chosen because of their protein content eggs are good to strengthen and help repair your hair from damage. They are also packed with vitamins A, B, D and E which are good for sebum production, hair follicle and roots health, improved hair texture and shine and  protection against environmental factors.
2|
OLIVE OIL
Perhaps the most used and widely available oil in kitchens all over the world. If you suffer from hair loss know that olive oil has the ability to block DTH hormones responsible for hair loss. It also improves your scalp health, fights itchiness, dandruff, has anti-bacterial properties and helps with blood circulation wich improves hair growth. Choose extra virgin olive oil.
3|
ALOE VERA
Not everyone has it on their kitchen window sill or back garden, but if you happen to have it you're scoring an A+ on your natural hair education. Aloe vera is thebomb.com for all your hair woes (or pretty close to it)! Aloe vera has enzymes that repair skin cells and promote hair growth, that is why they are also good in the treatment of sunburns or acne. Best benefits come when you use the gel straight out f the plant.
Aloe vera  balances your scalp's pH levels wich then helps reduce problems such as dandruff or itchiness. Additionally, it's a great moisturiser as it conditions your hair by keeping it hydrated for longer and with less frizz. Use it in a pre-poo treatment, as a leave-in conditioner, in your concoctions or as a gel and your hair will be happy.
4|
APPLE CIDER VINEGAR (ACV)
Oh, wow! This is another big winner. Backed up by professionals in many different fields for its beneficial uses, raw and unpasteurised ACV is full of living enzymes, minerals, antioxidants, vitamins and other goodies that would make your hair scream with excitement if it could make any sound. Why? Well, ACV restores your  pH level, is reduces itchiness, dandruff, reduces hair loss, improves hair porosity, helps with hair growth  eliminates product build-up… Want more info? Read Benefits Of Apple Cider Vinegar For Natural Hair
5|
AVOCADO FRUIT
This fruit, rich in healthy fats, not only has proteins to strengthen your hair, but vitamins B and E also help your hair at the cellular level supporting strong healthy hair follicles and roots and offer protection against UVA and AVB effects. Additionally, this green fruit has more potassium levels than bananas which help with hair loss. The fatty oils in this fruit will prevent a dry and itchy scalp.
6|
HONEY
Honey is a great moisturiser for our hair as it is an humectant and helps to retain water in our hair. It has antibacterial, antifungal and antioxidant properties that contribute to your scalp's healthy condition and, therefore, will help in the treatment of many scalp conditions such as dermatitis, dandruff or itchiness. As an added benefit, honey conditions your hair making it softer and shiny. Read Honey, Which Honey Should I Use?
7|
TEA
Tea is an ancient drink that has many benefits for our hair. For instance, the caffeine and antioxidant levels in it make hair stronger, more resistant to daily styling and manipulation and they also help stimulate hair growth. Tea rinses are great to moisturise your hair, to give lustre, soothe an itchy dry scalp, they improve some scalp conditions, balance sebum production, and much more. Read Know All About Tea Rinses And Why You Should Do It.
You can also read the post The Ultimate 5 Step Guide To Natural Hair Breakage Control and know how I incorporated tea rinses in my hair regimen to control hair breakage. Take the opportunity and Download the FREE Ultimate Guide To Natural Hair Breakage Control if you'd like to follow the same steps to control your hair breakage. Click above to read the article or click the image below to download your free guide, preferably do both.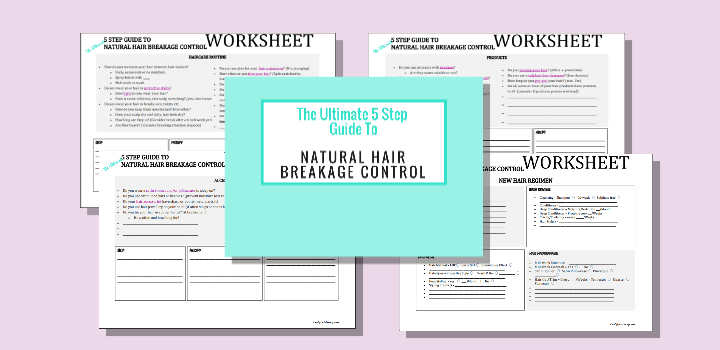 8|
OATS
Oats may not be the first thing you'd grab to make a hair concoction but they are actually a very good option if you want to fight frizz or soothe an itchy scalp. When using oats on your hair regimen you will notice healthier and stronger hair as it leaves a "film" around your hair strands that will make it softer, shinier and more elastic. This film also works as a protective layer for your hair from manipulation and external factors.  To top it all off it also attracts water into your hair and keeps it moisturised. Get a simple recipe from here.
9|

 
BANANAS
Affordable and delicious, bananas are an easy addition to any homemade deep conditioning recipe. They are the source of potassium, iron, magnesium, and  vitamins A, C and B6. Bananas moisturise and make hair softer, they balance sebum production, they help reduce hair loss due to their potassium content and they also make your hair more manageable by improving elasticity.
10|
COCONUT OIL
Now present in many kitchens, coconut oil is an all-round oil that adds lustre to your hair strands and makes them softer to the touch. Coconut oil works deep within your hair strengthening the cortex, delaying water loss and preventing hygral fatigue. It is also a great addition to improve hair porosity (low or high), it moisturises your hair, improves scalp health by improving health conditions such as dryness, itchiness or dandruff.
11|
MAYONNAISE
If you want smooth, soft and shiny hair grab a mayonnaise jar and slather it on to your hair. Of course, you would want to add a few extra ingredients for added benefits, but the eggs, lemon and vinegar present in this dipping sauce will make it work well alone. Have a look at my recipe.
12|
YOGHURT
Yoghurt is the perfect ingredient to add a smooth consistency to your homemade hair recipes. The acids in yoghurt will help close the cuticle layers, keeping your hair hydrated and giving you softer, shinier and moisturised hair for longer it will also help control frizz.
13|
BAKING SODA
Baking soda is known and used by many as a no-poo alternative to cleansing your hair and to remove product build-up. Those who use it regularly also witness soft hair and springy curls, however, it must be used with care as it strips your hair and leaves it dry. I have my reservations about using it, but and you can read Baking Soda For Hair Care to know more about using it.
14|
MILK 
Milk is perhaps the most readily available protein in any household and it contains other substances like casein, whey, vitamins A and B, calcium and phosphorus that are all beneficial for hair and have been shown to help in hair loss. Milk conditions your natural hair and makes it look and feel shiny, soft and moisturised. It also helps the production of sebum which prevents dry scalp and hair.
15|
GELATIN
Delicious as a dessert, gelatin is is also good for our hair because it has keratin the very thing our hair is made of. The best thing about it is that it's hydrolysed protein, meaning it can penetrate the hair strand to make it stronger, it also patches any damaged areas of the cuticle layers making your hair feel soft and look shiny. You will notice a decrease in hair breakage and improved hair elasticity.  Try a Gelatin Hair Treatment Moisturiser or a simple recipe here. Oh, don't forget to use unflavoured and unsweetened gelatin!
16|
CINNAMON
You wouldn't think of using it on your hair other than for giving an amazing scent to your concoctions, but cinnamon can actually help improve your hair and scalp condition. Cinnamon contains compounds that prevent fungal and bacterial infections because of its antifungal, antiviral and antibacterial properties. Cinnamon as also been said to help hair growth by stimulating blood flow to the hair follicles.
17|
COFFEE
Great for keeping us awake, coffee is also great at stimulating your hair follicles which can help with hair growth. Just like in tea, studies have shown that caffeine in coffee blocks the DHT chemical responsible for hair loss. A coffee rinse can also darken your hair temporarily and make your hair shiny.
18|
COCOA
For your hair to reap any benefits from cocoa you have to use dark chocolate with a high cocoa content (+70%). Cocoa powder can help you reduce hair breakage, improve hair strength and elasticity because of its antioxidants and vitamin A content. Make sure to try this recipe.
19|
BEER
It may sound surprising, but beer can help in your quest for healthy hair.  If you're running after thicker, fuller and shinier hair the proteins and vitamins in beer can help you do that. Surprisingly, the alcohol content in beer helps you cleanse and bring shine to your hair. However, some warn to boil the beer and cool it down before using it in order to reduce drying effects of alcohol.
20|
LEMON
Lemon is widely used in beauty and hair concoctions, and its high content of vitamin C (about 88%) can successfully be used to exfoliate your hair and scalp or to treat scalp conditions such as dandruff, oily scalp, itchiness.  Lemon also works as a natural hair bleach and when mixed with other ingredients such as olive oil and honey can help with hair growth and hair loss.
As you can see there are many ingredients in our household that can be used to beautify and increase our hair's health. If you'd like some guidance on how to mix up your natural ingredients read Know The Basics To Make Your Natural Hair Homemade Deep Conditioner, you can also find a few recipes on 5 Homemade Natural Hair Recipes For Your Entire Washing Day.  There are many other natural ingredients you can use in your hair regimen, these are just a few.
What other household ingredients do you use in your hair routine?