I'm pretty certain that once you started your transitioning or natural hair journey the term baking soda came up frequently in hair forums, blog posts or video tutorials as a natural solution in your hair care regimen. Baking soda is possibly the most used or nominated solution for those who follow, or want to follow, the no-poo (no shampoo) method for hair wash.
The Baking Soda Solution
---
Baking soda or sodium bicarbonate is a white powder that has many uses from cooking to removing paint and corrosion, and you probably used it in your cakes and bread. In the natural hair community, as people became aware of the damaging effects of conventional shampoo on curly hair some decided to adopt different solutions such as low poo shampoos while others just ditched them all together and went no-poo (no shampoos) with baking soda.
As you know I'm all in for the natural approach to hair products and once I started transitioning, just as many of you, I heard about the baking soda solution. I believe the two main reasons it has attracted so many people is the fact that it offers its supporters an eco-friendly and cost-effective approach to hair care.
Firstly, there is no waste to add to existing landfills and there is no release of harmful chemicals down the drain into the environment (water banks). Secondly, our society is at a place in time where people buy just about anything that is effectively marketed without thought for the real need for it. Many, like me, have these concerns into account and I can understand the high number of supporters just because of this. However, no new solution to no-poo can survive solely on this philosophy if it doesn't deliver results.
The Benefits
---
And if results are what you are looking for when googling baking soda as an effective cleanser for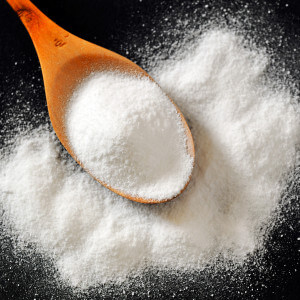 your scalp and hair, then you will find endless accounts. Some of the major benefits are as follows:
* Effective Cleaner
* Hair is left soft
* Healthier hair
* Less hair frizz or No frizz at all
* Loosens curl pattern, hair is easier to manipulate
* Longer between washes
There are different recipes available online, but you will either use it as a paste or a liquid solution that you massage onto your hair and follow with an apple cider vinegar (ACV) rinse to help close the cuticle layers of the hair. Recipes start from 1 tbsp of baking soda to two cups of water or 2 -3 tbsp to 1 cup of water if you want to make a paste.
Avid instructors will tell you to adjust measurements according to your hair's results and will also talk about an adjustment period where your hair will feel anything but pretty. However, they say, if you're patient you will reap the benefits. There are people who have been "baking" their hair for a long time now.
Caution?!?
---
Nevertheless, I don't blindly follow other people's advice without doing my own research first. I did find some accounts of people who had scalp irritations and said baking soda ruined their hair. Grant you, I found more good than bad reviews, but you can never have too much information and I decided to understand the disparity of opinions. Just as you can buy into every hair product marketing campaign you see, you can also buy into a hair practice just because it's natural, seemingly harmless and everyone seems to be doing and loving it. I urge you to do your own research first and weigh in all the facts.
Wanna know what I found out? Then continue reading.
Baking Soda & PH
---
As you know products that are meant to be used on our hair and skin are carefully formulated to consider the pH of the product and of the place they are going to be used on.  Although there are some questionable products out there, they all have to pass a seal of approval for consumer's use, and that means testing. (If you want to read more on pH importance for natural hair read this article.)
All hair products you buy are made of several ingredients that have a chemical representation. Just like water (H2O), baking soda also has a chemical representation (NaHCO3) and you know that when two or more chemicals meet there is a reaction. In the hair care industry, all products are supposedly balanced in terms of pH.  Therefore, I wanted to find out how do our hair and scalp react to this baking soda approach to hair care. Just because something is natural it doesn't mean it's OK to use.  Mushrooms are natural and you can still die if you eat the wrong one.
Some Chemistry
---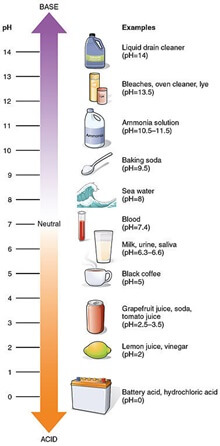 I will need to go a little bit into chemistry, so please bare with me for a while. If you remember your chemistry lessons, a pH scale is used to measure hydrogen concentration in water-based solutions. It ranges from 0 to 14 with 7 being neutral. Anything that scores below 7 is considered an acid and has lots of hydrogen ions and anything that scores above 7 is considered an alkali and has many hydroxide ions.
In this scale, human hair ranges from 4.5 to 5.5 and this is considered an acid. Surprising, isn't it? I would have thought it was neutral Anyway, I've also found that when baking soda is mixed into a chemical solution that is either acid or alkaline the natural effect is for baking soda to neutralise the pH of that solution. In other words, the mixture would have a neutral pH of 7.
However, this only happens when baking soda is mixed into a solution with other chemicals. If, as it is prescribed in the no-poo method, it is only mixed with water your liquid solution will become alkaline with a 9 in the pH scale. What does this mean to your hair?
Understanding a PH of 9 For Hair
---
A pH of 9 basically means that your hair and scalp are now alkalines. Is this good? Well, our hair and scalp oil (sebum) have an acid environment because it helps to prevent  fungi and bacteria from growing resulting in issues such as dandruff. If they are now alkaline there is no protection from this.
Additionally, an acid environment is what helps to keep the cuticle layers of the hair closed and healthy, which allows sebum to travel along the hair shaft to protect it from moisture loss and dryness. When your hair is alkaline from the use of baking soda you are opening the cuticle layers of the hair preventing sebum from protecting the hair strand and exposing its internal structure to damage (tangles, brittle hair, split,  high porosity and breakage).  This doesn't sound good, doesn't it?
Some Surprises
---
However, I was actually surprised to find out, through PhD scientist from The Natural Haven Bloom post, that a study concluded that our hair structure is not noticeably altered within the pH range of 4-10 when using a strong acid (hydrochloric acid with -1 pH) or strong alkaline (lye with 14 pH). This means, that using baking soda with a 9 pH is not that bad, isn't it?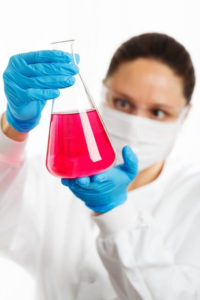 At this point, I thought – "Hmm,  maybe using baking soda isn't that bad!?". I mean it does open up the cuticle layers, but this is why no-poo supporters will tell you to finish your hair wash with an apple cider vinegar (ACV) rinse to close hair cuticles. Using apple cider vinegar (3 pH) in a water diluted solution allows the hair to effectively return to its ideal pH of 4.5 – 5.5. There is no lying in this, it's a fact! Still, I continued my investigations which seemed to be leaning more towards the no-poo supporters.
Additionally, the same source, also tells me that hair strands only start to suffer structural changes from a pH of 9. Apparently, as I told you here, soaking hair in water, which is neutral (7 pH), for 10-15 minutes will yield greater structural changes in the hair strand.  Why is this so I asked myself?
Other Explanations
---
The explanation is in our hair's composition. Water, along with other elements such as minerals, can account for 12% to 15% of our hair's composition at any given time. Our hair is porous to a degree and it allows water in, which makes it swell and open its cuticle layers. However, it will return to its normal shape unless you seriously like to keep your hair wet most of the time. Then you will experience hygral fatigue.
Are you still intrigued? So was I, but it occurred to me that although the cuticle layers are opened with baking soda and then closed with an ACV rinse, the pH balance of our hair and scalp oil is disrupted as baking soda is quite abrasive. This means scalp infections and/or irritations and removal of sebum which is now unable to protect hair. Water may cause pH changes on our hair, but it doesn't disrupt the pH balance. It is neutral!
Moreover, although regular relaxers have a pH that ranges from 11 – 14 and are, therefore, within the range where structural damages can be observed,  mild relaxers have a pH range of 8 to 11. So can we really say that the use of baking soda does not affect our hair structure with a pH of 9? From a pH of 9 our hair starts to show changes in its structure, it becomes denser. Many claim that after using baking soda as a hair wash their hair is softer and the curl pattern is loosened. This reveals a change in the hair's proteins similar to a relaxer, the disulfide bonds in the cortex (inner structure of the hair) are weakened by the use of baking soda.
Good or Bad, Then!?!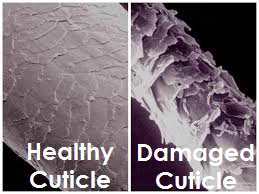 The fact is many have been using baking soda for years without any problems. This could be because studies have reported that individuals' hair pH can range from as low 3 and as high as 6.6. So, maybe more resistant to pH variations. On the other hand, those who complain of dry and brittle hair, and of irritations and burning sensation on the scalp may have bleached/relaxed hair. In this case, the pH range limit for structural changes on the hair is altered from 4 – 9  to 4 – 7 pH.
Another explanation, for the differences in opinion, could be hair texture and porosity. A coarser/thick  or low porosity hair will need a stronger pH solution to break some or all disulfide bonds in it. Conversely, a fine hair only needs a pH of 6.5 to 8.2 to see this happen.
Final Thoughts
---
Conclusion,  from a pH balance point of view, using baking soda to wash your hair will disrupt its pH balance, and bring about problems which you can read more about in my post Why Should I Even Care About Natural Hair & PH. Many have not done well with this solution, but others claim their hair has flourished, maybe due to the reasons mentioned previously.
I, for once, do not wish to subject my hair to such an extreme pH change. It is like a roller coaster ride, a change from 8 to 80,  your hair goes up to a 9 pH to then quickly go back again to its ideal pH (4.5 – 5.5). Regardless of this, the natural oils have already been striped much like a conventional shampoo, which by the way normally has some kind of oil or lubricant to replace what it takes. Can I honestly say that this continued action won't damage my hair after a period of time? I don't think so, I much rather prefer co-washing my hair (washing with conditioner) or make/buy my own natural no-poo shampoo.
Final aside, as a hair cleanser baking soda doesn't even seem to be effective at all. Scientist blogger from The Natural Haven Bloom performed an experiment in which baking soda performed poorly at cleaning dirty/oily hair, even after 10 minutes soaking in the solution. Check it out here!
Please find bellow further reading links if you're interested in learning more. There is lots of information out there! Ultimately, you'll be the judge yourself or should I say your hair?
Do you use baking soda to wash your hair? What are your results? Would you consider using baking soda?
Follow these references to learn more:
Featured Image Credits: pH scale image by OpenStax College under Creative Commons license