I love tea! I don't know when my love affair with tea began, but I'm fairly certain it will go on for a long time. Tea has the ability to comfort me, to warm me up, to calm me down if I'm anxious or nervous, to ease an upset stomach pain or a headache. Oh, and let's not forget the scent of freshly brewed tea. Don't you just love it? Besides its health benefits, there are many advantages in using a tea rinse for natural hair. Keep reading as I'll try to make you love tea just as much as I do, if not for drinking then for your hair needs.
Health Benefits Of Drinking Tea
---
Tea consumption dates back to thousands of years ago in China and is now a beverage, hot or cold, that is commonly used across many cultures in all corners of the world. Known for being a British drink it's rightly called in my opinion the "elixir of life". I don't know if it makes me look younger, but I certainly get a boost of energy whenever I have it. Tea contains polyphenols, a type of antioxidant,  that have anti-inflammatory and antioxidant qualities which benefit many health conditions.
The antioxidants in tea help fight the damaging effects of free radicals in cells which can lead to cancer, they block DNA damage associated with tobacco and other harmful chemicals,
Drinking tea decreases risk factors associated with cardiovascular diseases such as blood pressure, diabetes or obesity.
A study as shown that the habit of drinking tea improves bone health in older women, which means that the nutrients in tea may protect against osteoporosis.
Tea has substances that help the immune system to fight off infections.
It helps your weight loss efforts by increasing the body's ability break down fat.
If you're not much into drinking water, turn yourself to tea as it also keeps you hydrated.
As you can see there are many health benefits for those who drink tea. However, you might be impatiently waiting to find out how can it help your hair's health.
How Does Tea Benefit Your Hair?
---
There are many factors that can interfere with the health of our hair such as chemical treatments, use of heat, environment, stress, hormone unbalance or diet. Given all the health benefits tea provides us with, I believe we can say that what we put in our body will reflect in our general health and this is also true for our hair. Except that in this case, being a natural resource we have at our disposal, we will do herbal tea rinses.  Some of the hair benefits include:
Moisture – tea is basically water, and water is essential to keep our naturally dry hair hydrated. You can do a tea rinse after your wash routine or mid week just to quench your curls.
Natural Hair "Dye" – although it's not a permanent change in hair colour, rinses with black tea, beetroot or hibiscus will give your hair different hues of brown or red.
Shine – the antioxidants (vitamin C) in tea will protect your hair against the damages of UV radiation and vitamin E will ensure your hair is soft and shiny.
Sebum Balance– Tea rinses are good to normalise oil production in oily scalps. Yes, I know that curly hair needs all the sebum it can get. Don't worry, tea rinses are also good for dry hair. They hydrate the hair fighting off dryness and dandruff.
Anti-inflammatory Effects – It can soothe an itchy and dry scalp, preventing irritation and inflammation.
Antiseptic  – It "unclogs" hair follicles from impurities and dead skin which controls dandruff and promotes hair growth.
Strength – Studies have found that panthenol in green tea strengthens the hair and prevents split ends.
Hair Growth – some teas have been found to promote hair growth by increasing blood flow to the scalp. This provides more nutrients and oxygen to the hair which fosters a healthy hair growth.
I think this is a pretty impressive long list of reasons for why you should be taking advantage of this amazing "tool" for your hair's benefit.
How To Incorporate Tea Rinses In Your Hair Routine?
---
To incorporate tea rinses in your hair routine first you have to know if you want to do it on regular basis, by incorporating it into your hair routine, or if you just want to treat a specific condition you are suffering with such  as itchiness, dandruff, hair loss or even just to spice up your hair colour. This will determine for how long you will do this for. Either way here are a few possible ways you can go about doing herbal tea rinses.
Overnight – Similar to a pre-poo, where you apply oil on the hair and leave it overnight, you can rinse your hair with a herbal tea to treat scalp conditions such as dandruff, itchiness or to balance sebum production. The following day you continue with your hair wash as usual.
Wash Routine – Wash and condition your hair as you normally do on your washing day and end with a herbal tea rinse that meets your hair needs and/or goals.
Mid Week – If you exercise like me and sweat from your scalp tea rinses can offer you a good solution. They will not only clean the sweat from your scalp, but they will also prevent bacteria from growing and give your hair a mid-week hydration boost.
What Teas To Use?
There are many herbal teas you can use as a rinse for your hair and they will be virtually harmless, however, if you want to get the most out of a herbal tea rinse it is best to match the needs of your hair with the benefits of each individual herb. Here is a small list of herbs you can make tea rinses with and how they will benefit your hair.
Green Tea – Increases blood flow into the scalp, which provides the hair with more nutrients and promotes hair growth. Works best with freshly brewed tea.
Black Tea – the high caffeine content in black tea prevents hair loss by blocking the hormone responsible for hair loss. It reduces shedding, gives shine, darkens hair or brings out some highlights.
Peppermint – Reduces/balances sebum production, dandruff and calms the scalp.
Sage – Good for preventing grey hairs, and promote hair shine and hair growth. It is also indicated for dry hair and scalp, thinning hair, hair loss and if you want it darkens your hair colour.
Rosemary – full of benefits, rosemary will fight hair loss provide your hair with strength and increase your hair growth rate.
Lavender – Not only it has a great scent to it, but lavender can also be of help with hair loss issues, it balances sebum production, controls hair shedding and is beneficial in the treatment of inflammatory scalp ailments.
Parsley – Although it is essentially used in the kitchen, parsley has essential vitamins and antioxidants that benefit hair from free radicals and provide a nice shine to the hair.
Witch Hazel – this herb has an astringent effect on the scalp and hair, meaning that it will provide a deep cleanse for your oily hair and scalp.
How Do You Prepare A Tea Rinse?
---
Preparing your tea rinse isn't much different from making a cup of tea. You can do it in two different ways, however, when you do apply it on your hair I have a tip for you. Place a big bowl in your bathtub and lean over it as you apply the tea rinse over your hair. This will allow you to reapply the tea rinse again as your hair may not be properly covered or you may not have enough tea for your whole head. I would also advise you to always try and make freshly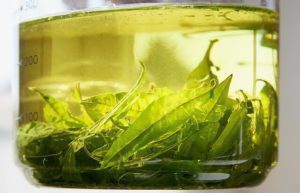 brewed tea and not one that has been resting for days. This way your hair will reap more benefits. Finally, and most important, never add sugar to your tea rinses as this will probably neutralise all benefits.
Method #1 –  Pour some boiling water over two cups of fresh herbs or 2-4 tea bags and let it steep overnight or for a few hours.  Strain the liquid into a bowl or container and apply it on your hair.
Method #2 – Place the herbs or tea bags in a pot with water, bring to a boil for 2 – 5 minutes or until the desired colour has been reached. Once this has happened, let the liquid cool down, strain it, place it in a container and apply on your hair.
Have you ever done a tea rinse? Did you notice any benefits to your hair? Are you considering adding tea rinses to your hair routine?