Can't stop the urge to scratch your scalp? And the more you scratch the more you want to do it? Does this urge come when it's most inappropriate? Itchiness on your head is a symptom that something is not well on your scalp. The reason for an itchy scalp can be very simple and common, but it is important to identify the problem so you can address it.
1|
Allergic Reaction
Also know as allergic contact dermatitis it can happen quite often. This can appear as the result of a bad reaction to an ingredient in hair dye, shampoo or to a natural ingredient you might be using.
Hair Dye – If you dye or bleach your hair you should always do a patch test 24 to 48h before applying it all over your head. Don't think that this only happens with a store bought dye! It can also happen with a professional. So never skip the skin test to avoid major health issues such as swelling of the scalp. Why not try henna? Here's a recipe.
Shampoo – Studies have shown that SLS (Sodium Lauryl/Laureth Sulphate), a common ingredient in hair cleansers, can cause allergic reactions that can range from an itchy scalp to an inflamed one. You should confirm with your dermatologist if this is your case, but in the mean time try eliminating shampoos that contain SLS or simply co-wash (conditioner wash) your hair. You can also make your own natural shampoo with soap nuts.
Natural Ingredients – I know that when we use something natural we might not be thinking of any possible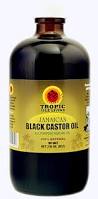 side effects, but the reality is that it can happen. In fact, it happens all the time! Some people have allergies to nuts, seafood, milk, berries and the list goes on. I suppose you could say that the culprit is the use of chemicals/antibiotics, but for now, we'll leave that for another discussion.  If you, for instance, you like to use castor oil in your hair regimen please know that many people report having an itchy scalp when using it. The solution could be as simple as ceasing its use or diluting it with some other oil such extra virgin olive oil.
Another cause could be the use of pure essential oils. These are very potent concentrations of plants/herbs and should not be used directly from its container. Some can be used topically, but in my opinion, if you are not a herbalist then they should always be diluted/mixed, they will not lose effectiveness. So, use just a few drops and it will be more than enough.
Laundry Detergents – Sometimes you may be allergic to the laundry detergents and perfumes used to wash your bed linen. When your head gets into contact with them, the heat from your head will speed the allergic reaction which can exacerbate eczema and psoriasis. Try using a laundry detergent such as ECOS Free&Clear that is scent-free and has a balanced pH to be non-irritant. Alternatively, you can always make a laundry detergent out of soap nuts, which is an organic and eco-friendly solution. Here's a recipe for you.
2|

Hygiene
Surprised to see this one here? Well, don't be. It's nothing to be ashamed of. It just so happens that some of us may sweat a little bit more from the scalp, or the use of oils/butter/cremes on our hair attract more dust and dirt from the environment or maybe you should reduce the time between your washing day.
Try to pay close attention to when you feel the urge to scratch your scalp. Is it after an intense workout when you sweat generously? Is it a few days after washing your hair when you had your hair down? Or perhaps too many days have gone between washing? To solve your itchiness you can rinse your hair with water, massaging your scalp to release dirt and sweat. You can also co-wash (conditioner wash) your hair between washing days or you can just move your washing days closer. Read 5 Ways To Refresh Your Scalp After Exercising.
3|
Dand
ruff

This is a skin/scalp condition that can be triggered by a microbe, scalp oils, allergic reaction to oleic acid (Omega 9 fatty acid) or all three at the same time. It has many symptoms such as inflammation, redness, dryness or flakes but the most common one is itchiness. It can be very annoying and embarrassing when you get those "snowflakes" on your shoulders. To counter attack dandruff you can use a shampoo such as head&shoulders or a more aggressive and medicated one. Another option would be to use a natural solution such as an equal mix of beetroot juice and white or apple cider vinegar applied on the scalp overnight. Read the Benefits of Apple Cider Vinegar.
4|

Skin

Di

sorder
Sometimes the body's immune system overreacts to a trigger and, as a result, doctors believe that a skin disorder such as eczema and psoriasis occurs.  They can arise on the scalp and are associated with itchiness. You can follow your doctor's course of treatment or you can use natural solutions available to minimise this such as aloe vera or tea tree oil.
5|

Dry/Flaky

Scalp
A dry and/or flaky scalp can be a normal happening. The reasons are varied it can be the use of an over efficient shampoo, cold and windy weather, dead skin cells, high air condition or even eczema. To curb this you need to protect your hair from the weather using a hat, scarf and/or protective hairstyle. Change your shampoo to a sulfate free one or co-wash, it won't strip all the natural oils in the scalp. The use of vegetable oils like coconut or olive oil will help to moisturize the skin. Another thing you can do is a scalp exfoliation to remove dead skin cells, check the brown sugar hair scrub recipe.
6|

Styling & Hairstyle
It can easily be overlooked, but the way you apply products on your hair can cause an "itchy problem". It is important not to apply the product on the scalp as it can clog the hair follicles and you end up scratching your head.  The way you style your hair is also important. Wearing your hair or weaves/extensions in very tight styles creates tension on your scalp which causes itchiness. If you change this practices you will see big improvements.
Now that you know some of the reasons for an itchy scalp, try to identify what is at the root of your problem, try some of the natural solutions suggested here and/or look for a professional opinion. If you're not affected by this problem it is always good to know the causes to prevent them from arising.
Do you have an itchy scalp? What is the cause and what have you done to try to address it? Share your solutions here with us.
Featured image credit: taken by Marco Alexandre under the creative commons license (no changes).