I love the feeling of accomplishment that I get when I finish my morning workout and the rush of endorphins running through my body, it gives me an energy boost for the rest of the day. The only thing I don't like about it is the sweaty scalp I get in the end. The salt and water mix can undermine all my efforts to keep my transitioning hair healthy, not to talk about the itchiness it can cause.  If you're experiencing the same problem you know what I'm talking about, but there are a few things you can do to refresh your scalp after exercising without having to wash it. Keep reading and you'll also find a nice little treat I created to keep all your recipes and tips together.
1. Plantain Herb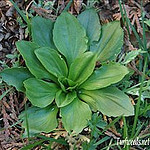 You may happen to find this weed growing in your back garden, and if you do find it grab a bunch and make a herbal tea for yourself. Normally found in the wild, this weed has antibacterial and anti-inflammatory characteristics and is used to treat minor cuts and bruises or for respiratory support. It is considered one of the most effective anti-itching herbal remedies and applying it to your scalp should ease the itchiness of dry salt and water (sweat) on your scalp. Make a herbal rinse with the plantain herb, add a few drops of your favourite vegetable or essential oil, wet a cotton ball with the mixture and dab it on your scalp or use a spray bottle. That will do the trick!
2. Tea Tree Essential Oil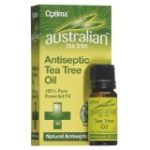 This is one of my favourite essential oils and I use it all the time as it seems to have superpowers given its extensive properties – antibacterial, antiseptic, antimicrobial, fungicide, insecticide and a few more. If you're not able to wash your hair midweek after an intense workout and worry about possible bacteria or fungi growth or problems with itchiness this is your solution. Mix distilled water with some Aloe Vera juice, add a few drops of Tea Tree essential oil and perhaps a vegetable oil, put in a spray bottle, shake and it's ready to use.
3. DIY Wet Shampoo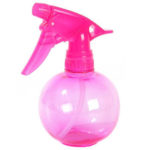 If you want to feel as if you washed your hair and don't mind a little bit of DIY you can make a shampoo with just a few ingredients. Wellness Mama has a simple recipe. Take 1 cup of distilled water, 1/4 of witch hazel, 1/4 cup of arrowroot/cornstarch and a few drops of an essential oil (e.g. Thyme or Eucalyptus) put it all in a spray bottle, shake and you got your self a wet shampoo.
4. Witch Hazel

I personally like Thayers' Rose Petal Witch Hazel Alcohol-Free Toner with Aloe Vera which I also use as a facial toner, but there are a few other options available to you by this brand that you can choose from lavender or unscented. The blend of rose water and Aloe Vera with witch hazel in this toner come together to gently condition and moisturise your hair while the astringent properties of witch hazel keep any itchy problems at bay. Wet a cotton ball and apply it on your scalp.
5. Dry Shampoo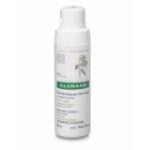 If you don't like the DIY route and you just want a quick and easy solution to go on about your day you can try Klorane's Dry Shampoo with Oat Milk.  It will draw all the salty moisture from your hair giving you a clean scalp sensation and saving you time. Made with rice starch, oat milk and Kaolin clay it is sure to gently clean your hair. Nevertheless, don't overdo it with this, experts warn that excessive use can leave you with a dry and flaky scalp.
A sweaty scalp is possibly the main reason many of us transitioning to natural hair don't exercise since having to wash our hair every time we engage in intense training is time-consuming. However, it doesn't have to be that way. In fact, it's possible to exercise, take care of our hair and maintain our appearance. I exercise 5 time a week and if I've been able to do it for the last two years while transitioning, you can too!
If you're serious about exercising and need a few tips to protect and manage your hair while working out read 7 Tips To Protect Natural Hair When Exercising. Additionally, to help you out on your intent you can find the recipes to refresh your scalp on a DIY BOOK of Recipes, Hacks and Tips that I created for you. Download the FREE 15-page DIY BOOK and find these and other recipes that I've shared here on Curly Hair Lounge.
It's a great resource because the book will continue to grow as I share more here on the blog and you won't need to remember where you read all the tips and recipes. Moreover, as you download this book you'll also have access to a Resource Library with checklists, worksheets and more to help you on your hair journey.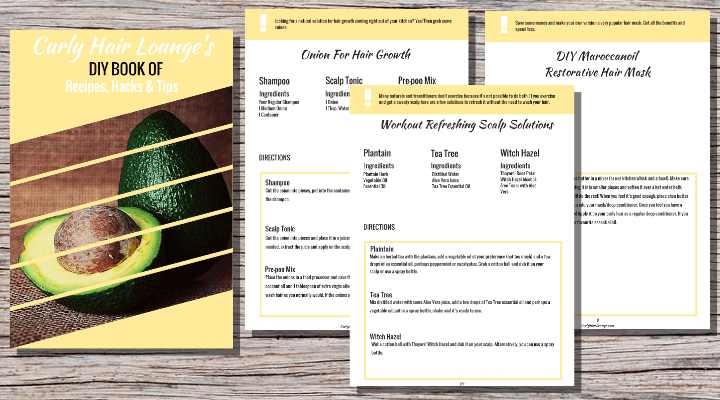 What do you do to refresh your scalp after exercising? Share your tips with me!
Featured Image: createherstock.com (s85).