I'm guessing that with Summer pretty much upon us you haven't been missing the chance to enjoy the sun and refresh yourself out in the sea or pool after an extremely cold Winter. However, I hope you haven't been lagging behind in protecting your hair before you expose it to salt and chlorine (read Transitioning Hair and Swimming). However, aftercare is also important and if you've been going to the pool frequently a simple shampoo just won't do it. Here are a  few hair care solutions after swimming with natural hair in the pool.
As you know water in swimming pools has chlorine and this is so to protect us from all the nasty fungi and bacteria that can breed and affect our health, and this is a good thing. The problem with chlorine when it comes to our hair is that it binds with the proteins in our hair making it difficult to remove with a simple shampoo. However, a clarifying shampoo won't do it those are designed to remove product buildup. What you need is a chelating shampoo, they are meant to remove hard water minerals and chemicals that attach to our hair. These shampoos can be hard to find as they can come identified as clarifying, chelating, purifying or deep cleansing shampoos, look for EDTA or Sodium Thiosulphate in the ingredients list.
Joico K-Pak Clarifying Shampoo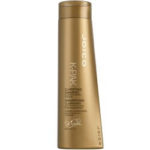 You know how clarifying shampoos leave your hair squeaky clean but also super dry? Well, Joico K-Pak Clarifying Shampoo won't leave your hair like that. With a creamy texture and pleasant scent this mighty cleanser is able to remove product buildup, hard water minerals and chlorine all while "gently" caring for your hair. The hydrolysed proteins (keratin and wheat), the Aloe Vera juice, the fruit extract and evening primrose oil in it are probably some of the ingredients that make your hair feeling nourished, stronger and softer than normal clarifying shampoos.  A keeper in any hair regimen and ideal for frequent pool users.
Aubrey Organics Swimmers Shampoo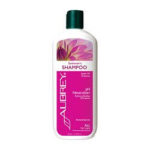 The name says it all it is a swimmers shampoo capable of removing chlorine from hair, but also product buildup and hard water minerals that can cause discolouration on grey hair. This is a brand known for using all natural, organic. herbal and plant extract in their products. Rice extract is the second ingredient in this shampoo and is said to remove chlorine and minerals along with other ingredients. It also has jojoba, quinoa and almond oil to condition and promote manageability, Aloe Vera leaf juice to provide moisture and pH balance and a whole host of other natural ingredients that make this shampoo a star in my book.
This shampoo not only stars for its ingredients but also for its effectiveness. If swimming is now part of your daily activities it won't leave your hair hard and brittle. Smooth, soft, moisturised, conditioned and manageable are some of the words used to describe hair after using Aubrey Organics Swimmers Shampoo.
Apple Cider Vinegar (AVC)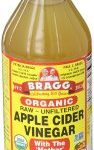 I know, it just keeps popping everywhere! Is it an urban myth or credible homemade remedy you may ask? I haven't yet confirmed it's effectiveness, but this is just one of those all-around miracle ingredients everyone talks about and stocks up in your pantry (to know more read the Benefits Of Apple Cider Vinegar). With water and AVC, you can make yourself a hair rinse to neutralise the damaging effects of chlorine. Those who use it claim that if you experience a slimy feel in the hair, it means it's working. Lucky for us it's inexpensive, practical, easy to make and use. Just don't buy anything other than organic, unpasteurised and unfiltered apple cider vinegar. Make a strong rinse with 2 cups of AVC and 1 cup of water. Saturate your hair with the mixture, leave it on for a couple of minutes and continue your wash routine as normal.
Though all hair needs extra TLC after exposure to salt and chlorinated water, transitioning hair needs even more attention. So, make sure you're taking these protective measures before exposure to avoid damage and make sure you continue this hair care after your exposure by removing all chemicals from your hair.  Always follow your chelating shampoo with a moisturising deep conditioning treatment (read more about clarifying your hair here).
What do you do to care for your hair after swimming?