I've viewed countless videos from curly vloggers where we can learn how to trim and even perform haircuts on our own hair. Being a transitioner I understand this because in this journey to natural hair we embody the "Do It Yourself" philosophy. The thing is, we've come to care and love our hair so much that we don't want someone come in and ruin it.  There are too many horror stories out there for us to feel comfortable walking into a salon that doesn't properly understand curly hair. So please take these tips on choosing a natural hairstylist the next time you decide to go to a professional to do your hair.
One thing I got out of my traumatic experience, was to never walk into a hair salon and simply expect the professional to know about my hair texture and provide me with the best service and experience, even if the person was referred to me. If you want to avoid disappointments and months staring at the mirror waiting for your hair to grow, you need to be more proactive and search for what you want.
1|

REFERRALS
---
Curly Friend – I know I've just said to not trust any referrals, but that doesn't mean you can't check them out. Just don't trust this person blindly expecting to have the same experience your friend has. You are different people and you probably have different hairstyles, textures and prioritize different things in a professional. So please take in those referrals, as there aren't many natural hair stylists out there, ask your friends about their experience and decide which one you want to pay a visit. Or you could accompany your friend the next time she goes in for an appointment and watch him/her working.
Google it! – This could be scarier than a friend's referral, but it doesn't need to be. What you need to switch your private detective persona. Yes, us curly girls, we have several personas! Search for natural hair stylists around your area, check to see if they have a website page and once there, check their services, stylists available, what they specialize in (it could be protective styles, hair extensions, dry cut, colouring, etc), their prices, if they have consultations and most importantly if they have any reviews on their page.
TIP: reviews displayed on the website page always favour the service provider. Make sure to also google the salon for other reviews on the net.
Forums and Social Media/Communities – The modern days of the internet are wonderful!! These days you can virtually find anything you want on the internet. Today, most people have access to the internet and are involved in many social media platforms such as Facebook, Google+, Twitter or Instagram. Others like to be part of forums or social communities within social platforms. Take advantage of this, use your own personal pages to ask people where can you find a good hair stylist. Trust me, people love to talk about their hair and you will have some referrals in a short period of time. Then go from here and dig deeper!
2|

 

CONSULTATIONS
---
Once you find the hair stylist/salon you want, call them to know if they have consultations. This is an appointment you book before you get your hair done, you will have the opportunity to personally talk with the stylist and make all the questions you want. You can say what you like/dislike, what you want and expect from them, you can ask what techniques they use to cut natural hair, what hair products they use and so on, you get the idea don't you!? At this stage, you need to get your point across and discover as much as you can so you can trust them to take care of your hair. You need to know that they can interpret your vision and that they understand natural curly hair!
A good professional will also take this opportunity to get to know you and your hair, so she can have a better picture of what you deal with on a daily basis. She should touch your hair, ask questions about your hair routine and story, how you maintain your hair, if it's coloured, how you normally wear it, what difficulties/problem areas you have…. Communication is very important, so be verbal and active in this conversation.
TIP: Another thing you can do, even before you book a consultation, is to check if the salon does manicures, pedicures, eyebrows or any such services from where you could seat in the salon and see the hair stylists working. Then you call in for a consultation if you liked the services. It may sound a bit sneaky, but it worked out for me in the past, I avoided major disasters.
3|
ENERGY
---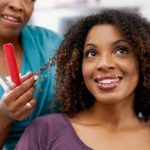 What I mean by this is, was the energy between you and the hair stylist good at the consultation? Sometimes we feel as if we are not being listened to, or we're being dismissed. Other times the person might come across as a good professional, but the interpersonal skills are lacking, she seems cold/distant. In this case, you need to think if you're OK with such a relationship since you now have a "good" hairstylist, or if you prefer a different relationship as you'll be under their hair care for years hopefully.
4|

DON'T GO CRAZY!
---
When you do find a professional you want to work with, please don't go crazy! In other words, don't go into your first appointment and decide to do a style overhaul. You could end up being unpleasantly surprised. Don't go all in, test the waters. Do a little trimming session, see how your hair is handled, shampooed and detangled (very important!), and maybe how she works under stress on busy days.
I hope these tips will help you whether you are going through your transitioning journey or have already done your Big Chop. Please let me know about your personal stories and your own techniques in choosing a natural hair stylist.
What are your tips for finding a natural hair stylist?