The cold winter weather can take a toll on our hair if we're not careful, and the effects can be especially disastrous if you were not careful enough to protect your hair during Summer. Not all is lost if this was your case as there are still things you can do to rescue your hair, however, you will have to be diligent in your winter hair care routine to minimise any wrongdoings during the past beach season.

To help you with this I created a handy Cheat Sheet that you can have free access to. It contains the steps you need to take in order to prep your hair for the Winter. Just click the image and it's all yours.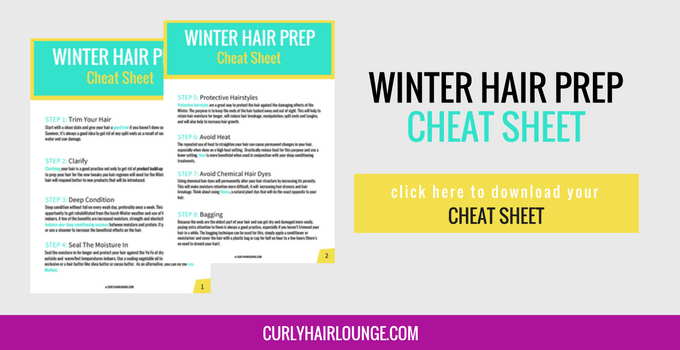 #1|

Trim Your Ends
This is your first call to action. There's no point crying now, this is non-negotiable! You're gonna have to trim your ends to avoid major hair breakage. Your unprotected hair took a beating from the sun, salt and chlorine during Summer and your ends, being the oldest part of your hair, took it worse. If you're not already experiencing dry hair and split ends you will soon. Therefore, to avoid major breakage as soon temperatures start going down, cut off whatever is necessary to start fresh. For future reference read When to Trim Transitioning Hair.
#2|

Clarify Your Hair
If you forgot to clarify your hair during Summer to remove chlorine from your hair or to follow your scheduled clarifying hair routine, you should do it now. I know that your hair is probably feeling dry now and doing this can be very drying to natural hair, but if we don't clean through all of that build up and/or chemicals then the conditioning and strengthening effects of your deep conditioner will be almost pointless (Read more about this and how often to do it). On your next washing day you can use your regular sulphate free shampoo or cleansing conditioner, but don't forget to remove build up every so often or as your hair requires.
#3|

Deep Condition Every Single Week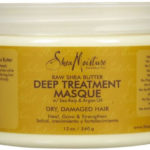 Every time you wash your hair follow with a deep conditioning session. This will provide your hair major penetrating agents that will moisturise, condition and strengthen your hair. This weekly practice will rehabilitate your weakened hair. Don't be lazy, I'm sure you had this habit before you fell off the waggon during the sun season. It will be very easy to get back on it again. Pretty soon you'll be reaping the benefits. Add some heat to your deep conditioner to increase the penetrating effects. To know which deep conditioner to use read Know Your Deep Conditioners and Jump-Sart Your Results.

#4|

LOC It In
It's very important that you seal the moisture in your hair so that it stays moisturised for longer. Use your favourite vegetable oil or butter to do this. For some hair types, a butter might work best in the Winter see which one you prefer. You can also try the LOC method as it is one of the best ways to keep your hair moisturised no matter what the season of the year is. Read 3 Moisturisers for Transitioning Hair.
#5|

Protective Styles
If you like to wear your hair out most of the time, you're gonna have to put a damper on that. Now that you've "LOC'd" the moisture in, you need to keep it in. The cold temperatures and wind and the lack of humidity on the hair mean your hair will be drier than it naturally is. Keeping your hair in protective styles will ensure that your hair is sheltered from these weather conditions and maximum moisture is retained. Take a look at some bun styles here.
#6|

Avoid Heat And Chemical Treatments
If you're thinking about the latest hair dyes for the season, forget about it! And while we're at it forget about applying any heat to your hair with the intention of straightening it. Both of this damage the cuticle layers of your hair that can ship, break or remain open and lead to split ends. Once this happens the internal structure of your hair (cortex) is exposed and is then susceptible to breakage, loss of elasticity and strength. Not a pretty picture! Let's focus on health first and then think about aesthetics. For those of you really desperate to dye try henna it can give you nice auburn, brown to brown-reddish hues and it won't damage your hair, it will help strengthen and condition it.
Implementing these practices during the Winter season will be crucial to restoring your hair back into a good level of health after a Summer of carelessness. These are my top six recommendations, but there are a few other you can introduce into your routine that will help you too, read the following articles and don't forget to download your free Cheat Sheet bellow.

What are your winter hair care tips after a well-spent Summer?