The decision to transition to natural hair is a big one. Despite not being a living structure, our hair serves an important psychological function as it is closely related to our self-esteem. It impacts on our interpersonal relationships whether they are professional, social or just personal. So opting to go natural with a Big Chop is a Big Deal! That is why so many of us decide to go for a long-term transition letting our hair grow and gradually cutting it until we have no more relaxed hair.
This new journey might feel exciting and scary at the same time. You might have many questions and doubts and you may be going around in circles with all the information out there. Therefore, today I will give some direction on how to transition to natural hair. I will tell you some of the steps I incorporated in my hair routine and I hope this will be helpful to you too.
HERE ARE MY "12 COMMANDMENTS"
---
1| Stop Relaxing and Dyeing Your Hair – This might be quite obvious, but I had to say it. Relaxing and dyeing alter/damage your hair' structure and over time it will lose its elasticity and strength, you will be left with hair that is dull and prone to breakage, unable to retain length. (Read Achieve Different Colours With Henna As A Natural Hair Die and Henna For Hair Care)
2| Stop Using Heat – Styling tools reach temperatures that will take all moisture from your hair, especially if you don't know how to use them correctly. Again, your hair will feel dry, will have split ends and it will break. (Read 7 Flat Iron Mistakes To Avoid and Flat Iron's ABC – Know The Lingo, Avoid The Woes!)
3| Pre-Poo Your Hair – This is something you do before you shampoo your hair. It typically consists of applying a vegetable oil (i.e. extra virgin olive oil or coconut oil) to the hair protecting and preventing it from the drying effects of shampooing. (Read Should You Pre-Poo Your Hair and 5 Tips to Make Your Oil Pre-Poo More Effective)
4| Avoid Shampoos With Sulphates – Sulphates are a common ingredient in shampoos that have a lathering effect. Its purpose is to clean your hair of any dirt, dust and product residue. However, it also takes away all sebum (hair's natural oil) in your hair, leaving it dry and prone to breakage. (Read 6 Sulphate-Free Shampoos For Softer Curly Hair and 6 No-Poo Shampoo Alternatives)
5| Detangle Your Hair Very Well – Use plenty of conditioner to detangle your hair from ends to root. As your hair grows you will find that this task will become more difficult with the two textures. Getting rid of all the tangles in your hair, doing a protective style and restraining from over manipulating your hair will facilitate detangling on your next washing day. (Read 5 Tips For Detangling Transitioning Hair)
6| Deep Condition Regularly – This is very important to incorporate into your hair routine. African hair, because of its shape is predisposed to dryness, split ends, breakage and loss of elasticity. A deep conditioning treatment will basically work as "food" for your hair. It is applied to the hair and left to act for a minimum of 30 minutes. Best results are achieved when heat is applied. This way the cuticle layers of the hair open letting all the yumminess in to "assist" keratin in its job (give elasticity and strength). (Read Know Your Deep Conditioners and Jump-start Your Results and Know The Basisc to Make Your Natural Hair Homemade Deep Conditioner)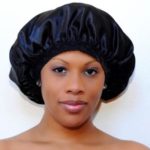 7| Use a Satin Pillowcase/Bonnet When Sleeping – Regular pillowcases and bonnets take the sebum off of your hair, leave it dry and pull it out. Satin pillowcases/bonnets won't absorb the natural oils in your hair and or pull it out. (Read Essentials When Transitioning To Natural Hair)
8| Do Protective Hairstyles – When doing a protective hairstyle you are protecting the ends of your hair, which are the oldest and most fragile part in your hair. Avoid applying too much tension to your hair, especially on the edges, as they will get thinner and more fragile. (Read Protective Hairstyles For Transitioning Hair, 7 Causes Of Thinning Hair Edges)
9| Moisture, Moisture, Moisture – This is key to healthy hair! Make sure your hair is well moisturised. If it feels and looks dry spritz your hair with water or apply a moisturizing cream. Just be sure that the first ingredient in the product is H2O (water). (Read 3 Moisturisers For Transitioning Hair)
10| Trim Regularly – A hair with thinning and split ends is a hair that has lost its protecting layer and has difficulties growing. Trimming your hair as it grows will get rid of relaxed ends and promote a healthy growing hair. You can trim your hair every 6 weeks or 3 months, you decide when. (Read When To Trim Transitioning Hair)
11| Stop Using a Cotton Towel – Using a microfiber towel will absorb water quicker, reduce frizz and friction since you won't need to rub and squeeze your hair to remove excess water. (Read Essentials When Transitioning To Natural Hair)
12| Section Your Hair When Washing – Sectioning your hair reduces the time it takes to detangle it and avoids tangles and knots, which will reduce your stress level. (Read Reduce Hair Breakage When Washing Transitioning Hair)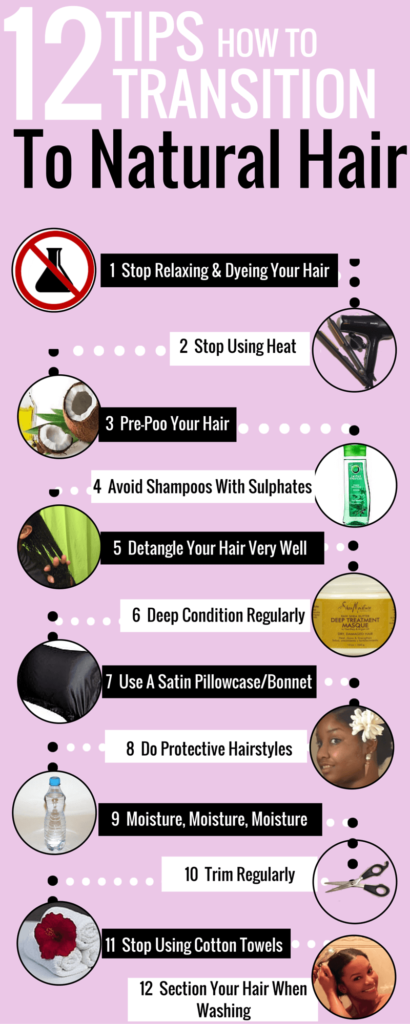 MORE IMPORTANTLY!
---
In this journey, you will find yourself exasperated, hopeless and at your wits end with your hair. There may even be a time when you'll want to reach for that old friend – the relaxer. However, give yourself some time to see your hair grow, it will get easier as you get more attuned with your hair. I know this because it happened to me, but as I started to see my natural hair grow I fell in love with it and you will too.
So be patient, have fun trying new products and hairstyles and be gentle with your hair. You don't want to rush or be rough with your hair, it will certainly damage it.
Finally, find support! It may be a family member or a friend, someone who will support your decision in your journey even if they don't agree with you. Let me know if you're already doing some of these "commandments" and which ones were easier/harder to implement.
Do you practice any of these tips? Which ones do you implement?
Featured Image Credit: Taken By Avery Scott under the Creative Commons License license