If you recently started your transition to natural hair there are many things you need to know and do to bump into as fewer obstacles as possible, because believe me you will bump into a few. One of the best and most important things you need to supply your hair with is moisture as its lack is quite frequently at the root of many hair problems. Here are a few product suggestions you can use to add moisture  to your dry hair.
1|

 Big Hair Leave-in Moisturising Milk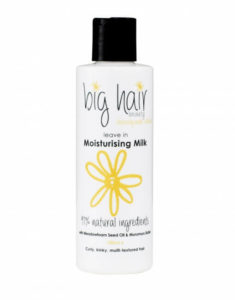 This leave-in is a good addition to your product stash and is quickly becoming a favourite among British curlies or were it not a UK brand. Yay!!! I'm very excited about the ingredients as it has Aloe Vera, meadowfoam seed oil, murumuru butter and shea butter. These are just the first four ingredients after water. If you're not familiar with meadowfoam seed oil it is an oil full of fatty acids, with a similar feel to that of  jojoba oil. It forms a barrier on the hair that prevents the rapid absorption of products it is mixed in with. So it will prologue moisture on the hair and prevent dryness.
As for murumuru butter, its effects on the hair are also known to foster moisture retention and it is filled with vitamin A which is good for hair elasticity. A feature that is always appealing to any natural hair product is the slip, and you can expect to get that with this leave-in thanks to the rape seed oil derived behentrimonium methosulfate. Go over to Big Hair to check out the product and make your order.
Or if you want you can have a look at UK Curly Girl product review on Big Hair products and decide for yourself.
2|

Shea Moisture Extra-Moisture Transitioning Milk

I guess by now we all know this brand and the unique blend of natural, organic and certified ingredients it puts into is products that make it so well loved by many. Well, this hair milk is just another one of their products, one which is specially formulated for transitioning hair.  It is a thick milk you can use as your regular moisturiser to style your hair or as a leave-in moisturiser. With coconut oil, shea butter, argan oil and glicerine this milk has what your transitioning hair needs to keep it nourished and moisturised. Experiment and see how you can include it in your hair regimen. This product is so moisturising that some are using it on their skin. Amazing!
3|

 As I Am DoubleButter Cream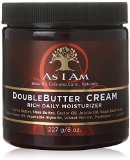 You guessed it, it is a rich moisturiser with a blend of emollient butters (shea and cocoa) to nourish your hair. Together with a combination of fruit and plant extracts, glicerine and a mix of vegetable oils (coconut oil, castor oil and almond oil), it helps to keep your hair hydrated for longer as the moisture is locked inside. Use it for your wash and go's,  to style your twists and braids or whenever your hair is dry.
Nichque sure is a strong advocate of this product, she raves great results on her braid out using only this product on her hair. Her hair certainly looks moisturised and shiny, don't you think?
While, generally speaking, thinner hair strands might prefer light moisturisers that won't weigh it down, and coarser hair might delight on heavy butter creams, the truth is this is not a rule it's just a guide. Others factors such as porosity are important and given that you have natural hair and relaxed hair, one might not necessarily like what the other one likes. My advice is to experiment, have a look at the videos above, see what people with similar hair textures to yours use and try, try different things in different combinations.
What do you use to keep your hair moisturised?
Featured image: Taken from alexxxhes on YouTube.