One of the good things about the natural hair movement is its ability to awaken us to all things natural hair. Suddenly, you start "boasting" not only your hair pride but your black pride as well. Nevertheless, you quickly realise that our society doesn't always reflect or support this. Although the sentiments accompanying the movement feel strong their range of impact on the wider society appears to still have a long way to go. However, several entrepreneurs seem to be finding a way to increase natural hair pride through dolls.
How To Start The Change
How? You ask me? It's simple, through our children! If you want to change the world you teach a child, that's when you'll see real change happening in the world. Toys may seem to have no real impact on how we perceive, interpret and organise the world but they have. Many women have witnessed this when their little girls start disliking their hair, their skin tone or even their facial features after years of playing with white dolls with straight silky hair.
Not seeing themselves reflected on the toys they play with has made them wish for an ideal of beauty that is perceived by them, as something to aspire or emulate. The Doll Test experiments show this very well as does those who engage in skin bleaching to look beautiful in a lighter skin tone.
Armed with enough will to change little girls' perceptions through play, and hopefully start a ripple effect, small businesses run by women have emerged creating black dolls with natural hair.  I know we now have black Barbie(s), but I'll be honest with you when you walk into a toy store, how many black dolls do you see and how many white ones do you see? Moreover, if you go to Mattel's website and look for African American dolls, you'll see that there is little diversity in skin tone, and changes in facial features (if any) are so minute they could be seen as white dolls with a tan. And let's not even talk about the hair…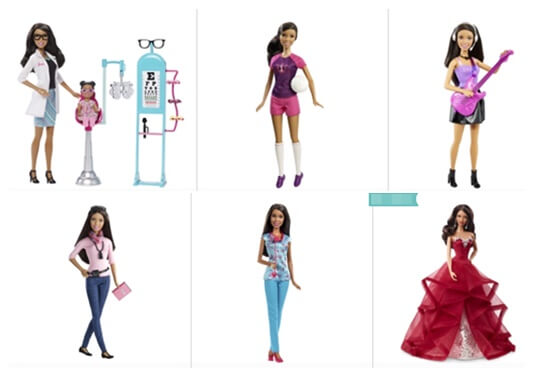 The Angelica Doll
And, if hair is what this website is mainly all about let me talk to you about The Angelica Doll created by a mother of two, Angelica Sweeting. This mum took matters into her own hands to shift her daughter's negative perception about herself and created a doll to encourage a positive effect. Funded by 1316 backers on Kickstarter, she surpassed her initial pledge of $25,000 and raised nearly $85,000 to bring her vision to fruition.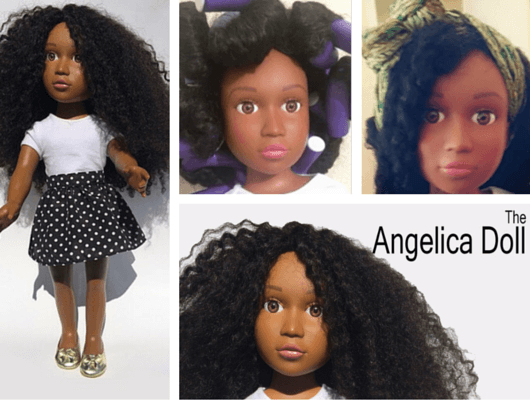 As you can see, "The Angelica Doll" is a beautiful 18 inch/45 cm black girl that reflects African facial features with "fuller lips, beautiful cheekbones and brown eyes" as its creator intended. What I believe will make all little girls fall in love with this doll is her hair. It will not only resemble their own hair, but it will allow them to style the doll's hair in many different styles without getting tangled.
Sweeting made sure to test the hair with her little girls and during 8 months they washed, combed and tried different hairstyles like braids, twists or used flexi rods to see if it could withstand the curious and sometimes rough hands of a child. And it did! So, if you want to change your daughter's perception about natural hair I believe this is the way to go.
Natural Girls United – The Little (Big) Details
Another entrepreneur that stands out for me is Karen Byrd of naturalgirlsunited.com. She is now selling beautiful black dolls with customised hairstyles in an attempt "to bring a positive view of what ethnic beauty is" according to her. You will find that her dolls address the issues I just touched on regarding black Barbie dolls, but what I loved about her dolls is the myriad of hairstyles she has created. You have sisterlocks, afros, kinky hair, braided updo, weeny afros and more in many different hair colours.

Don't you just love these? One other detail that scores points for these dolls is their fashion sense. They are absolutely on trend and you can even buy separate clothing sets which can be topped with little Channel, Dior, Louis Vuitton or Prada bags. How adorable is that? Check the website and order your own doll with your own customised hairstyle.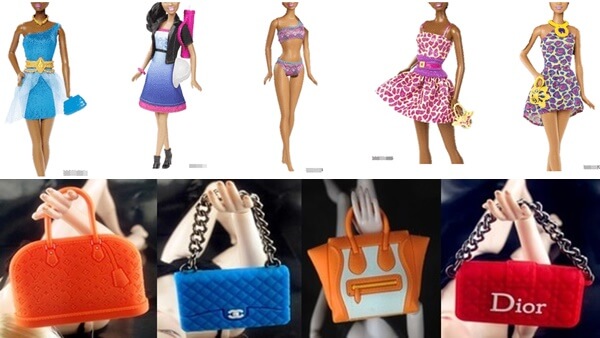 Kaye Wiggs Dolls
Quickly rising to public awareness (or should I say the natural hair community) shortly after being shared on social media are Kaye Wiggs dolls styled by Decifashion. These are no ordinary dolls and although I am attracted to all previously mentioned dolls, these dolls make a grown woman like me wanna have dolls again. According to Decifashion they can be pre-ordered at Jpop Dolls website. They retail at a considerable high price, but I believe they are worth it. Think of it as a collector's item that you can cherish and pass on to your older granddaughter or niece.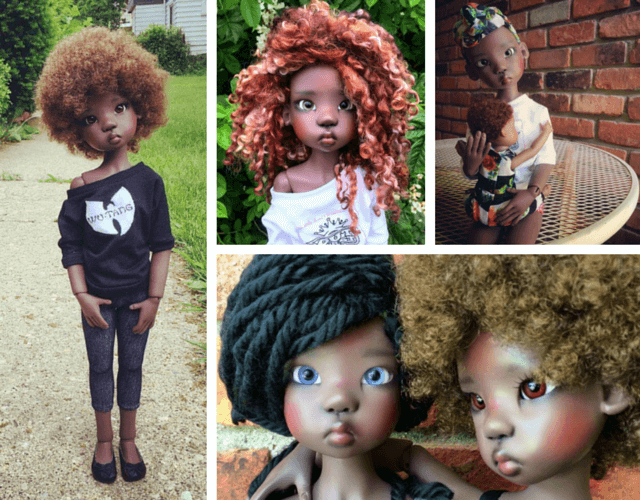 I have to give praise to the doll maker who was able to give soul to these dolls. At least, that is how I fell when I look at them (especially their eyes), it's almost as if I am looking at a real child. But what puts everything together and so relevant is the wigs, clothes and jewellery created by Decifashion. Go over to Facebook or Instagram and check them out in beautifully taken photographs.
Brown Sugar Belle (Baby Dolls)
If you want black baby dolls, BrownSugarBelle dolls are super cute and you can customise yours and even choose gender, facial expression, skin tone, eye colour, hair colour, and hairstyle. I've seen other black baby dolls out there, but to me, they seemed to come right out of a white baby's mould with just a different skin tone. I understand and agree that any change in the right direction is good, still I want to see black dolls rightfully represented in all aspects, not just their skin tone. What do you think?

Healthy Roots Dolls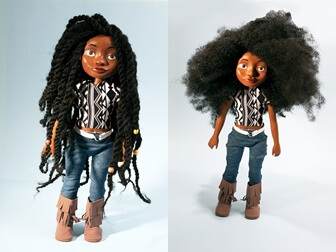 At the time of publishing, this article dolls from the HealthyRootsDolls.com hadn't been released yet, but you can have an idea of how they'll look from the picture bellow. This doll, Rapunzel, was part of a 3D Illustration course that grew into a toy design meant to "combat issues of colorism and internalised racism" according to founding member Yelitsa Jean-Charles.  This project is set to launch on the 25th of August on Kickstarter where you can back it up. Follow them on Facebook to be up to date with news.
---
There are now several other entrepreneurs stepping into the black dolls market gap, trying to offset current market monopoly, but more importantly trying to change how little black girls perceive beauty. I hope the toy industry sees the potential in this market gap as did the natural hair products industry. This way we'll hopefully find it easy to buy black dolls without having to chase them on down on the internet, fill in pre-order forms or think about our budget, as some can be expensive.
Increasing pride in our African heritage has a long way to go, it is not just enough for parents to preach this to their children, children need to see it in their surroundings. Stimuli such as books, cartoons, TV or magazines need to change because dolls alone are not enough to make this change. Nevertheless, any small change is a success because even if it's a long-term change, us women, as givers of life and main educators we can instil change in our children to erode the perception that the white standard of beauty is the norm and what should be desired.
Do you think toys are a good way to change children's perceptions of black beauty and natural hair? What dolls do you like more?