Let's just say that when this young actress showed up on our radar she created a shock wave that left no one indifferent to her. It wasn't just her acting ability that won her an Oscar on the big screen that caught our attention, it was also her sense of style and the confidence she exuded with her teeny weeny afro.  Who are we talking about? Lupita Nyong'o, who else? A young actress who has been fostering natural hair beauty acceptance.
A few years have passed since she stole the limelight from actresses well versed in the Hollywood industry, but the spotlight isn't turned off yet. Lupita's fashion style ranging from classic and feminine to bold and edgy have won her several best-dressed titles on the red carpet –  a deed that is extremely difficult to achieve and maintain for a young actress practically unknown in Hollywood. All I can say is that another fashion icon is born, one who is confident, elegant, who loves to show her femininity and reflects the adventurous (risk taking) side of her young age in her style.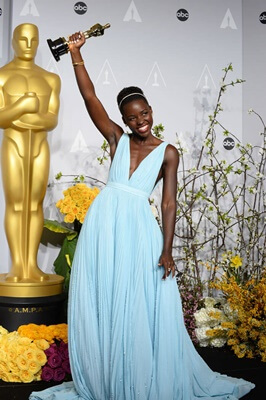 And if adventurous seems to be the right word to describe some of her red carpet choices, it also seems to be the right word to describe her first appearance. Not many African American actresses would have had the courage to rock a teeny weeny afro (TWA) on an event with such a world impact as the Oscar's. Being virtually unknown you would have thought that her first big reveal to the world would be in some sort of shiny, sleek, iron pressed style or hair extensions. Any style that would show her conformity to society's standards to what our hair should look like (especially on these events).
As a lover of natural hair, transitioner and a big supporter of the natural hair movement I applaud her courage to ignore these mental restraints and to show the world she is confident in her own skin with her natural kinky hair. And although I use the word courage, I know it's not the right one. My use of the word is mainly for those of you who are reading this post and questioning your own bravery, who are still flirting with the notion of going natural or those thinking that natural hair is fine and all but not in those occasions.
Lupita Nyong'o didn't seem courageous sporting her natural hair on the Oscar night simply because she didn't look frightened or scared of the public eyes. On the contrary, she looked carefree showing off confidence in the beauty of her TWA and debunking some natural hair myths. The press certainly seemed to love her hair style! Now, you may say that her hair was a breath fresh air in an industry where the majority follow the same trends and the only thing changing seems to be hair length or colour. Or you could also say that the impact of the natural hair movement has eased the press and public acceptance.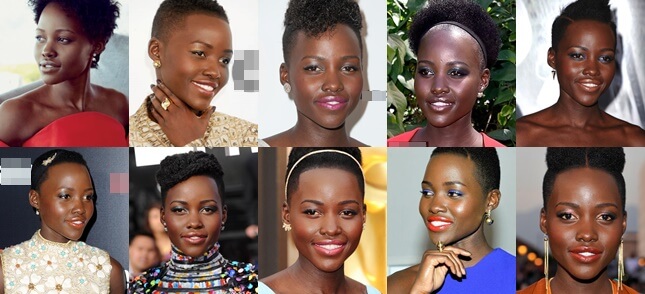 I don't disregard these factors and they do have a say in this matter, but for me what made this quick and easy acceptance possible was mainly her confidence. Did you notice how she was able to style her TWA in so many different ways? She resorted to headbands, side parts, spiky hair or even Mohawk styles, the woman is a true chameleon! Lupita truly enjoys her hair and showcases the versatility that many can't seem to see. No wonder she has made the covers of the biggest magazines where people jumped in with curiosity about how she styled her hair and questioned the origin of her fashion sense. If you need some inspiration for your short hair look no further, just add in some jewelry accessories, some make-up and you're there.  Here are a few of her styles for inspiration
And if short hair is the look she had when she was introduced to us, that look has evolved and changed. Not shy to social platforms Lupita recently posted a picture of her sporting a new hairstyle that showed off her hair growth. With the help of her hairstylist Larry Sims, she opted for a heart shaped hair cut with a side part making her look more elegant and chic, if that's even possible.
As you can see Lupita Nyong'o is evidence that natural hair is beautiful and versatile, she shows us that we can embrace our natural texture and still feel/be amazing. She is a winner on the big screen, a red carpet trendsetter and now a natural hair icon that little girls can look up to as she is indirectly changing their beauty perceptions and sending out the message that their hair texture, skin colour and facial features are beautiful too.
What do you like most about Lupita Nyong'o's new hairstyle? Is she a natural hair icon to you?