I am so excited to be talking to you about this not so new brand – Alikay Naturals. I simply don't know where to start, thoughts come racing through in my mind and stumble onto each other has my mouth tries to articulate them. I'll definitely try not to let my enthusiasm get in the way.
Ever since I decided to go natural I have entered into a world where I've  had to educate myself about the complexities of natural hair. While expanding and increasing my "hair education", I became a strong supporter of natural ingredients and of acquiring products that have the least amount of chemicals in them. Moreover, this affiliation crossed over to other aspects of my life forcing me to make healthier choices.
"Necessity Is The Mother Of Invention"
---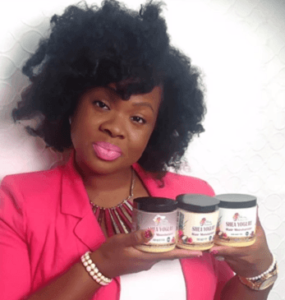 What is so interesting about Alikay Naturals is the fact that it seems to embody the English proverb "necessity is the mother of invention". Alikay's "birth" came out of its founder's need to find products without harsh chemicals.  At the start of her journey back in 2008, when the hair industry wasn't investing in natural hair, Rochelle Graham damaged her hair by using products with not so natural or good  ingredients. Can you imagine beginning your curly hair journey and having to cut your hair due to product damage?  I think I'd be like Xena the Warrior Princess slaying chemical filled, not good to be used products on the supermarket shelves. Or, maybe I'd be throwing myself on the floor crying out of despair. I really don't know, but you get my drift don't you fellow transitioners?
Well, all I can say is that Rochelle Graham didn't give up on the journey. Instead, she armed herself with determination, commitment, passion and willingness to go the extra mile to achieve her goal of having healthy, natural hair. Soon she was making her own natural products not just for herself, but also for her YouTube followers (check her YouTube Channel here). This is the story behind Alikay Naturals.
What I Love About This Brand
---
There are several reasons why I love this brand. To start with, I can empathize with the founders hair drawback and her stimulus to start her business. Secondly, the struggle to find products with natural ingredients is one which I often go through and Alikay gives you that. Thirdly, this brand offers you 100% natural ingredients. Did you hear me? 100% natural ingredients! This is A-ma-zing.
Their focus is on moisturising, healing and repairing according to Rochelle, with the use of Nature's best ingredients. Fourth, you can also find a skin and a bath & body product line. Finally, who in their right minds wouldn't prefer to use a product filled with breath-taking ingredients that will inject life into any hair. Come on! They are retailing at competitive prices, especially if we compare the quality of ingredients and the fact that most of their products are also 90% organic.
Although it is hard to find  Alikay Naturals' complete hair line in the UK, I'm hopeful that this won't take long and then I'll be able to give an in-depth review. Having reached nationwide distribution in the US through Target last year, they have now announced their products will be available in over 2,800 Sally Beauty Supply stores worldwide. I believe this is a testament to the quality of their products and soon these will be readily available in the UK as well. So, if you happen to read this blog Rochelle Graham hop over to this side of the ocean and bring us some of that Nature's Gift to natural hair.
(Update Feb.2016!! I am very happy to let you know that Alikay Naturals is now available in the UK through Antidote Street! They were very kind saying they had read this post and they wanted to let me know that I could now buy Alykay's products at their online shop. I guess I have some shopping to do know!)
Still Doubt Me?
---
I know some of you reading this blog could be thinking that "love is blind" and I'm just infatuated for something that I haven't even tried properly. All I can tell you is that the premise of Alikay Naturals as a brand (not just hair products but also education, self-confidence, and support) and their commitment to providing natural and organic ingredients had me at hello! But don't just take my word for it,  hear from those who have tried it. Francheska, from YouTube channel HeyFranHey was my first contact with this brand, but check out Yolanda Renee's review and  go to YouTube for more.
If you want to have a closer look at Alikay Naturals products follow this link >here< to their online shop or head over to Antidote Street in the UK, they even have sample sizes that you can try first if you don't want to commit to the full size. Cool, isn't it!!!?
What do you look for in your products? Do you know this brand? Have you tried the hair line or the beauty line? What is your opinion about their products? Let's gossip a little bit...
Featured Image: Yolanda Renee (YouTube Channel); Rochelle Graham (YouTube Channel BlackOnyx77).