Mahogany Naturals is a British natural hair care brand that I've had my eye on practically since the start of my blogging journey. I have mentioned it here in the blog a couple of time before but unfortunately, I haven't had the chance to try it until now. If you don't know much about this brand today is your lucky day! I have a hair product review coming your way in the form of a YouTube video tutorial. How about that?!
Here's the thing… I don't often do product reviews in the blog (especially video tutorials) because I don't often change my products. When I find a product my hair responds well to, I stick with it. Especially because there are so many products coming out all the time and the formulations don't change much… so why change, really!?
My aim when it comes to natural hair products is to, first and foremost, help you "read" and understand products labels and ingredients so you can assess if a product will cater to your hair needs.  I want you to develop the skills that will help you make better product choices. I don't want to simply tell you how I liked a product, or not, based on how it performed on my hair because your hair is different from mine.
However, when a natural hair care brand, like Mahogany Naturals, whose ethics and ethos I support reaches out I'm ready to share my experience you.
Hair Product Review
In this video tutorial, I tried to share not only product performance on my hair but also how the list of ingredients informed my opinion. I hope this will help you understand your own experiences and help you can become a savvy buyer. This is one of the things my programme, Hair Regimen BluePrint, will help you do (you can learn more and get on the waiting list here).
Click here to watch directly on YouTube.
Product Ingredients
In case you're an avid reader of a product's list of ingredients please check the list below, they reflect what is written on the label of the products I received. However, on the brand's website, the hair treatment has a different formulation.
Apple Cider Vinegar Shampoo
Ingredients: Apple Cider Vinegar, Avena Sativa (Oats), Palm Kernel Extract(Organic), Shea Butter, Argan Oil (Argania Spinose), Quillaja Saponiaria (Soapbark), Sodium Bicarbonate, Decyl Glucoside (coconut-based cleanser), Glyceryl Stearate (Glycerine Derived), Optiphen.
Price: £30
Pros: Good hair and scalp cleanser.
Cons: Scent may not be everyone's favourite.
Brazilian Butter Damage Reverse Treatment
Ingredients: Brazilian Nut Butter, Organic, Organic Aloe Vera, Cocoa Butter, Shea Butter, Agave Nectar, Molasses, Vegetable Glycerine, Avocado Oil, Organic Coconut Oil, Castor Oil, Hemp Seed Oil, Emu Oil, Macadamia Integrifolia, Rosemary, Cetearyl Alcohol, Optiphen.
Price: £45
Pros: Can be used as a pre-poo or after shampooing. Good to help improving hair elasticity, especially high porosity hair.
Cons: Not good for detangling hair. However, the different formulation found on the website has 'Guar' gum a known conditioning ingredient at times used to make homemade gels. Though it is the last ingredient in the list, it could help improve the comb-ability of this treatment. If you try it let me know! 😉
You can visit Mahogany Naturals website and buy their products here.
If you have any questions or doubts about these products please comment below, I promise I will answer them back.
Have you signed up for my Free Course?
If you're currently dealing with dry hair, in desperate need of moisture you can sign up for my free course Boost Your Hair Moisture here.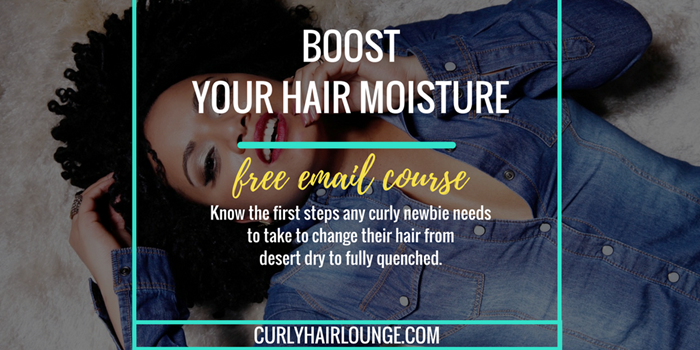 Let me know what you thought about this product review and if you'll try Mahogany Naturals Products?