Ever since I cut my relaxed ends and became a full-on curly girl I have been getting to know my hair better and experimenting with new products here and there. It's been interesting looking at natural hair care brands, their products and ingredients and deciding which ones to try. However, sometimes brands send me some of their products to try and review. This was the case of Almocado, a British natural hair care brand I had the pleasure of trying and do a product review.
If you've been following me for a while you will know that I included this brand in a list of British hair care brands to keep an eye on. However, I never got the chance to try them out, until Annette (the owner) reached out to me to try some of her products.
In all honesty, we had been following each other on Instagram for awhile before she sent me a private message. She had seen my Flora & Curl review and wondered if I could try her products too, I would be her first official review.
Brand Ethos and Ethics
Annette came across to me as a very nice person, genuinely interested in my opinion of her products has a natural hair blogger and willing to take my feedback into account when making any improvements to her products… A true sign of a brand where customers come first and providing them with the best possible products is the main focus. Great Start! 🙂
However, this is not surprising for a small brand who claims its purpose is to  "provide holistic natural hair and organic skincare solutions to those interested in alternative therapies and products made by hand with natural and organic ingredients".
All their hair products have natural and organic ingredients, have no parabens, no petrochemical ingredients (petrolatum or mineral oil), no SLS's (strong sulphates), no silicones and are not animal tested.
Reading through my blog posts you will find that I am not a 'Product Review' kind of blogger. My jam is to share my experience and knowledge and teach you the principles of good hair care, what to look for in hair products and then I let you do the hunting.
However, I like supporting black-owned businesses and decided to accept Annette's challenge, especially when she emphasised she wanted my honest review, no strings attached. How could I refuse?! 😉
Let's dive right in, shall we?!
---
Almocado Hair Products
---
In case you don't know Almocado has a very large range of products you can find hair care products for you and your children, for skin care, wellbeing (aromatherapy and massage) and if you have sisterlocs they got you covered too. So I was very happy when they generously gave me the opportunity to choose any product they had.
Cool right!
Like a kid, I went to their website, checked through their products and ingredients and found some winners: the Strands Together Hibiscus Shampoo, the Triple Whipped Intensive Castor Oil & Coconut  Creme Conditioner and the Tripple Whipped Intense Organic Conditioning Treatment.
Before giving you my say on these products I tried them out for a month because I wanted to really have a feel of how they worked individually and together, not just a one-off thing. Let me introduce you to them.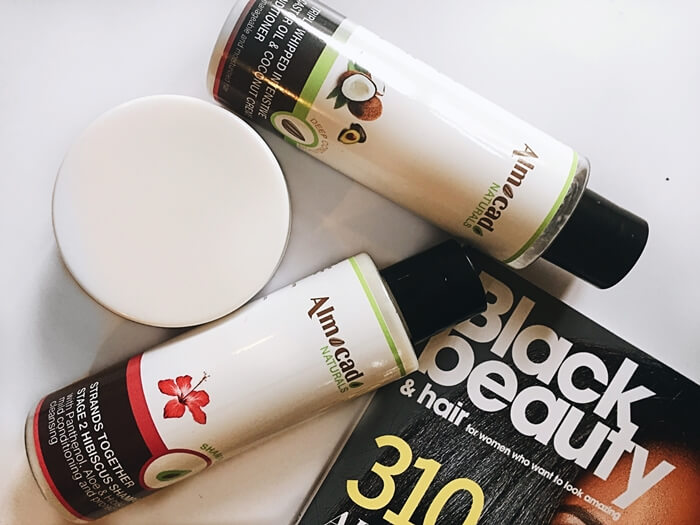 Strands Together Stage 2 Hibiscus Shampoo
Ingredients

: Aqua, Sodium Cocoyl Isethionate, Decyl Glucoside, Cocamidopropyl Betaine, Glycerin, Stearamidopropyl Dimethylamine, Glyceryl Oleate, Coco-Glucoside, Hydroxypropyltrimonium Honey, Coco-Caprylate, Persea Gratissima (avocado) oil, Fragrance, Sodium benzoate & Potassium sorbate (Preservatives),  Behentrimonium Methosulfate (and) Cetyl Alcohol, Panthenol, Aqua (and0 glycerin (and) Hibiscus Rosa Sinensis (Hibiscus) Extract (and) Phenoxyethanol, Citric Acid, Xanthan Gum.

The first thing I gotta say about this shampoo is how great it smells! The hibiscus scent in here is amazing. I simply loved it and so did my husband. As a shampoo, it is not as thick or creamy as most shampoos are, but it is not liquid or anything like that, it definitely won't run off of your hand. I enjoyed it as much as any other shampoo I used so far, it didn't make my hair feel dry or stripped but I did feel my hair was more cleaned than some other shampoos I used before.

For those who like some lather, this shampoo will give you a decent amount of it. Just enough to make you feel happy. if you're looking for a dual-task shampoo that can clean and kickstart the detangling process that will follow, I'm sorry to say this but you won't find that here. I'm okay with this because what I'm looking for is for good cleansing properties – after all, that's what shampoos are for, the rest is just an extra.

All in all, this is an effective shampoo that smells amazeballs!
Triple Whipped Intensive Castor Oil & Coconut  Creme Conditioner

Ingredients

: Water, Behentrimonium Methosulfate (and) Cetearyl Alcohol (Fatty Alcohol used for intense conditioning and moisture), Vegetable Glycerin (Humectant/Conditioning Agent), Cetrimonium Chloride (Detangling/Conditioning Agent), Persea Gratissma (Avocado Oil), Ricinus Communis(Organic Castor Oil), Cocos Nucifera (Organic Coconut Oil), D-Panthenol (Pro Vitamin B), Phenoxyethanol (and) Caprylyl Glycol (Preservative), Aroma, Guar Hydroxypropyltrimonium Chloride (Conditioning Guar Gum).
Before I spill the beans on this conditioner, I have to say I'm a heavy-handed girl when it comes to hair products.  I like to feel I have product on my hair, and I believe this is because I have a medium to coarse hair texture. With this being said, when I got this conditioner I took a look at the 150ml container (probably a travel or sample size) and thought it would only get one use out of it because at the time I had tailbone hair (I had  cut, now it's at waist length)  and because I have A-Lot-Of-It!
What happened next surprised me.
As I started applying this conditioner it seemed to multiply without me needing to reach for the bottle to apply more. The more a worked it on my hair the more it seemed to spread and multiply. This made me think detangling would be an easy job, easier than what I experienced with previous conditioners.
However, despite expectations of this being 'the detangling time-slayer conditioner', it revealed itself to be a regular conditioner as far as its detangling abilities are concerned – yes, perhaps my expectations were too high. 😉 🙂 One peculiar thing about this conditioner is that it doesn't feel creamy on the hair, it feels frothy, almost like it has some surfactants in it.
Surprises didn't end here because even though the shampoo didn't feel particularly moisturising and the conditioner felt frothy, once I rinsed the conditioner my curls clump together and my hair felt moisturised.
Yes, it was definitely intriguing. This certainly supports the case of using products from the same line or brand – They Work Best Together!
The bottom line is if you're looking for something that on application feels smooth, this conditioner won't do that for you. However, if you're looking for something that does a decent job at detangling your hair, makes it feel moisturised once rinsed and needs only a small amount applied to work saving you money, this is what you're looking for.
The regular size bottle has 400ml and costs only £13.50. Therefore, this is a product that represents GOOD value for your money considering I was able to use a 150ml bottle on my tailbone, high-density hair 4 times. 😯
Tripple Whipped Intense Organic Conditioning Treatment
Ingredients

: Water, Persea Gratissima (Avocado Oil), Ricinus Communis (Organic Castor Oil), Coco Nucifera (Coconut Oil), Vegetable Glycerin, D-Panthenol (Pro Vitamin B), Cationic Guar (conditioning gel), Cetearyl Alcohol (Fatty alcohol for conditioning and moisture), Fragrance.

When I looked that sample container of this conditioning treatment I wasn't convinced the same multiplication miracle would happen here, the conditioner was a nice surprise but the same thing wasn't gonna happen. For Sure! This container was the size of one (just one!) regular scoop of product for me. Not enough to cover half of my hair.

Well, I am happy to say I was completely proven wrong!

The product was enough for my hair – no more and no less needed… just enough. Like the conditioner, it felt frothy or like it had air bubbles on it. You know… like when you whip a cake batter and it makes hair bubbles and becomes light… That's how it felt. It wasn't particularly moisturising, but then again I had never experienced this with a conditioner or deep conditioner.

After 20-30 minutes under a hooded dryer and rinsed out with cold water my hair was soft, my curls clump together and my hair was shiny. I would say these were good results.
The Bottom Line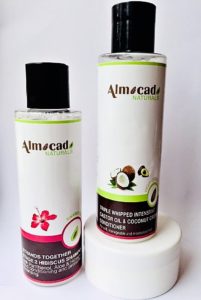 When it comes to Almocado products expect to be proven wrong and surprised.  The products may not feel particularly moisturising on application but the end result will surprise you. My take on their products is that they work best together and not apart.
Apart from the deep conditioner, which ended after its first use, I used both the shampoo and conditioner with products from other brands and I feel my hair showed better results when I paired all Almocado products together.
The pH of hair products may have something to do with this.
If you don't know a shampoo is formulated to have a higher pH than your hair's, this is because it will cleanse your hair and raise the cuticle layers which will be ready to receive moisture and all other conditioning, nutritive and strengthening ingredients for your hair.
The products that follow should have a lower pH, closer to your hair's pH (between 4.5 – 5.5) to close the cuticle layers. If you mix and match products from different brands you may end up using a product that has a higher pH than the previous one used, which means your hair may get frizzy or not feel as smooth.
These products will also work hard for your hair saving you money. As you well know, curly women around the world wish their conditioner and deep conditioner containers had much more products than they currently have because we use so much more of them when compared to our shampoo bottles.
Well, with Almocado's  Triple Whipped Intensive Castor Oil & Coconut  Creme Conditioner and Tripple Whipped Intense Organic Conditioning Treatment you don't need bigger containers because with them a 'little goes a long way'. It really does!
I invite you to try out their products and experience them for yourself. Almocado has an extensive line of hair products with shampoos, conditioners, tonics, oils, spritzers and more.
One last thing to remember is that a percentage of your purchase is donated to Alopecia UK to help support women, men and children with this condition, something Annette (the owner) also suffers from.
Have any questions I didn't answer? Leave them in the comments below.