I don't know about you, but whenever a new year begins it takes me a couple of weeks to get used to it. You know, like when you fill up a form and write the wrong year or talk about the past year as if you were still in it. I'm sure we've all done this.  Well, it was thinking about this that I decided to write a post about my favourite curly hair products the ones I tried.
Anyway, those of you who follow me here on the blog know that I'm not a product junkie (nothing wrong with it) or that I stay away from my regular hair routine too much. However, this year well, last year I decided to get out of my comfort zone and try some of the products being made by some amazing natural hair care brands out there.
As with any new adventure, there were good and bad surprises and things that didn't live up to the expectation. Still, finding new products I can now use in my hair regimen was definitely a plus, furthermore, the knowledge I got from this experience definitely enriched my curly hair journey.
By trying new hair products I ended up knowing and understanding my hair a bit better… I got to know more about what it likes and dislikes and this was priceless to me. So though I don't encourage you to go crazy and do a complete hair product overhaul, I do encourage you to introduce a new product into your hair routine every once in a while.
Unless it completely leaves your hair in bad shape use a product several times and, if possible, in different ways  (product pairing) before discarding it.  If you pay attention to how your hair feels you'll too uncover new knowledge about your tresses. A good way to keep track of all your new discoveries is by keeping a hair journal, like the Ultimate One-Year Natural Hair Journal I created.
Anyway, I won't keep you waiting for much longer. Here are my Favourite Curly Hair Products In 2017.
#1|
EO Sulphate Free Clarifying Shampoo

I actually bought this shampoo December 2016 thinking it was a regular, low-poo shampoo. I tried it once and naturally, I found it was too stripping for regular use on my hair. Though it clearly said clarifying shampoo (therefore more stripping than a regular shampoo) at the time I didn't spot any ingredient that signalled that. You know… sometimes brands like to do some marketing makeover on their products and oversell it. It was only later during a product ingredient research that I discovered in this product a chelating naturally derived ingredient (sodium phytate) capable of removing product buildup.
I must say, that as a clarifying shampoo it does a really good job of leaving your hair and scalp clean. You do feel your hair is stripped of build up but not as if you're using a regular clarifying shampoo. To offset this characteristic these days I like to follow a clarifying shampoo with one application of a moisturising shampoo to put some moisture back into my hair. You can really notice the change in your hair as you do this.
Its formula has a blend of essentials oils in it with lemon and tea tree lending not only this shampoo's great scent but the ability to address scalp conditions such as dandruff or itchiness. There's also hydrolyzed quinoa protein that offers great hair penetration to help with hair repair, moisture retention and shine.
It's a great product, however, I think it's discontinued. I bought mine at TK Max (or TJ Max in the US) and I can't find it anywhere else now if you do, try it! Mine cost £7.99 for 946 ml.
#2|
Shea Moisture Raw Shea Butter Extra Moisture Retention Shampoo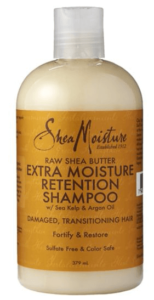 2017 is when I fully experienced how lovely this shampoo is. It gives me lather (which I like), cleans my hair, leaves it soft and feeling moisturised. At the moment this is the shampoo I use on my regular wash days,  and it is also the shampoo I use to follow my clarifying shampoo, as I mentioned before.
It comes in a fairly sized container (379 ml), has no protein in it and will last you a long time, especially if your hair is shorter than mine (waist-length). There's not much to say about it except that it has the quality you expect to have on all Shea Moisture products and you probably already know it, right? 😉 🙂  <3
Buy it: Shea Moisture Raw Shea Butter M0isture Retention Shampoo – approx. £7.33 (Amazon)
#3|
Vatika Naturals Deep Conditioner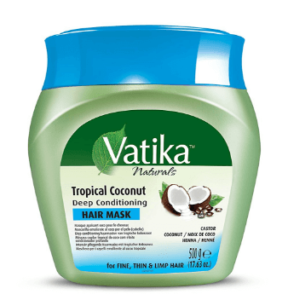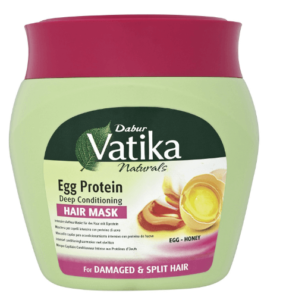 I discovered this brand on my local Superdrug store, but you can also find it at Asda, Amazon, Wilkinson and some Tesco stores here in the UK. I have only tried their deep conditioners – Egg & Honey Protein Hair Mask and the Tropical Coconut Hair Mask – and so far they make my hair feel soft and moisturised.
I use the Egg & Protein Hair Mask every 6 weeks when my hair is scheduled to have some protein boost and I'm not doing my DIY henna treatments. Because I don't use direct heat on my hair and it is not bleached or dyed, I don't need a deep conditioner high in protein content, so this mask is perfect. It helps strengthen my hair and maintain its proteins needs.
The Tropical Coconut Hair Mask, on the other hand,  I use as a moisture mask meant to deeply moisturise my hair and keep my hair's moisture levels.
Like most people with low porosity hair, I get the best results when I use my deep conditioner and apply some heat to help with penetration. You can do that with a hooded dryer or a heated cap. Here some other ways you can add heat.
As far as ingredients go, this mask is not all natural. It has a blend of natural/natural derived ingredients and synthetic ones.
Buy it: Egg & Protein Hair Mask – approx. £5.99 / Tropical Coconut Hair Mask – approx. £5.99
#4|
Maui Moisture Coconut Oil Curl Smoothie
With Maui Moisture I discovered my hair loves aloe vera. I tried this product a couple different times and it was a nice surprise. My hair felt moisturised, soft and light (and I have a LOT of hair which normally feels heavy). This smoothie has slip and it smells of tropical flowers and fruit. ⠀
I bought this product along with the Curl Quench Coconut Oil Curl Milk and the Strength and Anti-Breakage Agave Hair Mask from the same brand, but I found myself using this one more often. My hair simply loved it! It has aloe vera as the very first ingredient followed by water, glycerin and coconut oil. What's not to love about it?! (Well, only if you're allergic to the ingredients)
In terms of styling results, it gave my curls more definition but it didn't last as long as I wished it would, I wanted more hold. For fine, low-density hair it may just be what you're looking for. For medium-coarse, like mine, you'll get more hold by topping this smoothie with a good gel with strong hold and you're okay.
Buy it: Maui Moisture Curl Quench Coconut Oil Smoothie – approx. £5.99 (Boots)
#5|
Cantu Moisturising Curl Activator Cream

Raved by some of my favourite YouTubers who get great results with it, Cantu's Moisturising Curl Activator is a product I recommend anyone to try. It has a great quality-price relationship for what you especially when you consider the results you get and how much product you need to get those.
What I mean by this is that you only need to use a tiny amount for it to work its magic, which means it will last you a long time and it's super affordable. As a heavy-handed girl, with waist-long hair the first time I used this product I used too much product because I wasn't expecting it to be so good. I'm telling you this product will have you saying 'Less is more!'. You'll be saving product and money! 😉
But not only that, this product moisturises my hair, makes my curls pop and yes it adds shine just like the bottle says. My daughter has fine, low-density hair and she also loves how her curls get more voluminous.
Buy it: Cantu Moisturising Curl Activator Cream – approx. £7.49
#6|
Flora & Curl Hair Oil & Hair Butter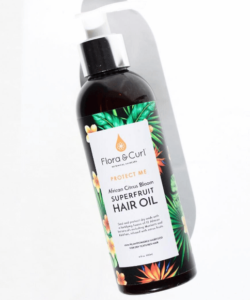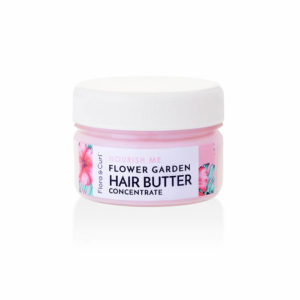 Finally, I couldn't end my 2017 favourite natural hair product list without mentioning Flora & Curl. What a wonderful surprise it was to discover this brand. Out of the three products I tried, which are a total match for any  LOC method hair regimen, these two were my absolute favourite.
The products smell amazing, they feel soft and light on my low porosity hair, help to keep my hair moisturised and shiny and my braid outs/twist outs come out with great definition. I could go on raving about these products but I have a whole in-depth post about Flora & Curl's Moisture Therapy Kit that you can read here. But trust my word and go grab them!
Buy it: African Citrus Superfruit Hair Oil (200ml) – £25.00/ Flower Garden Nourishing Hair Concentrate (150ml) – £26.00
So this is my list of favourite curly hair products for 2017, let me know what products made it to your list and why.